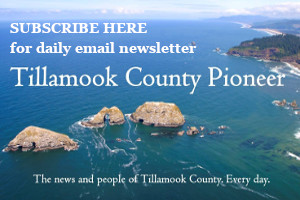 As we anticipate receiving vaccine for our older adults, we are increasing outreach and collection of contact information to notify people as soon as events are scheduled. We are providing a simple online form that will expedite the process and allow health officials and state approved vaccination site partners to efficiently plan for vaccination events.
Most people are aware that older adults are now eligible to begin receiving the COVID19 vaccine:
Oregonians age 80 and above are eligible February 8th and can begin getting vaccinated against COVID-19 after that date as appointments become available.
Older adults age 65 and above will become eligible to get a vaccine over the following 3 weeks (see page 2 for list).
Vaccines remain in critically short supply in the United States, in Oregon and here in Tillamook County. Every senior will be able get a vaccine, but most seniors will not be able to get immunized for many weeks. Here's more information for you to help reduce confusion and frustration as we work together to support Oregon seniors.
You use the links below to access the fillable form.
Older adults will have different ways to get vaccine information:
While we can't give every older adult an appointment as soon as they want one, we can give them different ways to get linked to vaccine information and events. Here are some of the options available:
https://tillamookchc.org/   – check our webpage to find information about current vaccine events, our contact information, the progress Tillamook County is making on vaccinating all eligible Tillamook County residents and more.
https://www.facebook.com/TillamookCHC – see current Facebook posts for vaccine information.
COVID19 Vaccine Call Center:  503.843.3914 (English/Spanish) from 8:00am – 5:00pm M-F

Please be aware that wait times may be long due to high call volumes. There is an option to get a call back rather than wait on hold (in English and Spanish). Free interpretation is available for all other languages and TYY service is available as well.

tcchc@co.tillamook.or.us: email us with questions or concerns regarding the COVID-19 vaccination and we will respond to you within 1 business day in English or Spanish. Free interpretation is available for all other languages.
Covidvaccine.oregon.gov: OHA's vaccination website features facts about COVID-19 vaccines and hosts links to county websites and a statewide calendar of public vaccination clinics.
Nursing home, independent living centers and other facilities: Pharmacy partners are vaccinating residents and staff at senior residences and care facilities. Residents (or family members) can ask their facility operator when their residence is scheduled for a vaccination clinic.
There are more than 750,000 people aged 65 or older. While Oregon has already vaccinated more than 100,000 people aged 60 and older, state health officials estimate it will take until mid-April to vaccinate more than 7 in 10 Oregon seniors.
All seniors will be eligible to get vaccinated by the end of February. Here are dates for when Oregonians age 65 and older can start getting vaccinated:
| | | | |
| --- | --- | --- | --- |
| Who | When | Number of Oregonians | Phase |
| 80 and older | February 8, 2021 | ~168,000 | 1B, Group 2 |
| 75 and older | February 15, 2021 | ~134,000 | 1B, Group 3 |
| 70 and older | February 22, 2021 | ~206,000 | 1B, Group 4 |
| 65 and older | March 1, 2021 | ~258,000 | 1B, Group 5 |
You can help make the vaccination process better for Oregon seniors
Since the start of the pandemic, Oregon has prioritized protecting seniors. While every COVID-19 fatality is tragic, Oregon has the second lowest COVID-19 infection rate among seniors, and the third-lowest death rate among seniors, in the nation.
Your partnership has helped save lives. We are committed to sharing information with you as we continue to roll-out Oregon's vaccination program. We hope you will keep seniors, family members and caregivers by staying informed, remaining patient and keeping safe as we work together to vaccinate every older adult in Tillamook County.
Looking to fill it our on your mobile device, try this!