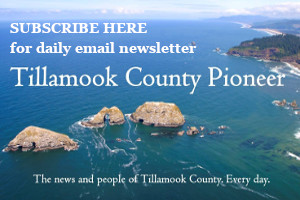 By Dan Haag
Friends of Cape Falcon Marine Reserve have hired Hannah Buschert of Cannon Beach as their new Outreach Coordinator. Buschert takes over the reins from Christine Smith, who held the position for the last three years. Smith has moved to a full-time position with the Friends of Netarts Bay.
Buschert is a native Oregonian who grew up in Tualatin and spent summers on the coast. Her family has owned the Sea Breeze Court hotel in Cannon Beach since 1965.
She and her husband, Erik, now run the Sea Breeze Court, which she will continue along with her duties at the marine reserve.
"I've been coming out for years and working summers out here with my grandmother, my cousins and everybody," she said.
Buschert has a Bachelor of Science in Natural Resources from Oregon State University and a Master of Parks, Recreation, Sport and Tourism Management from North Carolina State University.
"A lot of my cohorts were really into parks and sports, but nobody was really into nature," Buschert said. "We can combine nature and outdoor resources to create these outdoor hot-spots."
For the last five years, Buschert worked as a park naturalist for Texas State Parks in the Rio Grande Valley and Houston, and as the Great Florida Birding and Wildlife Trail Coordinator for the Florida Fish and Wildlife Conservation Commission.
Before that, she was a seasonal naturalist and interpreter at Oregon State Parks in Florence and Warrenton and served as an AmeriCorps with StreamTeam in Vancouver, Washington. There, she gained valuable hands-on experience in invasive species control and restoration work.
Buschert was drawn to the position with Cape Falcon out of what she calls her passion for developing sustainable tourism in this region. She see her background in tourism and hospitality as a natural counterpoint to her new position with the marine reserve.
"We have this large natural area right in the middle of a large tourist area," she said. "How do we best utilize this location and protect it while sharing it with everyone?"
Buschert realizes it's often a delicate balance between promoting areas like Cape Falcon Marine Reserve and keeping it from being loved to death.
"I would like to see how we can highlight the location and get people out to see it without destroying the local area," she said.
To that end, Buschert is prioritizing building relationships with local businesses to find ways to promote stewardship to the tourists who visit the area. She feels strongly about sharing the importance of the marine reserve to others.
"Before getting this position, I didn't know anything about the marine reserve," she said. "Most of the tourists from Portland don't know either and I'm really excited to help them figure all of that out."
Buschert is also eager to apply her passion for birding to her position as Outreach Coordinator. She and her husband are avid birders and even host a birding podcast, "Hannah and Erik Go Birding."
"I'm a super bird-nerd," she said.