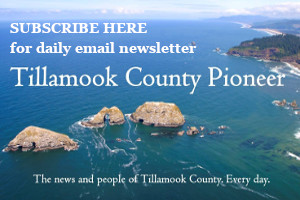 By Representative David Gomberg, District 10
This past week marked two opportunities to recognize people who make a real difference in our communities and who have faced unimaginable challenges these past two years.
Teacher Appreciation Week helped us say 'thank you' this week, and every week to the extraordinary educators who have worked tirelessly with students and families to keep things moving forward, despite such an unpredictable year.
National Small Business Week honors the entrepreneurs in our communities who have played their part in bringing new ideas to life and growing our economy. Small businesses account for half of America's workforce, and more new jobs come from small businesses than any other source.
Thank you – to teachers, small employers, and all of you who work so well to make our communities better, more livable, and more sustainable!
My mailbox has been overflowing this week with comments and concerns about the leaked draft of what appears to be a decision by the U.S. Supreme Court overturning Roe v. Wade and leaving questions of reproductive freedom to the states. That decision will make little difference in Oregon whether an individual has the right to choose to terminate a pregnancy.
Oregon state law expressly affirms an individuals' right to choose an abortion without interference from the government.
The Reproductive Health Equity Act, updated in 2017, allows for late-term abortions, requires private medical insurance and state Medicaid to cover an abortion, and codifies the right to gender-affirming care, among other protections. Ours is among the strongest reproductive choice policies in the nation. Because health access in Oregon is governed by laws enacted by its state Legislature, rather than by a court's interpretation of the state constitution, a sudden change to those policies is unlikely.
Oregonians have shown little interest in changing the state's policies. Five ballot measures restricting abortion have been rejected by voters since 1986. In 2014, 63 percent of Oregon adults said they thought abortion should be legal in all or most cases, according to polling done by the Pew Research Center.
The Oregon Health Authority tracks and reports induced abortions performed in Oregon. An induced abortion is an intentional procedure carried out to end a pregnancy, as opposed to a spontaneous abortion or miscarriage. The number of abortions reported in Oregon in 2020 and 2021 were the lowest of any years that OHA has tracked. Both nationally and in Oregon, the abortion rate has been declining and is now half that seen in the 1990s and early 2000s.More than half of abortions in America are now done with pills, rather than surgery.
The court opinion would create a patchwork of legal abortion access across the country by leaving policymaking to the states, 26 of which are poised to immediately ban the procedure or place severe restrictions on it. It also means that people of means who can afford to travel will have access to procedures in neighboring states while lower income women with limited access to health care or resources to raise children will take more pregnancies to full term.

Said another way, what we may see if the leaked decision becomes law is people coming to Oregon from Idaho where a law banning most abortions after six weeks would go into effect.

Honest and thoughtful people still disagree on this issue, and we will watch with interest when the Court releases its formal opinion.
Tuesday and Wednesday, I'll be spending time in Coos Bay discussing wind energy and joining our local fisherman to ensure their concerns are heard.

The 2022 Oregon Offshore Wind Industry Fly-In will bring representatives from the floating offshore wind industry to the coast of Oregon for direct engagement with state and local leadership. The goal: to begin charting the course for Oregon's first 3 gigawatts of offshore wind. Two areas off the Oregon Coast are being targeted to host offshore wind farms as the Biden administration seeks to ramp up renewable energy production.

Our local seafood industry is urging BOEM – the Bureau of Ocean Energy Management – to slow down or risk irreversible damage.

Fishing industry representatives said the "call areas" near Coos Bay and Brookings are far bigger and potentially more damaging than they imagined. They argue these three areas encompass some of the best fishing grounds that we have off the West Coast, and also some of the most sensitive habitats.
The two proposed areas total about 1,159,298 acres (1,811 square miles) and are located off the South-central and Southern Oregon Coasts, respectively.
Coos Bay Call Area: The boundary of the Coos Bay Call Area begins 13.8 miles offshore Charleston and extends to about 65 miles offshore. The eastern boundary water depth ranges from about 394 to 722 feet (120 to 220 meters). The area is about 67 miles in length from north to south and about 41 miles in width from east to west. The entire area is approximately 872,854 acres (1,364 square miles).
Brookings Call Area: The boundary of the Brookings Call area begins 13.8 miles offshore Gold Beach and Brookings and extends to about 46 miles offshore. The eastern boundary water depth ranges from about 410 to 1,115 feet (125 to 340 meters). The area is about 46 miles in length from north to south and about 22 miles in width from east to west. The entire area is approximately 286,444 acres (448 square miles).
To be clear, I do support renewable energy. I do support new industries, new opportunities, and new good-paying jobs. But throughout the process, we need to consider and preserve existing industries and existing jobs. That requires a process that involves all stakeholders in meaningful conversations. The PacWave wave energy testing facility south of Newport was a great model of how to move forward in a collaborative way.
At a public forum last week, my old friend retired Senator Arnie Roblan observed, "They figure out where they're going to do it before they figure out if that's the right place to do it, and then they go through all this process to figure out if they picked the right place."
A 60-day public comment period will end at 11:59 p.m. ET on Tuesday, June 28, 2022. Comments can be submitted the following ways:
To post comments online, go to the Federal eRulemaking Portal – http://www.regulations.gov. In the search box at the top of the webpage, enter BOEM-2022-0009 and then click "search." Follow the instructions to submit public comments and view supporting and related materials.
To mail your comments, write to Dr. Whitney Hauer, Renewable Energy Specialist
Bureau of Ocean Energy Management, Office of Strategic Resources
760 Paseo Camarillo (Suite 102), Camarillo, California 93010
There are less than ten days left to complete your May election ballot and mail it or deliver it to a local drop site. Lincoln County drop locations are listed here and Tillamook here.

One of the best sources of information about candidates and measures is the Voter's Pamphlet that was mailed just before ballots. If you have misplaced yours, the complete document is available here. This online guide is also an interesting source of statewide information about candidates in other parts of Oregon.

Under a new Oregon law, your ballot must be postmarked by election day rather than received by the County Clerk. Voters will not be disenfranchised by mail delays. And if you are anxious to see if that ballot has been received, the Secretary of State has an online tracker of ballots and voter registration.
The Loyalty Days Parade returned to Newport Saturday and I was braced for the winds and rains we saw the day before. Dressed in full foul-weather gear, I was determined to pedal the route on my mini-bike and say hello to people along the way. Fortunately the coastal weather graced us and there was even a bit of sun. Pleasant crowds enjoyed the floats, first responders, and a smattering of candidates.

Later today I will be touring oceanfront erosion at the Salishan Spit. Tuesday I'll remotely join the Oregon Seismic Policy Advisory Commission before heading for Depoe Bay to discuss the local public trail system. Then I'll be off to Coos Bay!

Wednesday evening I'll confer with leaders of local teachers from the Oregon Education Association. Thursday the Commission on Senior Services meets. I'll attend an Economic Development Reception in Newport and a Chamber Business After Hours reception in Lincoln City. Friday I'll be at the Aquarium in Newport to talk about the future of Otters on the Oregon Coast. And Saturday I'm honored to be speaking in Philomath at the Mt. Union Cemetery memorial flag placement for Armed Forces and Peace Officer Memorial Day.

A belated Happy Mother's Day to all you hard-working parents out there. I smiled at the Saturday parade as one young participant marched by in a tee shirt reading "Vote for My Mommy!"