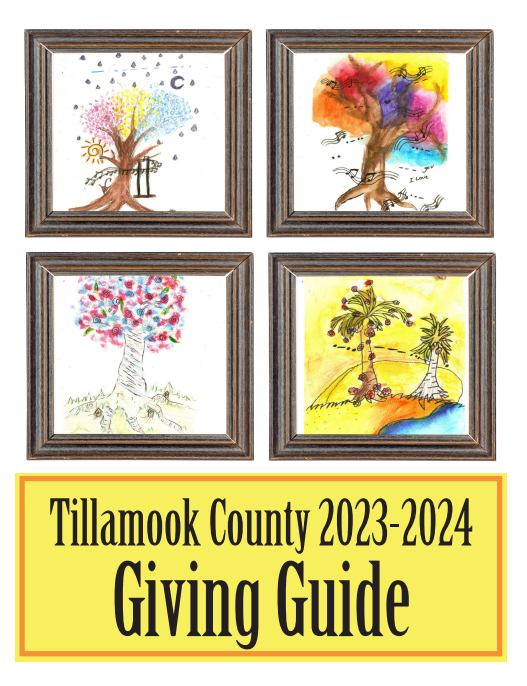 By Representative David Gomberg, House District 10
Hello Friends and Neighbors!
Downpours across northwestern Oregon, particularly in coastal communities in Lincoln and Tillamook counties, saw severe flooding Friday. Swollen rivers blocked roadways, threatened homes and trapped people. At least two RV parks — one in Neskowin and one in Otis — were flooded and evacuated Friday morning. Highway 101 is still seeing slow travel. At one point, high water prompted the closure of Highway 18 and several roadways in Otis.
The situation was not helped by sensational news reports of rescue swimmers being deployed to parking lots and misleading photos of a fire engine in a flooded field. (I'm curious why reporters didn't ask why the ladder was fully extended.) Locals well know that this vehicle is not in active service and is used for promotional purposes.
Oregonian: "Several days of heavy rains caused flooding along the Oregon coast, swamping this fire truck near the community of Otis."
Let's be clear that the heavy rainfall and flooding was serious, particularly in the recovering fire zone where landslides are a real concern. We're thinking today about those who suffered damage, were forced to evacuate, or were otherwise affected by the rain. We're hopeful that larger consequences are minimal or quickly mitigated. And we're grateful to ODOT, the Coast Guard, and our first responders for all of their efforts.
Please remember before travel in adverse weather to review TripCheck for current news on travel conditions, closures and delays, and live cameras on state highways.
The biggest news this week is the approval of the infrastructure bill by Congress in Washington D.C.
What will this historic legislation mean for Oregon? We should be seeing an additional investment of more than $5 billion in our roads, rails, bridges, ports, pipes, and other infrastructure critical to the lives and livelihoods of all Oregonians. This is an average investment of about $1,300 per resident. (You can check out other state distributions by population on this handy map.) The Infrastructure Investment and Jobs Act is the largest long-term investment in our infrastructure and competitiveness in nearly a century.
This historic investment will make life better for millions of Oregon residents and create a generation of good-paying jobs and economic growth. Specifically, the Infrastructure Investment and Jobs Act will:
Repair and rebuild our roads and bridges with a focus on climate change mitigation, resilience, equity, and safety for all users, including cyclists and pedestrians. Oregon would expect to receive $3.4 billion for highway programs and $268 million for bridge replacement and repairs over five years. Oregon can also compete for the $12.5 billion Bridge Investment Program for economically significant bridges and nearly $16 billion of national funding dedicated for major projects that will deliver substantial economic benefits to communities.
Help connect every American to reliable high-speed internet. Oregon will receive a minimum allocation of $100 million to help provide broadband coverage across the state, including providing access to the at least 136,600 Oregonians who currently lack it.
Improve healthy, sustainable transportation options for millions of Americans. Oregon would expect to receive $747 million over five years to improve public transportation options across the state.
Build a network of EV chargers to facilitate long-distance travel and provide convenient charging options. The bill invests $7.5 billion to build out the first-ever national network of EV chargers in the United States.  Oregon would expect to receive $52 million over five years to support the expansion of our EV charging network.
Prepare more of our infrastructure for the impacts of climate change, cyber-attacks, and extreme weather events. Oregon will expect to receive $39 million over five years to protect against wildfires and $15 million to protect against cyberattacks. Oregonians will also benefit from the bill's historic $3.5 billion national investment in weatherization which will reduce energy costs for families.
Deliver clean drinking water to every American and eliminate the nation's lead service lines and pipes. Oregon will expect to receive $529 million over five years to improve water infrastructure across the state and ensure that clean, safe drinking water is a right in all communities.
Improve our nation's airports. Airports in Oregon would receive approximately $211 million for infrastructure development for airports over five years.
A new surge of federal transportation funding could soon jump-start large long-planned freeway and transit projects. But to be clear, it is enough to help but not enough to solve all our challenges. For example, there is no money for dam construction in the measure.
On the Oregon coast, the package brings a renewed hope that some of our bridges will get seismic retrofitting to prepare for the big Cascadia quake.
"It's still a little too early to know what projects will be undertaken as a result of this new funding," said Kevin Glenn, a spokesman for ODOT. "We'll begin developing project lists soon, particularly for the dedicated program funding areas like bridges. We'll present this to the Oregon Transportation Commission for guidance, likely in the spring. In advance of that, we'll be soliciting public comment and working with our advisory committees to ensure these projects reflect the priorities of Oregonians."
Learn more about these historic investments here.
During the month of November, we celebrate National American Indian Heritage Month also known as Native American Heritage Month. It is important for us to honor and celebrate the culture and the contributions of those who were the first inhabitants of Oregon.
Learn more about our Indigenous history here. To read more about Native American Heritage Month nationally, visit here.  For more ideas on how to support the Indigenous Community, visit here.
Proud ancestors of those first people make up nine federally recognized tribes in Oregon: the Burns Paiute Tribe; the Confederated Tribes of Coos, Lower Umpqua and Siuslaw Indians; the Coquille Indian Tribe; the Cow Creek Band of Umpqua Tribe of Indians; the Confederated Tribes of Grand Ronde; the Klamath Tribes; the Confederated Tribes of Siletz; the Confederated Tribes of the Umatilla Indian Reservation; and the Confederated Tribes of Warm Springs. These modern tribal governments each include members descending from multiple tribes and bands.
The Confederated Tribes of Siletz Indians is the most diverse confederation of Tribes and Bands on a single reservation in the entire United States. Today the Siletz Tribes include 27 Bands, with more than 5,500 members enrolled — 70% of whom live in Oregon. Ancestors of the Siletz spoke 10 different languages, each with multiple dialects.
An affordable loan program to repair or replace failing septic systems is again available for homeowners and small businesses in Oregon.
There are an estimated 450,000 septic systems in use in the state, often serving homes that can't connect to a local sewer system. Susie and I rely on one of them! In fact, about one-third of households in Oregon rely on septic systems to carry waste from their kitchens and bathrooms to underground tanks. There, it can be stored and bacteria can break down most of it. Many of these systems today are 50 or more years old and need extensive upgrades or replacement. Some have been impacted by wildfires.
Ten to 20% of those septic systems fail each year. That means an additional 45,000 to 90,000 septic systems are added each year to the inventory of failing systems. Leaks from broken systems allow fecal matter, E. coli and nitrate pollution into waterways, coastal lakes and habitats, affecting drinking water and potentially making animals and humans sick. Fixing or replacing failing septic systems benefits Oregonians by protecting public health and addressing threats to water quality.
The Oregon Department of Environmental Quality and regional nonprofit lender Craft3 are teaming up to make Clean Water Loans available throughout the state. The Oregon Legislature approved $2 million for the program in the last session and Craft3 began accepting loan applications on November 1, 2021.
The program is also available to many small businesses that use septic systems, such as restaurants, convenience stores, and small manufactured home or RV parks. These affordable loans cover all eligible costs for permitting, design and installation, and also provide for ongoing maintenance when needed. The loans have variable low rates based on a borrower's income and are designed to be accessible to people who may not have perfect credit.
Oregon residents interested in learning more about the program and applying can do so by visiting Craft3.org/CleanWaterOre.
On a related note, as a result of legislation I co-sponsored last session, the Oregon Health Authority (OHA) is offering free domestic well water testing to about 2,000 households affected by wildfire that rely on wells for drinking water.
Well users whose properties were affected by wildfires can find steps needed to access the funds, which became available November 1, at www.healthoregon.org/wells. Well owners will find guidance on how to assess damage, take action to protect their well, and test their water to confirm it is safe to drink.
OHA will provide testing vouchers to well users through May 15, 2023. Well users can select from a list of approved environmental laboratories in Oregon that will honor the vouchers for testing services. The tests will look for presence of bacteria, nitrates, arsenic, lead and chemicals that are hazardous by-products of fire.
Last week I reported on employment, hiring, and wages in Oregon.
A new report confirms that Oregonians' typical incomes grew more in the last decade than in any other state. From 2010 to 2019, household income increased by 44%, compared to 41% in Washington and 39% in California. That's the good news.
But as I often argue in Salem, Oregon's success does not reach to all parts of Oregon the same way. Incomes increased 20% in Lincoln County, 27% in Tillamook, and 29% in Benton but 39% in Multnomah. Median income in Portland was $69K compared to $47K in Newport. On some parts of the Coast, median income has actually declined.
You can review interactive maps and read more about this provocative economic news in this Oregonian story.
My focus in the legislature has been to secure support for our local industries, benefits for working families and retirees, and investments in needed infrastructure. We've had and are having success. We are bringing home dollars for the fishing fleet, our dairies, and the evolving "blue economy" which focuses on traditional ocean industries such as fisheries, tourism, and maritime transport. We're bolstering our education foundation with money for schools, stronger community colleges, and a major expansion at OSU/Newport in the Hatfield Center. We're enhancing our retirement community and opening new hospitals. And this past session, we brought home over $60 million in grant funds for water, sewer, ports, and economic infrastructure.
I'm working hard every day to make lives better across our diverse district. But clearly there is more work to be done. Will you help? Remember to buy local when you can. Volunteer for local organizations and projects when you can. Be there for your neighbors and friends when you can.
Thank you all for everything you do every day to make our special part of Oregon safer, more successful, more livable, and more resilient.
email: Rep.DavidGomberg@oregonlegislature.gov
phone: 503-986-1410
address: 900 Court St NE, H-480, Salem, OR, 97301
website: http://www.oregonlegislature.gov/gomberg