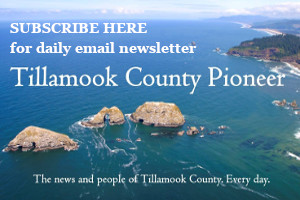 By Representative David Gomberg, House District 10
Election day is tomorrow! If you haven't already, please take time to review the candidates and issues, and deliver your ballot to the County Clerk, a local drop box, or place it in the mail. If you are using the mail, be sure to be early enough that it is picked up and postmarked tomorrow.
In my zeal last week to encourage early voting, I misstated one of the details of our ballot process. Ballots are indeed opened when they are received by the Clerk. And as I explained, results are available on County web pages just after 8 pm with state results at the Secretary of State soon after.
Again, voters in any county can visit the Oregon Secretary of State's Office website at oregonvotes.gov and click on the My Vote tab to check the status of their ballot. You can read more about the safety and security of Oregon Elections here.
Saturday

 morning I spoke to a packed room at Hatfield as part of the State of the Coast summit. For many in the room, it was a first chance to see the new Marine Science Building that opened two years ago.

My topic was infrastructure on the Central Coast. I tried to cover the challenges, opportunities, and successes. Some of you have heard me talk about this before.

Our most pressing challenge is to replace the aging and seismically vulnerable Big Creek Dams that provide drinking water to Newport. I told the audience that had the recent Linn County earthquake been instead in Siletz, the dams may well have failed. There are homes a quarter mile downhill and people would have died. Highway 101 would have been breached for an indeterminate amount of time. And without water, tourism, fishing, and fish processing, our research hub that includes Hatfield, NOAA, PacWave, and the Aquarium would all be lost.

The cost of dam replacement will exceed $80 million. Newport has already committed $6 million – about $2500 for every tax lot in the city. The legislature approved $14 million more. And now we are hoping Congress will close the loop with $60 million before the end of the year.

I use Newport as a pressing example of how small towns face big infrastructure challenges that local taxpayers cannot afford to pay for alone. We need state and federal help.

I talked about water and sewer in Waldport, ports in Toledo and Newport, fire stations in Eddyville, docks in Depoe Bay, parks and plazas in Lincoln City, and repairing fire damage in Otis. We're making progress on those projects but there are many more in the que. Addressing these challenges will affect our cost of living, quality of life, and local economies.

For an example of opportunities, I reminded the crowd of ongoing plans to construct a major container facility at the Port of Coos Bay. Coos Bay is already the largest coastal deep-water shipping port between San Francisco and Seattle. A shipping terminal could bring as many as two thousand jobs to the area in a part of Oregon that has suffered as natural resource industries have changed.

Finally, I wanted to talk about our successes. Too often we forget our victories or take them for granted. No one worries when water comes out of the tap. They only worry when it stops.

Highway 20 is a major success. Ten years ago the state considered walking away after the first effort to fix this critical arterial colossally flopped. But we convinced the Transportation Commission to try again and ultimately bypassed the most deadly stretch of highway in Oregon, reduced commuting times from Newport to Philomath, and created a pretty nice drive in the process.

I also told the crowd that the building they were sitting in was a success. If we will ever begin to address the scourge of climate disruption, changing ocean chemistry, or threats to marine life and industries that rely on them, I believe, without exaggeration, that the Hatfield Marine Science Center will play a leading role.

The Gladys Valley Marine Studies Building is remarkably beautiful. But that belies the remarkable engineering it relies on. The Center may well be the most advanced seismic and tsunami-resilient structure in the world – including a ramp that allows people to evacuate to the tsunami-safe roof. I related a recent conversation with former OSU President Ed Ray who greeted me with the words, "OSU can lead us into the future or lead the retreat". He was reminding me of my own comments when the debate raged about whether we should build the building. Our cherished coastline where we live, work, and love will someday experience a major event. We can either abandon our homes and move away, or we can better prepare. This state-of-the-art, state of architecture, and state of engineering structure should play a major role in helping us learn to better prepare.
With the conclusion of 

Tuesday

's election, Philomath and surrounding areas of Benton County will formally join the 10th House District. Philomath will be our third largest city behind Newport and Lincoln City.

Looking at the numbers, what struck me is that Philomath is so similar to our other district communities. The pandemic hurt but jobs are recovering. Those jobs are a mix of natural resources, manufacturing, retirement, and education with perhaps not as much tourism as the coast. Wages are going up and we need more workers. And like coastal cities, many residents leave town for work and many workers come in each day.

Philomath's employment has bounced back quickly from the pandemic recession. It returned to pre-pandemic levels at the beginning of 2021. With the exception of other services and construction, all other industry's employment levels in Philomath are above where they were pre-pandemic.
Agriculture, forestry, and manufacturing account for nearly 40% of Philomath's total employment. Statewide those sectors account for 15%.
The average starting wage is around $21.36 per hour, an inflation-adjusted increase of 7.0% from spring 2021 and a 4.4% increase from winter 2022. Total job vacancies are up 9% from the level last spring. The number of vacancies offering a starting wage below $15 per hour dropped 40% over the year. The number of vacancies offering between $15 and $25 per hour increased 35% and vacancies paying above $25 per hour increased 56%.

Nearly 9-in-10 (88%) working residents commute outside the area to work. Residents who work in Philomath make up 18% of the city's workforce. Two-thirds (67%) of working residents in the Philomath zip code work in Benton and Linn counties. And a little more than 40% of Philomath's workers come from Corvallis and Albany.

These numbers were sourced from the Oregon Department of Employment and WorkSource Oregon.
The 2022 wildfire season in Oregon has been among the mildest in the last decade, with human-caused fires down nearly 20% from the 10-year average, according to state data.

Humans are the number one cause of wildfires in Oregon and across the country.

With fall weather fully upon us and no risk of returning to wildfire conditions, the Fire Protection Manager at the Oregon Department of Forestry (ODF) sent legislators his final report on the 2022 wildfire season.

A combination of favorable weather conditions this year, improved coordination, and investments in new technologies made possible by the Legislature's big investment in SB 762 (2021) enabled ODF to limit 96% of this year's fires to under 10 acres. That has only happened twice in the last two decades. It has kept suppression costs far below what we've become used to in recent years.

As our wildfire seasons continue to become longer and hotter in general, we can't expect this kind of good news to continue. We were lucky this year. Still, we've also learned a lot from our recent difficulties, and this year it appears to have paid off. Let's hope that good news and results continue.

Here's coverage of the end of the fire season from the Oregonian.
Saturday afternoon, "Team Gomberg" spread out across the district for one last rainy push to visit doorsteps and talk to voters. In the past months, we have knocked on thousands of doors. US Senator Jeff Merkley and Congressional District 4 candidate Val Hoyle joined us for our last rally.
Next week, I'll shift these weekly newsletters back into our legislative office where it is not appropriate to talk about campaigns or elections. So I wanted to take this last opportunity to say "thank you"!
I often comment that I represent all the people of the tenth district – whether they vote for me or not. That said, I'm grateful and humbled by the people who do vote for me. Please know that I take that support very personally and am honored by the responsibility of representing you.
Thank you so much to all of you who have spoken with neighbors, hosted yard signs, and knocked on doors. Thank you so much to all who have supported us financially. I'm grateful to you who donated to my campaign and am particularly proud that the hundreds of real people living in the district who sent anything from $5 to $500 were the largest source of financial support we received. Your commitment has meant the world to Susan and me.
In a vicious election cycle unlike any in recent memory, we endeavored to stay positive. Our mail and digital media talked about what we have done and not about anyone else. We talked about the challenges behind us and those looming ahead. No matter what the results are on Tuesday night – and I certainly hope they favor us – thank you so much for working with us to benefit our communities and the good people who live here.