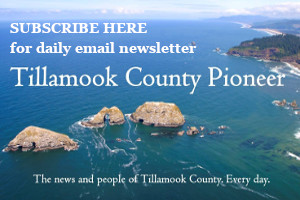 By Representative David Gomberg, House District 10
Dear Neighbors and Friends,
As you receive this report today, Monday, the Oregon House will be in session. I have been honored with the responsibility of chairing the Credentials Committee and reading the names of all new and returning members before they are sworn in. We will select a Speaker of the House, which I expect to take about 15 minutes. Then roughly 1000 bills which were prepared over the past few months will be formally introduced and will begin the process of assigning them to committees and holding hearings on those few which may eventually be enacted into law. Committee meetings are scheduled to begin on January 17th.
Rep. Gomberg Chairs the House Credentials Committee
Oregon has a remarkably open legislative process. All proposed bills are available online. Notice of hearings are posted and you can watch those hearings live or recorded. All votes are posted. And of course, you are welcome to visit your capitol to meet legislators or watch the proceedings.
When she was in office, Senator Betsy Johnson produced a detailed explanation of how to use the Oregon Legislative Information System. If you are interested in the process, it is 45 minutes well spent. See this program on YouTube here.
As the session evolves, I hope you will reach out to my office with questions, concerns, or perspectives. If you plan to visit Salem, please let us know and I will make a point of finding time to meet with you.
For some time now, I have been talking about the importance of replacing Newport's Big Creek Dams. These reservoirs provide drinking water to residents, industries, and visitors, but are ranked as the most seismically vulnerable in the state. Sudden failure would disrupt the coastal economy, breach our main transportation route, and most certainly cost the lives of some residents nearby. But the $80 million price tag is well beyond the ability of a town of 10,000 to pay for.
Newport has invested $6 million, which is about $2500 for every family living within the city limits. And over the past two years, I worked to secure $14 million more in lottery bonding from the Oregon Legislature. Together these funds allowed the city to move forward with design, permitting, and construction. However, federal funding is necessary to replace this dam, given the resources of our community and the total financial need.
In October, I joined leaders from the city and traveled to Washington DC, meeting with our federal delegation and with key committee staff.
Rep. Gomberg speaks with Congressman Peter DeFazio, Chairman of the House Transportation and Infrastructure Committee. 
Now the big news!
On December 23, 2022, President Biden signed the Water Resources Development Act (WRDA). The authorization provides funding for essential water infrastructure modernization efforts across the nation, including $60 million for the City of Newport that can be used to fund the Big Creek Dam replacement project.
The federal funding was initially proposed by former US Representative Kurt Schrader, and approved by the House Transportation and Infrastructure Committee chaired by former US Representative Peter DeFazio. The Newport provision was not included in the Senate version of the bill. Through the efforts of Senators Merkley and Wyden, an agreement was reached that included an authorization for funding for the city's Big Creek Dam Project.
I have described replacing the Big Creek Dams as the most critical long-term public safety and economic resilience project on the central coast. And it is important to note that local investments and state support made the federal investment possible. The $14 million approved by the state was the impetus in securing future federal funding and allowed the city to proceed with critical planning phases of the project.
As those dollars begin to arrive, I'm looking forward to breaking ground on this large and critical project.
In August 2020, technicians at the Oregon National Primate Research Center (ONPRC) wheeled cages into a washing system and failed to notice two adult monkeys, named Earthquake and Whimsy, were still in those cages. Both were scalded to death.
Sadly, this was only the latest in a series of deadly mistakes at ONPRC. The Center committed at least 18 violations of the Animal Welfare Act between 2005 and 2020. Many of these were considered "critical violations" by the United States Department of Agriculture (USDA). Reports included burns from electric heating pads, incorrect injections, cages too small to sit up in, accidental strangulation by chains in the enclosure, death from being trapped by PVC pipes, deaths from stress-induced "riots", death from anesthesia mistakes, death from dehydration, death from being given a toxic substance and death from inattention during childbirth. Some of these mistakes resulted in fines exceeding $10,000.
I have spoken out about these problems in the past and more recently, asked our Secretary of State to audit the Center. When I learned that no audit was possible because research did not rely on state funds, I took the unusual step of filing a formal request for documents related to Earthquake and Whimsy. After 17 months I finally received the requested documents – thousands of pages. The contents were disturbing.
Documents report employee concerns that monkeys are in danger, show the facility cannot care for its primates, and demonstrate a "culture known to cut corners, deflect responsibility and lack accountability". Examples include drinking on the job, staffing shortages, and concern that lack of leadership will set the stage for more deaths among the facility's primate population due to negligence, ineptitude, and mismanagement.
Over 60 employees petitioned the facility's leaders warning them of the possibility of even more disasters. Many employees supported the petitions anonymously citing fear of retaliation.
Reasonable people can disagree on whether using animals for medical research is ethical, humane, or scientifically valid. But we must agree that here in Oregon it simply isn't being done well.
What kind of research is being conducted?
In one series of experiments regarding maternal nutrition, pregnant monkeys were fed special diets. Their babies were later separated and deliberately frightened to test their response to stress where researchers either stared at the infants to intimidate them or used a Mr. Potato Head doll to frighten them. Results were inconclusive so the project was repeated at the cost of another million dollars.
Research involving animals should always be a last resort when no other adequate means exist to address a pressing human health problem, not an opportunity for self-perpetuating researchers and research facilities to cash in on the federal grant system. Subjecting animals to pain and suffering as part of research that will likely be moot given what is well-known in the medical community is not only inhumane, it also raises serious ethical questions about OHSU's motives in seeking that funding.
Ironically, at the federal level, the FDA Modernization Act has been adopted to end an outdated FDA mandate that required experimental drugs to be tested on animals before they can be used on humans in clinical trials. Here in Oregon, we're getting rodents drunk to see if alcohol affects their mating habits.
I have now introduced legislation to require an end to secrecy at ONPRC and compel annual reports to the state of primate populations, births, deaths, sales, and fatal research; documentation of animal welfare violations; and a summary of research conducted.
You can read more of my efforts to uncover problems at ONPRC here and watch some of my floor remarks here.
It is January in Oregon. Some of you are looking for help to complete repairs resulting from our winter storms. Some may be contemplating renovations in the spring. Or maybe you just need help with plumbing, painting, or roof cleaning.
If any of this sounds like you, I trust you are looking for help from firms properly licensed and bonded.
Anyone who works for compensation in any construction activity involving improvements to real property needs a license. Hiring a licensed contractor provides you:
Financial protection: Licensed contractors must carry insurance to cover damage to your property or for any injuries caused by the contractor or its employees.
Coverage if an employee is injured: If a contractor hires employees, it must also provide workers' compensation insurance.
Access to a bond: Licensed contractors must hold a bond to provide payment to a customer who suffers damage from poor workmanship.
Mediation services: The Construction Contractors Board (CCB) has professional mediators who help resolve disputes between customers and licensed contractors. If the dispute cannot be resolved, the CCB may be able to provide evidence if you go to court.
Track record you can check: If a contractor is licensed by the CCB, there is a record of any past sanctions or claims against the contractor or associated businesses. You may obtain this information through CCB's website.
The Construction Contractors Board maintains a web page where you can look up contractors.
Several years ago, I was contacted by a condominium association who had spent a large sum on roof replacement. They wisely checked to ensure the firm they hired was licensed. And then they waited for their turn for work to begin. In the intervening months, that license expired. And when the work proved unsatisfactory, they had few options. So please check to be certain the good people you hire are licensed. And use the web page to confirm that the license is current when work begins.
Our two US senators are planning live Town Halls in the District this week.
Senator Ron Wyden visited Tillamook yesterday, Sunday, and is in Newport today, January 9th, at 11 a.m. at Oregon Coast Community College, 400 S.E. College Way. I'll have to miss this myself as I'll be representing you in Salem.
Senator Jeff Merkley will be in Lincoln City on Saturday morning, January 14th, at 10 a.m. at Taft High School. I'll plan to be there. And in Tillamook at Tillamook High School that afternoon.
Please take this opportunity to meet with our US Senators, bring questions, and thank them for their ongoing support of Oregon and the Big Creek Dams in particular.
email: Rep.DavidGomberg@oregonlegislature.gov
phone: 503-986-1410
address: 900 Court St NE, H-480, Salem, OR, 97301
website: http://www.oregonlegislature.gov/gomberg