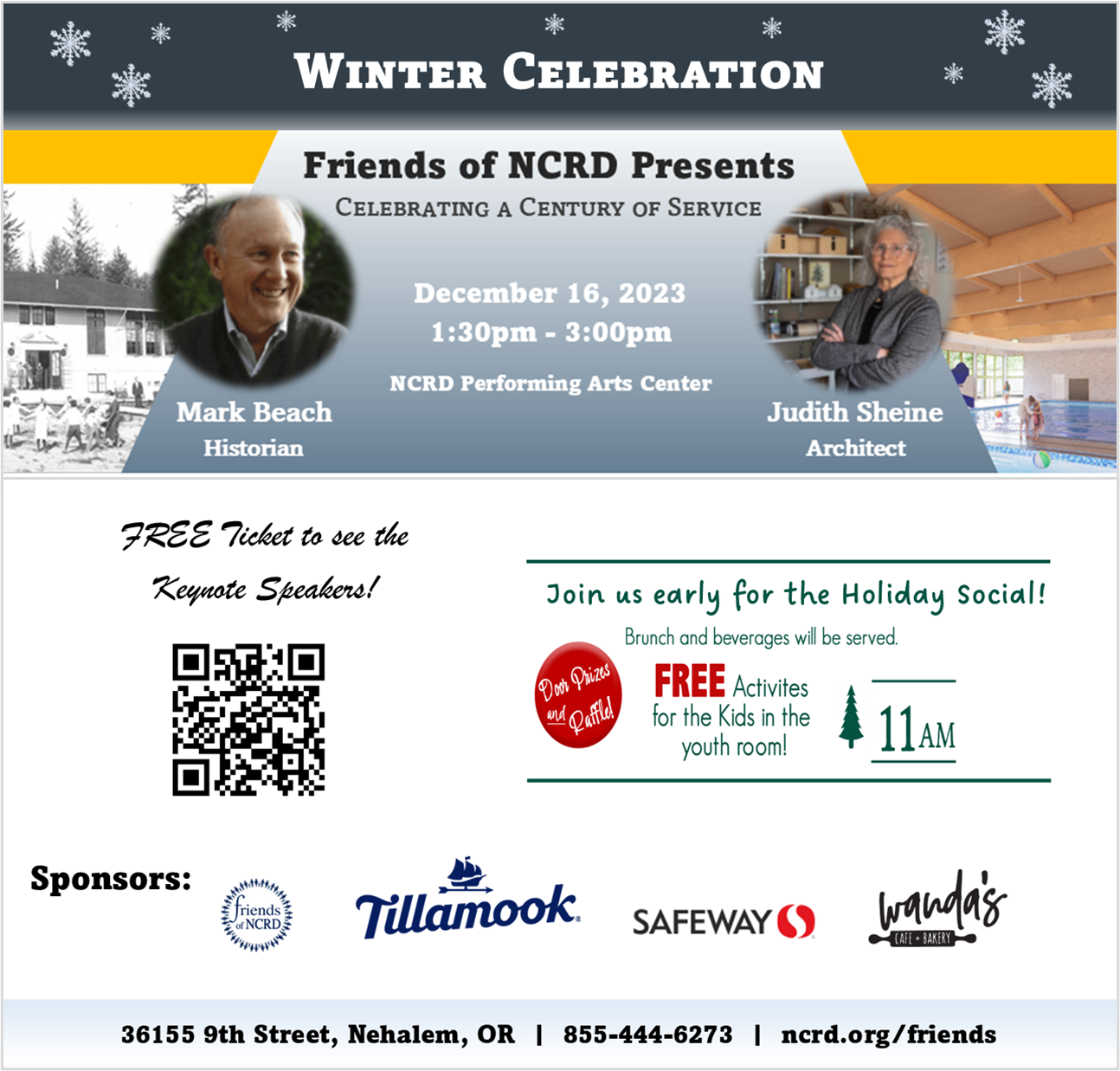 By Representative David Gomberg, House District 10
Dear Neighbors and Friends,
Here is some big news that you might not have heard.
The Oregon Supreme Court has declined to hear an appeal from timber counties seeking to maximize logging revenue on 700,000 acres of state forestland. That's less than 3% of all forest land in the state. But for mills in Northwest Oregon, public forests are a critical and steady source of supply. By state law, the logs can't be exported.
A number of Oregon counties and special taxing districts receive a portion of logging profits from forestland they gave to the state in the 1930s and '40s. Oregon agreed to manage those lands, which were mostly burned and logged over at the time, "so as to secure the greatest permanent value." Thirteen counties took the state to court in 2016, claiming they were owed $1 billion because Oregon failed to maximize logging on the land. "Greatest permanent value," they argued, means maximum timber revenue.
In Tillamook County, wood products accounted for more than one in four private sector jobs in the 1970s. Now it's less than one in 10. "Forest trust" counties receive 64% of the logging revenues from state forests and don't pay anything to manage the land. Last year, their cut was $87 million, with the lion's share going to Clatsop, Tillamook, and Washington counties – money they depend on to fund public services.
Counties that would have received a portion of the $1.1 billion award — had it been upheld — were Benton, Clackamas, Columbia, Coos, Douglas, Josephine, Lane, Lincoln, Linn, Marion, Polk, Tillamook, and Washington. The decision leaves in place a lower court ruling from April saying that Oregon can manage forests for a range of values that include recreation, water quality, and wildlife habitat — not just logging revenue.
Ramifications of the appeal are significant to our state budgets, rural economies, and forest policies.
The judgment has, for the past two years, been increasing at an alarming $260,000 in interest a day, bringing the current total to almost $1.2 billion. Had the judgment been sustained, the Legislature would have to do significant budget cutting to find dollars to pay counties. Personal income taxes are the largest source of state revenues, making up nearly 90 percent of the state general fund. So, on a per-capita basis, the damage award would have effectively transferred money from Oregon's populous urban counties to their rural counterparts.
You can read more in the Oregonian or at OPB.
Thursday it was my pleasure to join the Philomath Chamber of Commerce and hear the State of the City from Mayor Chas Jones. There is a lot is going on in Philomath with major changes on the horizon. After lunch, I gathered with members of the City Council and County Commission.
Also on Thursday, Susie and I traveled up the Willamette Valley to help celebrate the opening of Oregon's first exclusive sparkling winery. I've long worked with our remarkable wine industry and was honored to be asked to saber an inaugural bottle. Click here to see the video.
On a busy Saturday, we visited neighborhoods in Newport, spoke at the Pride Rally at City Hall, served in the dinner line at the Depoe Bay Salmon Bake, toured the Lincoln City Readiness Fair, and then was honored to speak at the Celebration of Honor in Lincoln City. You can watch my remarks here at the nine-minute mark.
Whether you are a restaurant owner unable to provide table service, a bank manager trying to keep the front doors open all day, or a retiree standing in long lines at the pharmacy, the ongoing worker shortage is impacting our economy and daily lives. In simple terms, people are out and buying again. But without an adequate workforce, service levels decline and our small businesses can't meet the demand or maximize their potential as they struggle to recover from the COVID years.

So where did all the workers go? Here are some statistics.

In a recent newsletter, I reported that across Oregon and even here at the beach, we have recovered most of the jobs lost during the pandemic. Oregon has regained 94% of jobs lost since 2020. But those jobs have changed and increasingly, people are working from home. One in five Oregon workers switched to remote or hybrid work during the pandemic.

There are vacancies throughout the economy. And with more openings for better jobs, workers move up leaving employers, particularly struggling to find lower-paying service workers. And with wages increasing for what we traditionally call "entry-level" jobs, a concerning trend is more students leaving school to take those jobs.

A recent story in the New York Times sheds new light on America's "missing workers".

People of retirement age, who had been staying in the workforce longer, dropped out at disproportionate rates and haven't returned. Some are concerned that the pandemic made workplaces riskier for older people. At the same time, the value of homes and 401(k) accounts ballooned in 2021, bringing retirement within reach for many.

A paper published by the National Bureau of Economic Research found that people who'd taken a week off for health-related reasons in 2020 and 2021 were 7 percent less likely to be in the labor force a year later — which equates to about 500,000 workers nationally.

That same study suggests that accelerated retirements may have made it possible for younger workers to move out of customer-facing jobs in industries like food service and retailing. That created a bigger gap in those sectors — visible in their higher rate of job openings and higher starting wages.

The next major category of workers who haven't come back is men aged 25 to 54.

In households where both partners lack college diplomas, women still tend to be the ones who drop out to supplement unreliable child care. In households where at least one partner has a degree, women have started to step forward as sole breadwinners.

The longer-term decline in male labor force participation may be because so much manufacturing has been automated or moved to other countries. And one barrier disproportionately affecting men is the persistent impact of a criminal record. By age 35, 46 percent of unemployed men have a criminal conviction.

A sharp slowdown in legal immigration has reduced the potential workforce by 3.2 million since 2017.

And finally, some of the gap is due to Covid's death toll – more than a million people – about 260,000 of them short of retirement age.
According to a survey from the Oregon Values and Beliefs Center, more than a quarter of Oregonians have quit a job in the past two years. Among Oregonians who quit their jobs, the most common reason was that they felt disrespected at work – either by employers, co-workers, or customers.

That brings us to one more trend potentially affecting our local workforce.

"Quiet quitting" is quite possibly the phrase of the summer.

KPTV published a story saying that Oregon is the top quiet quitting state. The suggestion is that, generally, Oregonians love their work-life balance. People move to Oregon, and perhaps to the beach in particular, because they love recreating outdoors, not because they want to get ahead in the rat race.

Despite the name "quiet quitting" it's not about quitting at all. It's a conscious choice made by an employee to only work their scheduled hours and only work within those hours. According to Gallup, "quiet quitters" make up at least 50% of the U.S. workforce with the trend increasing among younger workers.

The quiet quitter never goes above and beyond their defined duties, stays late, or comes in early, according to Wikipedia. Instead, they do the bare minimum to maintain their employment and nothing more. According to NPR, "You're still performing your duties, but you're no longer subscribing to the hustle culture mentality that work has to be your life. The reality is it's not — and your worth as a person is not defined by your labor."

That may make for happier neighbors but still contributes to a longer wait for a table if you are looking for lunch.
Several readers reached out to me in the past weeks to ask about a large local grocery store requiring all customers to be carded when purchasing alcohol, regardless of their apparent age. They are also scanning the barcode on driver's licenses.

I want to be clear that this is not a requirement of state law or administrative rule. It is a decision by the retailer themselves.

Universal carding has been getting more common in other states, as documented in a 2013 Wall Street Journal story.

According to the Oregon Liquor and Cannabis Commission (OLCC), the practice is not required but is becoming more common for age-restricted products like alcohol. The OLCC's guidance calls for retailers to visually check the ID of anyone who appears to be age 26 or younger, but businesses are free to take a more stringent approach.

Driver license barcode scanners are also becoming more common. Fred Meyer addressed the topic in a recent comment on a Facebook post, writing in response to a complaint about the new procedure:

"Cashiers will scan the back of the Customers ID at checkout. Data is not stored in our computer systems at all. This is done to speed up the checkout process and reduce the number of typos when entering dates of birth. If customers do not feel comfortable with the store scanning their ID, they can request that the cashier manually enter their date of birth instead."

The rear barcode holds the same information that's printed on the front of a license, according to the Oregon Department of Transportation. Private businesses are only permitted to scan the barcodes for specific purposes, one of which is age verification.

Under Oregon law, businesses that scan for age verification are prohibited from storing, selling, or sharing the information.
With all the new funding available to Oregon small businesses, it's a great time to work on that idea for a fishing, boating, or maritime product you always thought could sell.
The Blue Economy is the sustainable use of ocean resources for economic growth, improved livelihoods, and jobs while preserving the health of the ocean ecosystem.
For entrepreneurs with a maritime focus along the Oregon Coast who do not have the connections to mentors, prototyping resources, and funding pathways required to build a startup, Start Up Blue combines personalized business coaching with a network of mentors, maritime experts, and funding sources. What this means to you is guidance in creating your business from people you can trust, without the hassle of figuring things out on your own.
Start Up Blue is hosting a free interactive workshop on selling tips for maritime businesses on September 20th at 2:00 pm.
You'll learn a proven framework to become more comfortable selling, whether it's a custom-made fishing pole, a new way to strip crab pot lines, or even artisanal sea salt.
Join using the link here or email connor@oregonrain.org.
With Labor Day behind us and a month before ballots are mailed, campaign season is shifting into high gear. Candidate lawn signs are proliferating like falling leaves.

One thing that always troubles me is seeing those signs in the public right-of-way including along highways, city streets, and even in state parks. I remember last year a sign between the legs of the marker designating Highway 20 a Medal of Honor roadway.

Signs along the road are of course, against the law and an added expense to taxpayers as public workers are obligated to remove them. That often takes time which means the offenders have an advantage over those playing by the rules.

Political signs are allowed on private property within view of state highways but may not exceed 12 square feet. It is also against the law to steal or deface political signs.
In my report last week, I shared some advice about power outages that might easily be misunderstood. "Do not use a gas stove to heat or cook in your home".

I was referring to camping stoves or gas BBQs and outdoor heaters. Natural gas installed in homes for cooking, water heaters, or fireplaces is, of course, safe in a power outage.

I apologize if my advice was unclear or confusing.
From September 21-23, the Legislature will be convening for our regularly scheduled quarterly committee updates. There will be informational hearings in practically every committee and I would encourage you to take the opportunity to tune in and stay informed on the work underway as we prepare for the 2023 Legislative Session.

If you aren't familiar with our Online Legislative Information System (OLIS), click this link. You can use the "Committee" tab to look up individual committee pages where meeting agendas will be posted.

Between those meetings, I'll continue to be out and about in the district.

Monday I'm touring the Juno project, a breakthrough waste recovery technology, at the GP Mill in Toledo, lunching with the leadership of the Lincoln City Cultural Center, and then meeting with residents of Tiny Tranquility just south of Waldport.

Tuesday I meet with the Nonprofit Association of Oregon, discuss housing with 15 Neighborhoods, and take part in a Wildlife Legislative Open House. Please note that my regular KBCH broadcast on Tuesdays will be suspended until after the election.

Thursday, I'll be at Taft Park to celebrate the funding we successfully received from the state to provide much-needed recreational space, programs for our kids, and new business opportunities. I'll then visit the American Council of Engineering Companies at their annual meeting.

Friday I'll attend a ribbon cutting at Azure Shores in Lincoln City and a Chamber lunch in Newport reviewing the Blue Economy. And Saturday I'll be on the Pacific Storm touring Yaquina Bay and then a Donor Appreciation Open House for the Marine Mammal Institute at Hatfield.

This has been a longer than usual report and I thank you for reading to the end.