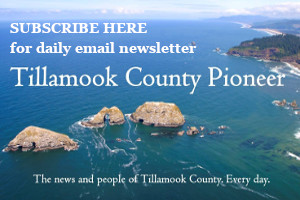 By David Gomberg, House District 10
5/22/2023
Dear Neighbors and Friends,
On Wednesday, economists released the forecast of revenue – primarily income taxes, business taxes, and lottery sales – that will be used to determine how much money is available for the State of Oregon to spend over the next two years. We can now begin to wrap up budgets and investments in our people and projects.
Previous reports had been cautious and we've been using those projections to build a conservative, no-frills budget with few increases in current services and small reductions for most agencies. The Wednesday report was different. Some called it stunning. The state collected nearly $2 billion more than expected in taxes, including about $1.5 billion more than anticipated in personal income taxes.
That doesn't mean we start adding back to agencies. Increased revenue means opportunities for targeted investments to meaningfully address the homelessness crisis, reducing barriers to health care, improve our schools, and make our streets safer in every corner of the state. If improved trends continue, we can also look at adjustments to taxes and fees.
Economists said Wednesday part of the boom is a result of more Oregonians having higher incomes. About 5.3% of tax filers were in the state's highest income tax bracket in 2021, versus just 3.9% the year before. At the same time, business taxes are up as inflation continues to spike prices.
Finally, the economists are working to change how data is analyzed to more accurately project numbers in a changing environment.
At the same time as revenues have surged, so has the tax money that appears headed back to Oregonians. The state's novel "kicker" law refunds taxpayers any time personal income tax filings come in 2% or more above what lawmakers anticipated when building a budget. Predicting revenues within that 2% "sweet spot" has proven impossible for economists of late, and Oregon has seen the kicker law triggered in each of the past five biennial budgets.
The 2021-23 personal kicker is now estimated to be $5.5 billion. Those rebates will return to taxpayers as credits in their tax returns next year.
State economists haven't yet calculated what the higher estimated kicker means for taxpayers. In March, when the total kicker was estimated at $3.9 billion, they predicted the typical taxpayer would receive about $790 back, while the top 1% of taxpayers would receive more than $42,000 back. With the kicker at $5.5 billion, rebates will increase for all taxpayers as a percentage of what they paid the previous year.
Oregon's economy appears healthy – but not for everyone.
Industries such as timber and high-tech are projected to grow the slowest in the years ahead. The education sector will shrink substantially as school enrollment declines. Brick-and-mortar stores will experience little growth.
Health care and the leisure and hospitality industry are expected to lead job growth during the next two years. However, the economists lowered their projections for leisure and hospitality employment. Proportionally fewer workers will be needed due to such structural changes as hotel rooms being cleaned less frequently and restaurants instituting kiosk-ordering for customers.
The aging population will require more healthcare workers, but Oregon already has a shortage. The number of Oregonians aged 85 and older will increase about 25% by 2030. Meanwhile, employment has dropped in residential care facilities as families have pulled their relatives out. Whether that is a temporary adjustment to the pandemic or a long-term trend is unclear.
Our state's recovery from the pandemic is strong because Oregonians are working hard. However, many families are still feeling the effects from inflation and we must do what we can to make smart investments to solve our most pressing challenges.
While it may be good news that the state remains in a strong financial position, the big elephant not in the room is ailing relationships that need mending in our State Senate. Three weeks into their boycott of the Legislature, ten conservative state senators have apparently disqualified themselves from reelection under new, voter-approved Measure 113 meant to punish lawmakers for the walkouts that have plagued Oregon politics in recent years.
That includes Senators Tim Knopp, Lynn Findley, Bill Hansell, Kim Thatcher, Art Robinson, Suzanne Weber, Daniel Bonham, Cedric Hayden, Dennis Linthicum and Brian Boquist. The Senators apparently plan to challenge the legality of 113 which puts them in the interesting position of contesting in court, a measure approved by voters in every Oregon Senate district.
The senators, nine Republicans and one Independent, began skipping floor sessions May 3, leaving key bills in limbo. The protest originally alleged that Democrats ignored an obscure procedural law, but Republicans have since targeted bills they disagree with, including House Bill 2002, which would protect and expand reproductive and gender-affirming health care, including for youth.
And to be clear, the Coast and Coast Range have a lot at stake! Without a resolution, we risk completion of critical measures to build a new dam in Newport, extend our Marine Reserves, support the seafood industry, build water infrastructure in Waldport, create potential for a container port in Coos Bay, replace grandstands in Philomath, sewers in Monroe, docks in Depoe Bay, a police station in Toledo, water improvements in Siletz, sidewalks and sewers in Lincoln City and repair fire-impacted roads in Otis.
There is no end in sight for the ongoing walkout. But we have a month left in the session and anything is possible. The House is meeting and working and ironically, passing bills that came from the Senate while our own bills languish there.
As a session evolves, budget committees provide an opportunity for accountability and oversight of state agencies. Some agencies are high profile and others tend to fly below the radar.
This session I have challenged the Ethics Commission about arbitrability waiving fines, the Secretary of State for lagging review of election complaints, OLCC for warehouse investments and rare liquor distribution, Aviation about pursuing federal grants, the Employment Department about delays in parental leave, the Legislative Branch about problems in the Equity Office, and just about everyone about efficiencies in collecting overdue fines and fees.
One good example is the Oregon Racing Commission. The ORC oversees horse and dog racing in Oregon. Dog racing? We don't do dog racing here. Or do we?
Most Oregonians would be startled to learn that while live greyhound racing ended on its own several years ago and is now illegal, the State licenses online racing hubs (called advance-deposit wagering, or ADW) that take internet bets on races held in other states and countries.
We now host 95% of all ADW bets placed nationally. Gamblers across America wagered $6.4 billion on horses and greyhounds last year thanks to the state of Oregon. That's more than half of the total amount bet legally on horse and dog racing in the U.S., whether at tracks, at off-track betting parlors or online.
Last year, I co-sponsored with President Peter Courtney a measure to curtail bets on dogs. When I asked earlier this year about compliance, the ORC refused to answer any questions.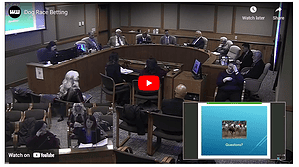 Take a moment and listen to this committee exchange.
This issue is important for three reasons. The first is simple agency accountability. The second is that online wagering contributes to the problem of gambling addiction. And the third is that accepting bets empowers and funds dog racing in other countries where race integrity, corruption, and animal welfare violations are rampant.
A front-page article in Willamette Week this week highlights another problem. Despite billions of dollars in transactions, Oregon makes almost nothing licensing these online hubs.
Over six billion dollars in bets were placed last year. Oregon charges the companies a licensing fee of $73,000 plus a percentage of the total amount bet (0.125% for the first $60 million, then 0.25% up to a cap of about $800,000 in total payments). Without the cap, the Racing Commission would have taken in nearly $16 million in taxes last year. Instead we netted less than $4 million.
Because of the attention Courtney and I brought to dog racing, several ADW hubs have announced they may leave Oregon and license operations elsewhere. Many in the Capitol are now asking about the relevance and role of the ORC, and whether we should be supporting hubs while barely covering our costs for doing so. As a budget writer, I cannot eliminate or re-design agencies. But I can require them to assess their finances and report back. I can require they review racing tracks – even those in other nations – if we take bets here. And I can write legislation about licensing and license taxes.
It is no secret I'm no fan of dog racing – an industry that treats animals inhumanely, overbreeding greyhounds, keeping them trapped in cages for most of their racing lives, drugging them to go faster, and dumping them, sometimes in mass graves, when their racing days are done. But the additional point is that we have an agency that needs to do its job better and work for the benefit of Oregon and not just the industry they are charged with regulating.
Someone asked me over the weekend why the Coast was so cold and damp. I offered my best meteorological explanation. With the legislature in session, hot air was rising over Salem and drawing in moist cooler breezes along the coastline….
Thursday after work I spoke at the annual Spaghetti Dinner for the B'nai B'rith Camp in Lincoln City. The dinner is a fundraiser to sponsor scholarships for local kids to attend day camp each summer. With so many of our local kids struggling, and fully one-fifth listed as homeless, providing an opportunity for fun, learning, self-confidence and hope is a meaningful investment.
The Camp on the east side of Devils Lake has evolved through the years from a hidden gem to a real community treasure with public events in the main hall and outdoor activities for locals and visitors. Since the fires of 2020, B'nai B'rith has quite remarkably delivered over 340,000 meals to fire survivors and families facing food insecurity. It was good to see so many from North Lincoln County show up and offer support Thursday.
Saturday I dropped in for the Depoe Bay 50th anniversary celebration. I chatted with the Depoe Family and then cut and served cake to plenty of happy, hungry locals. Next week I'll be back for the Memorial Day Fleet of Flowers.
I also drove down to the Bloom Newport Community Celebration at the PAC for more food, brews, live entertainment, and plenty of people having fun. I observed to one friend that it was good to be out of the Capitol and see people smiling again.
Cutting the Depoe Bay cake with Mayor Short
Blooming in Newport with Jason Holland, ED of the Oregon Coast Council for the Arts
Sunday I was pleased to participate in the Lincoln County Resource Parents High Tea. Each year in Lincoln County many children come into care or are continuing their stay in Resource Homes (formerly termed Foster Homes) while ODHS child welfare works with the families of these children. Resource Homes are local residents of Lincoln County who have made their home available to serve this community. I was invited to be an honored guest. But the honor really is deserved by families opening their homes and hearts to help local kids when they need that help the most.
Rep Gomberg meets future voters at the Resource Parents High Tea
My Coastal Garden is bursting with color this week. I hope yours are a peaceful retreat as well. Enjoy all that spring in Oregon has to offer. And as always, thanks for reading.
email: Rep.DavidGomberg@oregonlegislature.gov
phone: 503-986-1410
address: 900 Court St NE, H-480, Salem, OR, 97301
website: http://www.oregonlegislature.gov/gomberg