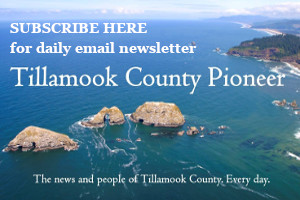 By Representative David Gomberg, House District 10
Hello Friends and Neighbors,
On Saturday, the Gombergs each received their COVID vaccine booster. It was fast, painless, and free. The Western States Scientific Safety Review Workgroup has recommended Moderna and Johnson & Johnson COVID-19 boosters for certain populations of fully vaccinated people.
Everyone 18 years and older who received the Johnson & Johnson vaccine should receive a booster dose at least two months after their first dose.
The following groups of people who received the Moderna vaccine should receive a booster dose at least six months after their second dose:
People 65 years and older.
People 50 years and older who have 

underlying medical conditions

, increased risk of social inequities, or disabilities.
People 18 years and older who live in 

long-term care settings

.
These groups may also get a booster dose of a COVID-19 vaccine at least six months after their second dose:
People 18 years and older who have 

underlying medical conditions

, increased risk of social inequities, or disabilities.
People 18 years and older who live or work in

 high-risk settings

.
Additionally, the CDC recommends the following groups of people who received the Pfizer vaccine should receive a booster dose at least six months after their second dose:
If you are eligible for booster doses, you can get one using any of the three COVID-19 vaccines regardless of the initial vaccine you received. "Mix-and-match" of Pfizer, Moderna or Johnson & Johnson booster doses is allowed.
Eighty percent (2,580,142) of eligible Oregonians have now received at least one vaccine.
68.2% of all Oregonians have received at least one dose

80.1% of those 18 and older
78.7% of those 12 and older
92.7% of those 65 and older
62.7% of all Oregonians are now fully vaccinated

73.8% of those 18 and older
72.4% of those 12 and older
87.4% of those 65 and older

9.5% of all Oregonians have received a booster shot

10.1% of those 18 and older
15.7% of those 50 and older
23.1% of those 65 and older
Vaccinations remain the most effective tool for slowing the spread of COVID-19. If you have questions or concerns about vaccines, please talk to your doctor.
Drug prices play a major role in health care decisions of Oregonians and the cost of prescription drugs have steadily increased in the past 10 years. If you have thoughts or concerns, I encourage you to share your experiences about prescription drug prices.
The Oregon Department of Consumer and Business Services (DCBS) set up a brief survey for consumers to ask questions and share their stories. The department also wants to know what questions you have about the increase in prescription drugs and how has it affected you and your family.
DCBS is asking for the public's help before its third annual public hearing on prescription drug prices. The hearing is scheduled for 1 to 3 p.m. Wednesday, December 8.
I was pleased to support the Prescription Drug Price Transparency Act (ORS 646A.689) which directed the Department to establish a transparency program and disclose certain information from prescription drug manufacturers, health insurance carriers, and consumers on drug prices. The goal of the program is to provide better accountability for prescription drug pricing.
For more information about the program, go to https://dfr.oregon.gov/drugtransparency. Information about how to participate in the virtual hearing will be available on this site as well.
Here's another tool to help with health care costs.
If you don't qualify for the Oregon Health Plan and don't get health insurance through your job, now through Saturday, January 15, 2022, is the only time of year most people can sign up for an individual or family plan to have coverage in 2022.
Get started by visiting the Oregon Health Insurance Marketplace Window Shopping tool. The tool will allow you to preview programs, plans, and savings available to you; what plans will cover your current doctor; and how much your anticipated costs will be, including refilling your prescriptions.
More than 141,000 Oregonians enrolled for health coverage through the Marketplace in 2021.
The Oregon Health Insurance Marketplace helps connect Oregonians to health coverage and financial help on monthly premiums and other out-of-pocket costs. More than 75 percent of Oregonians enrolled through the Marketplace in 2021 qualified for financial assistance!
Health insurance sold through the Marketplace is individual and family coverage offered by private companies you already know, such as Bridgespan, Kaiser Permanente, Moda, PacificSource, Providence, and Regence. Not every company is available in every part the state, but at least four insurance companies and at least 26 plan choices are available everywhere in Oregon.
If you are not currently enrolled through the Marketplace, you must sign up by December 15, 2021 for coverage starting Jan. 1, 2022.
Want help? A health insurance expert can help you, at no cost, apply for financial help and enroll in coverage. You can find an expert near you at OregonHealthCare.gov/GetHelp.
For more information, visit OregonHealthCare.gov or call 855-268-3767 (toll-free).
The Oregon Legislature is not currently in session. Our next regular session will be early next year when we meet for a month in "short" session. Each member will be limited to only two proposed bills.
I'm out and about across our sprawling district every day visiting community groups, businesses, schools, and cultural programs. But I also have more formal legislative commitments.
During the interim period, committees meet quarterly during "legislative days" to review issues and prepare bill concepts. Committees I currently serve on include:
In addition, I serve on five advisory Boards and Commissions that meet regularly.
We all live in an earthquake zone and many of us live, work, or shop in tsunami areas as well. The Oregon Seismic Safety Policy Advisory Commission (OSSPAC), also known as the Earthquake Commission, is tasked with promoting earthquake awareness and preparedness in Oregon. The mission of OSSPAC is to positively influence decisions and policies regarding pre-disaster mitigation of earthquake and tsunami hazards, increase public understanding of earthquake hazard, risk, exposure, and vulnerability through education, and be responsive to the new studies and/or issues raised around earthquakes and tsunamis.
Changing ocean science affects our coastal lifestyle, economy, and health. The Oregon Ocean Science Trust was established by the 2013 Legislature to promote peer-reviewed, competitive research and monitoring that leads to increased knowledge and understanding of Oregon's ocean and coastal resources. Subject to available funding, the Trust provides competitive grants to conduct research and monitoring related to Oregon's ocean and coastal resources.
Small business creates 80 percent of new Oregon jobs. The Oregon Innovation Council, also called Oregon InC, is responsible for developing a state plan for innovation and economic competitiveness. The plan is updated every biennium with a report to the Governor and Legislature every year.
Oregon InC is a public-private partnership that helps create new jobs and new companies, diversifying Oregon's economy and bringing federal research dollars back to the state. The council provides funding to accomplish its goals via a series of programs. Those programs are:
Signature Research Centers (SRCs) focus on emerging industry sectors where Oregon has innate advantages and are potential high-growth sectors in the future.
High Impact Opportunity Projects (HIOP) are discrete projects that will support the growth of industry sectors by removing barriers, supporting product development/testing, or expediting technology commercialization of other aspects of industry innovation.
SBIR Support Program helps small businesses access federal non-dilutive, but very competitive, funding. The program has two types of grants to assist companies: application support grants and matching grants.
One third of our district residents are over age 65. The Governor's Commission on Senior Services (GCSS) is dedicated to enhancing and protecting the quality of life for all older Oregonians. Through cooperation with other organizations and advocacy, we work to ensure that seniors have access to services that provide choice, independence and dignity.
Study programs and budgets of all state agencies, which affect elderly persons and people with disabilities.
Recommend development of a comprehensive plan for delivery of services to elderly persons.
Promote responsible statewide advocacy for elderly persons.
Local Small Business Development Centers help entrepreneurs turn ideas into businesses and small businesses into larger small business. The Oregon SBDC State Advisory Council supports the Oregon Small Business Development Center Network and their efforts to assist small businesses throughout Oregon with advising, classes and access to the resources they need to be successful. Centers are housed in community colleges statewide.
For more information on any of these Boards and Commissions, click on the links to see meeting times, minutes, and members. You can also read more about the 250 Boards and Commissions representing a broad range of areas and issues for the State of Oregon. Many have vacancies you can apply for.
Over the past week, I've done two radio broadcasts, spoke (remotely) with community groups in Lincoln and Tillamook Counties, tuned into Oregon Sea Grant's "State of the Coast" conference, attended a meeting of the Oregon Coast Community College Foundation, and kicked off a program for wildfire survivors on funds available for energy enhancements and rebuilding.
The most fun I had was helping judge a Scarecrow Contest at Lakeview Senior Living.
I hope everyone was able to enjoy some special time with their young (and young at heart!) loved ones over the weekend. And please remember that Veteran's Day is coming up November 11th.
Be good to yourself and each other.
email: Rep.DavidGomberg@oregonlegislature.gov
phone: 503-986-1410
address: 900 Court St NE, H-480, Salem, OR, 97301
website: http://www.oregonlegislature.gov/gomberg