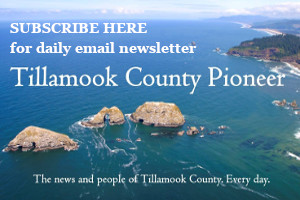 By Representative David Gomberg, House District 10
10/2/2023
Hello Neighbors and Friends,
Your state Capitol was a flurry of activity during last week's quarterly Legislative Days. Each House, Senate, and Joint committee met at least once, working to review progress made in various agencies, programs and projects throughout the interim, as well as priorities on the horizon for 2024. The building was filled with lawmakers, advocates, and the public, with work made more difficult by ongoing renovations. My own agenda was filled with committees, appointments, and small gatherings with groups of legislators. There was not a day that didn't include meetings before eight in the morning or after five in the evening.
But first, you might be wondering why a grown man would appear before a legislative committee wearing a Chinook Salmon on his head. The answer is here. Take a moment and listen to how we're introducing local kids to our wonderful outdoors and educating them about the Cascade Head Biosphere Collaborative – one of 700 UNESCO recognized reserves on the planet and the only one in Oregon.
My committee on Transportation and Economic Development heard updates and reviewed grant proposals from the Department of Transportation and Housing and Community Services. That included a report on how rural counties are receiving funds for housing and shelter beds.
Two weeks ago, I wrote that rural counties continue to struggle for balanced state support and coastal counties struggle among rural counties.
Lincoln County was the third-lowest of the counties or regions to get awards and coastal counties are getting the least overall. Housing Authority of Lincoln County executive director, Karen Rockwell said, "It's concerning to me that we're not getting the same level of respect and support that other areas are, especially when it comes to standing up shelters."
I asked why Lincoln County received about $200,000 for 70 shelter beds and Clatsop County got $2.5 million for 80 beds. Circumstances and costs vary, I was told. Some shelters are new buildings and others are renovations of older buildings. We heard that 29 proposals were received but that available funding of $26 million could support only 17 projects. I then asked to receive a list of those projects not funded. You can listen to the entire hearing here with the housing portion starting at 14:10.
When the full Ways and Means Committee met Friday morning, I presented subcommittee recommendations authorizing ODOT to apply for more than $1.45 billion in federal grants to support the I-5 bridge replacement across the Columbia River and related highway improvements. Those improvements will also be supported by highway tolling in the Portland area.
The news that the University of Oregon and the University of Washington will be jumping ship from the Pac-12 conference threatens to upend long-established athletic traditions in Oregon. With our district now stretching through Philomath and to the city limits of Corvallis, we will feel the implosion of the Pac-12 more than most.
During a public hearing last week before the House Interim Committee On Higher Education, school presidents, athletic directors, one student-athlete and a small business representative detailed how these changes — and Oregon's defection to the Big Ten — will impact the schools and their athletic departments moving forward.
The conference fell apart last month when Oregon and Washington announced they would be leaving for the Big Ten at the beginning of the 2024-25 season. The news came roughly a year after USC and UCLA made a similar move, and days after Colorado said it would leave for the Big 12. It started a domino of departures, with the rest of the conference bailing for the Big 12 and ACC. Only two schools were left without a future conference home: Oregon State and Washington State.
During Friday's hearing in Salem, Oregon State President Jayathi Murthy said the "consequences" of the Pac-12′s collapse will be "devastating" for Oregon's largest university, causing a $42 million budget shortfall created, mostly, by a loss of television revenue. The funding deficit, Murthy said, will threaten athletic scholarships and jeopardize the future of non-revenue and Olympic sports and women athletes.
Oregon State President Jayathi Murthy and University of Oregon President Karl Scholz.
Conversely, Oregon President Karl Scholz said the university bolted from the Pac-12 to remain financially stable and self-sufficient, noting that its athletic department was self-funded and would remain so. The move to the Big Ten, he said, will provide "stability and visibility" for the Ducks.
Read the full story here or watch television coverage here. You can watch the entire hearing here.
This week my office received more than 50 letters on the subject. As an OSU alum myself (BA-Political Science, MA Political Science/Economics/History) and as a former Student Body President, I've made my own thoughts pretty clear. As I told OPB, "The Ducks will have a longer ride to their games now in the bus they just threw the Beavers under."
Wednesday evening, all 90 legislators were invited to the Governor's residence and a reception hosted by Governor Kotek and first lady Aimee Wilson.
Mahonia Hall, Oregon's official governor's residence, features a painting of Arnold Creek Estuary by Toledo's Michael Gibbons in the dining room.
I spoke with the Governor about ongoing recovery from the 2020 Labor Day fires. She suggested we sit down soon for a longer conversation. In the meantime, I suggested, we should encourage the Oregon Department of Forestry (ODF) to conclude their three-year investigation into the cause of the fires. The point is not to assign blame, but rather to determine what we can do going forward to prevent similar disasters.
It has been more than three years since historic wildfires tore through multiple Oregon communities, burning 1 million acres and forever altering the lives of thousands.
As communities rebuild, survivors put their lives back together and lawsuits assign blame, one element of recovery remains missing: an official cause for almost all of the fires. Of the nine major Labor Day fires that exploded in Oregon in September 2020, eight remain either under investigation, incomplete or have not been made public.
Only the Archie Creek Fire, which burned 131,542 acres in southern Oregon's North Umpqua Canyon, has had its investigation completed and released through a public records request. It cited ignitions from power lines owned by PacifiCorp as the cause of the fire. Most others — Riverside, Almeda, Echo Mountain, Santiam, Holiday Farm, 242 and South Obenchain fires — remain without an answer. In some cases, the investigation reports have been finished but haven't been released publicly. In others, law enforcement is still seeking fresh leads and information.
Not having the investigations public can be a problem. It allows conspiracies about the fires to fester, hinders fire survivors' ability to get relief and can prevent communities from learning how to prevent future disasters. Another reason for a quick release of info is that fire survivors sometimes need the report for insurance claims or to take civil action.
ODF has around 25 dedicated fire investigators and a budget normally between $500 and $600 million. Recent funding has allowed the agency to add two additional investigators.
This year, a high-stakes class action lawsuit, representing 5,000 fire survivors suing PacifiCorp, went forward without the state's report on what happened. The jury made their judgment without the best evidence or expert witnesses. After a nearly seven-week trial, a jury awarded $90 million to survivors of four of the Labor Day fires. A second phase of the trial begins in January and could ultimately cost PacifiCorp billions. Other lawsuits are moving forward as well.
You can read more details and a comparison of how California usually concludes wildfire investigations within a year here. The story also has an update on where each of Labor Day's nine fires stand. Here is the latest on Lincoln County's Echo Mountain Complex fire:
ODF investigated two separate fires that burned in close proximity in Lincoln County in September 2020: The Kimberling Mountain Fire and the Echo Mountain Fire (together known as the Echo Mountain Complex). The Kimberling Mountain Fire investigation is complete but has not been publicly released. ODF is in the process of certifying its costs for this fire. The Echo Mountain Fire investigation is ongoing, ODF said.
A Multnomah County jury found PacifiCorp negligent for the Echo Mountain Complex. The case has moved into a second phase that begins in January.
Last week I announced an informal hearing in Newport regarding the federal Bureau of Ocean Energy Management (BOEM) plans for wind energy development off the South Oregon Coast. Three formal hearings were scheduled for Gold Beach, Brookings, and Coos Bay. I was troubled that none were planned for the Central Coast where our largest fishing fleet and ocean science community are based.
Determined we not be left out of the conversation, I provided an opportunity for comments that would be submitted to the official record. Representatives from Senator Merkley, Congresswoman Hoyle, County Commissioner Jacobson and your legislative delegation were all in attendance.
The Legislative Coastal Caucus, governor and U.S. senators, fishing industry groups, many conservation groups, Oregon's Pacific Marine Fisheries Council, and tribes, had all protested that BOEM was moving too quickly, and that more study and public involvement was needed. This feedback did result in BOEM allowing for a 60-day comment period on the Wind Energy Areas, which is not their usual procedure. But nevertheless, they are rushing ahead on their timeline before scientific studies of the potential impacts have been done.
More than 50 people attended our gathering Friday afternoon and in the crowded room, one person after another came to the front to share a variety of economic, environmental, scientific, and very personal concerns.
I told the group I was determined that we be heard and thanked them for providing that voice. We want and need more renewable energy. We want good, clean, well-paying jobs on the South Coast. But if we do this, we need to take time to do it right. And not at the expense of established, traditional, sustainable and necessary jobs. Not at risk to our magnificent environment or the California Current. Not at risk to our fisheries, marine birds or marine mammals. And not if the burden falls on Oregon and Oregonians, but all the benefits – new power generated – go to California.
"BOEM continues to demonstrate their deep lack of understanding regarding Oregon's commercial fishing industry," said Heather Mann, director of the Midwater Trawlers Cooperative. "We have consistently relayed to BOEM the importance of engagement with fishermen up and down the coast, not just in southern Oregon. The fact that they scheduled three meetings in southern Oregon and none north of Coos Bay is evidence of what we have been saying all along — BOEM is not listening to stakeholders."
Thank you to everyone who turned out for our Newport gathering. The meeting will be transcribed and submitted for the BOEM record.
Susie and I enjoyed lunch with friends at one of our remarkable valley wineries on Sunday. I'll be doing more of that "research" as I've now been selected to co-chair the legislative Wine Caucus. And yes, it is more interesting than PowerPoint presentations on economic and tax trends.
I'm in Sunriver today for the Small Business Development Center State Advisory Council and a number of SBDC meetings. I remain a strong supporter of our network of Centers around the state who provide free counseling and support to new and evolving local enterprises. Small business is a driver of Oregon's economic success, enriching our communities and providing jobs throughout the state.
I plan to be back Tuesday for the Senior Fair in Lincoln City.
Wednesday I'll be in Salem for the quarterly meeting of the Oregon Ocean Science Trust. Thursday the Coastal Caucus meets and my staff will also be joining a discussion in Salem of drought and funding for water and sewer infrastructure for small cities. Sunday I'll be in Newport for the Oregon Coast Jazz Party at the Performing Arts Center. I've also got an appearance on the horizon for the Emerald Valley Electric Vehicle Association.
A bit of rain has refreshed my coastal garden and the Autumn days here have been spectacular. Stream flows are still low and most of our counties remain in a declared drought. Winter weather ahead remains a looming question with only a few indications of what to expect.
email: Rep.DavidGomberg@oregonlegislature.gov
phone: 503-986-1410
address: 900 Court St NE, H-480, Salem, OR, 97301
website: http://www.oregonlegislature.gov/gomberg