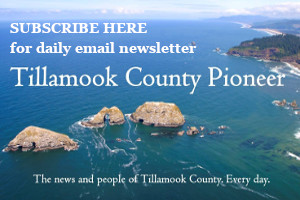 By Representative David Gomberg, House District 10
I often talk in these newsletters about the importance of being prepared. Perhaps it is the old Boy Scout in me. But our family experiences a year ago when fires arrived at our doorstep were a stark reminder that planning and preparation can save time, property, and possibly lives.
Each year, Oregon prepares for a major earthquake with the Great Oregon Shakeout. I urge you to visit their web page, spend some time planning with your family, and register your participation – at no cost. So far, over 10,000 people have signed up in Lincoln and Tillamook counties!
Be counted in the largest-ever earthquake drill!
Be listed with other participants in your area (Optional)
Be an example that motivates others to participate & prepare
Have peace of mind that you, your family, your co-workers and millions of others will be better prepared to survive and recover quickly from the next damaging earthquake!
International ShakeOut Day is always the third Thursday of October which this year is October 21.
The Great Oregon ShakeOut is an annual opportunity to practice "Drop, Cover and Hold On."  and be safer during big earthquakes. The ShakeOut has also been organized to encourage you, your community, your school, or your organization to review and update emergency preparedness plans and supplies, and to secure your space in order to prevent damage and injuries.
Sitting down with your loved ones and planning together to develop a simple emergency plan in advance can reduce anxiety and save lives in a disaster. Everyone's situation is unique so no one plan is suitable for everyone. It's important to consider each household member, including your pets, and think of their daily routines and special needs. You may be unable to return to your home so think about how you could otherwise access your critical personal, financial, and contact information.
By planning ahead you and your loved ones will be able to act more quickly and calmly in an emergency situation and be far more likely to reconnect if separated.
Staying with the preparation theme, the Emergency Volunteer Corps of Nehalem Bay will host an online "Emergency Food Planning for Disasters" class from 1-2:30 p.m. Saturday, Oct. 16. The Zoom event will cover what types of food to store, how much to have on hand and how to store it.
"People who like to eat will especially want to take this class," said organizers. "That way they'll have the food they need in a disaster." The class will cost $10 and pre-registration is required.
In the aftermath of a major earthquake and tsunami, experts warn that this area may be isolated for up to 30 days. Stockpiling a sufficient food supply for you and your family, including pets, to last for a minimum of 30 days is a critical part of emergency preparedness here on the Oregon Coast. We've also become more aware of the dangers of wildfires. There is a lot you can do to reduce your risk of property damage and to get ready long before an evacuation might occur.
A Zoom link and details will be provided to registered participants. The registration fee will cover up to two members of a household. If the EVCNB cancels the class, that fee will be refunded.
October is Pedestrian Safety Month and a great time to brush up on the basics of keeping everyone safer on our roads, whether you're commuting to work, shopping, or just getting exercise.
Tips for Drivers:
Watch for pedestrians, cyclists and motorcyclists when you look for oncoming vehicles and other traffic. Be especially mindful in parking lots, at stop signs, when backing up, or parking.
Be extra cautious when driving in dark, wet, or hard-to-see conditions or in places where you normally see people crossing such as parks, schools, shopping areas and busy intersections.
Yield to pedestrians in crosswalks and stop well back from the crosswalk to give other vehicles an opportunity to see crossing pedestrians.
Tips for Pedestrians:
Stay alert and ditch the distractions like texting, talking on the cell phone, or listening to headphones.
Be visible. Wear bright clothing. Add reflective material or a blinking light to your jacket or backpack or carry a flashlight at night. Be extra careful when walking at dawn or dusk.
Cross streets at crosswalks or intersections, where people driving expect pedestrians. If a crosswalk or intersection is not available, find a well-lit area where you have the best view of traffic. Wait for a gap in traffic that allows enough time to safely cross and continue watching for traffic as you cross.
Pedestrian safety is especially important, as the days get shorter and foggier.
Fatal crashes involving pedestrians are far more likely to take place at night when it is harder to see people walking. Crashes involving pedestrians are also more likely to occur away from an intersection. In Oregon, the number of pedestrians killed in a motor vehicle crash increased from 79 in 2018 to 85 in 2019. Between 2015-2019, 16% of all those who died in crashes were pedestrians.
Here's more on traffic safety in rural regions. As the days grow shorter, Oregon deer are beginning their seasonal migration. That makes October and November peak months for collisions between vehicles and wildlife.
Nearly 6,000 vehicles in Oregon crashed into wild animals last year. Oregon experiences a higher rate of animal-vehicle collisions than any other West Coast state, according to one insurance industry report. "Oregon is working to reduce the risk of wildlife-vehicle collisions," says Michelle Wheat of the Oregon Department of Fish and Wildlife. ODFW is mapping migrations to determine where they intersect with busy roads.
Most of those collisions killed the animal and took a chunk out of the car, according to a recent report from the Oregon Legislative Policy and Research Office. The average insurance cost from such collisions: $4,135.
A law allowing Oregonians to salvage roadkill for their dinner tables went into effect in 2019. But ODFW warns, "Intentionally hitting a deer or elk in order to salvage it remains unlawful.
For a different perspective on the deer crossing dilemma, listen to this interview with "Donna The Deer Lady," who called in to the "Morning Playhouse" radio show in Fargo, N.D back in 2012.
October is Breast Cancer Awareness Month. One in eight women will be diagnosed with breast cancer in her lifetime. Although rare, men get breast cancer too. Please take a moment to read about risk factors and early detection.
Visit the resources below to find out how you can help elevate the cause and support those that are fighting this illness.
This Monday, October 11, will be Oregon's first official recognition of Indigenous Peoples' Day, following the passage of House Bill 2526 during the 2021 Legislative Session. The bill replaces Columbus Day with Indigenous Peoples' Day as a state holiday and recognizes that Native people on this land created self-sufficient, thriving and successful communities for thousands of years before the arrival of European settlers.
In celebration of the holiday, we honor the Nine Confederated Tribes and Indigenous peoples who have shaped Oregon's past, present and future. This is an opportunity to relearn history in order to better understand our present, as well as to commemorate the many histories, contributions, and cultures of Oregon's Native and Indigenous communities.
Earlier this year, I was pleased to propose and receive $750,000 from Oregon Lottery funds to support the Siletz Tribal Arts & Heritage Society's construction of Ghii Dee-Ne Dvn, A Place for the People. This cultural heritage center, museum, art center, and gathering point will be built on Government Hill in Siletz.
The Confederated Tribes of Siletz Indians has committed to matching all private sector support 3 to 1, up to $7.5 million. The People's Place will be a place to remember, to heal, to celebrate, to teach and a place to learn for generations to come.
September was Suicide Prevention month. This is an issue that I care deeply about and have championed during my time in the legislature. During the 2019 legislative session, I co-sponsored Adi's Act, which requires school districts across Oregon to engage in suicide prevention planning. And in the 2021 legislative session, I supported Carson's Act, which creates notification requirements for school districts when there are reports of harassment, intimidation, bullying or cyberbullying.
Preventing suicide is something we can do all year round and the work extends beyond our schools. It is difficult to talk about suicide, but willingness to talk is an important step in stopping preventable deaths. Know the warning signs of suicide and the steps you can take to help someone who is struggling.
Last week I wrote about the nexus of art, culture, the economy, and local livability. Wednesday I drove down to Toledo to speak at a special presentation that particularly highlighted the art and economy points. Twenty-four cities across the entire nation have been selected for T-Mobile grants for art installations and beautification. The funds will support three new murals downtown.
Later in the week, I filmed a lighthearted segment with Destination Oregon regarding the shortest river in the world "controversy". I also met with the leadership of the Southwest Lincoln County Water People's Utility District. I zoomed in for a meeting of the Ocean Science Trust and chaired a zoom meeting of the Coastal Caucus. And today I'm in Sunriver meeting with the Small Business Development Center statewide network.
I'm a bit worried that too much of this week's report is focused on disasters, accidents, and disease. With summer fading, it is a good time to pause and consider planning and preparation – and then take in a coastal sunset.
Thanks as always for reading and for your frequent compliments of our weekly reports.
Warm Regards,
email: Rep.DavidGomberg@oregonlegislature.gov
phone: 503-986-1410
address: 900 Court St NE, H-480, Salem, OR, 97301
website: http://www.oregonlegislature.gov/gomberg