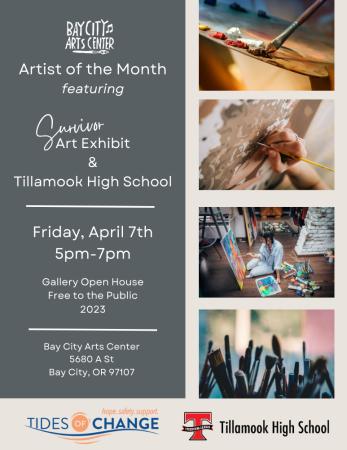 By Representative David Gomberg, House District 10
I've just finished reading a fascinating article in OPB about high-altitude balloons testing equipment for space agencies around the world. Having built a career making and flying giant kites, I found the article about balloons fascinating. But I also found it fascinating because, since their inception in 1996, Near Space Corporation has operated from facilities at the former WWII Tillamook Naval Air Station in our district where a massive blimp hangar and the custom-built Johnson Near Space Center provides an ideal location for end-to-end engineering, production and flight testing of their high altitude/near space platforms, and flight services for government, academic and commercial customers. Tillamook's Near Space Corporation was named one of the nation's elite unmanned aircraft test site operators.
Across our district, remarkable people are doing remarkable things. They explore near space, and at Hatfield, explore the deep seas where scientists work to confront changes in ocean chemistry. We make world-class cheese, world-class wine, and catch world-class seafood. Our restaurants and resorts are as good as you will find no matter how far you travel. Our retirees have done amazing things in their lives and our entrepreneurs starting out will soon do amazing things as well.
I am not naïve to the challenges we face. Late last week I attended a ribbon cutting at a new addiction counseling center in Lincoln City and the same day was at the Veterans Stand Down where those who have served sought needed support. We have our problems and they demand attention. But there are also good people doing good things and we need to recognize and remember how special our part of Oregon really is.
This past week, the Biden administration and the U.S. Senate came together to cut the cost of health care, tackle inflation, and meet the climate crisis – passing the Inflation Reduction Act and delivering for families and communities across the country.
This bill caps seniors' out of pocket spending for prescription drugs at $2000 per year and empowers Medicare to start the process of negotiating Rx drug prices as key steps toward making health care more accessible and affordable.
It saves 13 million Americans, covered under the Affordable Care Act $800 per year on their health insurance premiums.
This bill tackles inflation by lowering the deficit and lowering costs for regular families.
It also takes proactive action to combat the existential crisis of climate change. It strengthens our energy security, creating jobs manufacturing solar panels, wind turbines, and electric vehicles in America with American workers. And it lowers families' energy costs by hundreds of dollars each year.
Finally, it pays for all this by establishing a minimum corporate tax for large firms that are now avoiding taxes. It does not raise taxes on those making under $400,000 a year. 
The bill now moves to the U.S. House to be voted on, where it's expected to pass.
I often receive mail about pending legislation in Congress. As a state representative, I do not vote on those issues. But I do vote on Oregon proposals to address the cost of living and inflation.
From paid leave to childcare access, minimum wage increases, overtime pay, and fair workweek laws, Oregon is building an economy that works for everyone.
We've also worked to support small businesses. In the past two years, I have been able to double funding for Small Business Development Centers. We reduced barriers to starting a business. And just this year we passed House Bill 4015 which raises the loans small businesses can receive each year from $100,000 to $1 million per year. This money will allow Main Street businesses to grow jobs and create opportunities in every corner of the state.
We've driven down the cost of living by passing a one-time $600 Cost of Living payment to over 200,000 low-income Oregonians. These checks were successfully distributed this year and will help cover daily and monthly expenses like utility bills, diapers, prescription drugs, and rent.
And in 2018, we passed HB 4005, establishing a statewide prescription drug cost and price transparency program requiring pharmaceutical manufacturers and insurers to report prescription drug cost information. SB 844, which we passed in 2021, establishes a Prescription Drug Affordability Board (PDAB) to evaluate the cost of prescription drugs and determine whether they present an affordability challenge to Oregonians.
I wrote last week about wildfire risk mapping across Oregon as part of Senate Bill 762. It is important to understand that this mapping was but one part of Oregon's first comprehensive wildfire preparedness and resiliency bill. The measure will dedicate $220 million to forest management practices, $6 million for Oregon fire districts to hire more firefighters, coordinates a statewide response to plan, mitigate wildfires with a focus on community preparedness and public health, and also requires statewide mapping of wildfire risks.
Nealy every fire department across our district received state grants totaling about $300,000 to increase staffing during key summer months to better react to potential fires, especially wildfires. The departments are among the 180 fire districts and departments across the state that received $6 million through SB 762 from the 2021 Legislature.
Central Oregon Coast Fire & Rescue, $35,000: Chief Jamie Mason has hired two volunteers to work 

Wednesday

 through Sundays beginning 

August 3

 through late November. They will staff the department's brush rig, and respond to calls along with the district's "first out" engine. They will not fill open shifts when the district's six firefighters are on vacation, sick or in training, Mason said, but are added personnel to help respond to multiple calls.
Yachats Rural Fire Protection District, $35,000: Administrator Frankie Petrick said the district was not able to find volunteers or outside staff to hire, so it will use the grant to pay overtime to firefighters working extra shifts.
Seal Rock Fire Department, $24,824: Chief Will Ewing said the district will use the grant to have more staff on duty during the summer, especially key tourist weekends or during hot weather. The district currently is without its own paid firefighter staff, Ewing said, and uses a roster of seven part-time paid firefighters and 13 volunteers to fill shifts. The grant allows for two paid persons being on shift at a time during peak travel, recreation, and weather events.
Newport Fire Department, $35,000: Chief Rob Murphy said the department hired two volunteers to augment its regular staffing.
North Lincoln Fire & Rescue, $35,000: Chief Rob Dahlman said the district hired four firefighters from its volunteer corps to staff a vehicle from noon to midnight 

Friday

, 

Saturday

, Sundays for three months to respond to burn complaints, smoke sightings in forested areas, and to patrol beaches to put out unattended fires.
Depoe Bay Fire Department, $35,000: Chief Bryan Daniels said the department will use the grant to pay overtime to current staff working extra during hot weather or busy weekends and plans to pay firefighters from other districts to augment current staffing.
Nestucca Rural Fire Protection District. $35,000: Chief Oeder informed me grants would allow him to staff an additional firefighter during peak season.
The Toledo, Siletz, and Tillamook Fire District also received grants of $35,000 under the program.
Fire agencies were able to request up to $35,000 to support staffing during the summer and early fall, the height of Oregon's fire season. Departments are allowed to use it for overtime for additional firefighter shifts or to hire temporary firefighters to augment their current staff.
This fire season is especially worrying for some districts across Oregon, as early spring showers across the state increased plant growth, much of which is now drying out and providing ample fuel for future blazes. The grant program is funded only through this year and will need to be renewed by the Oregon State Legislature in order to continue for future fire seasons.
On a much lighter note, let's give a shout-out this week to the Oregon Lottery.
Nathan and Rachael Lamet, of Salem, found a chewed up Oregon Lottery ticket recently and boy, did their two dogs look guilty. The ticket had more pieces than a crossword puzzle has clues.
The lottery said in a press release its employees collected all the pieces of the ticket, were able to put it back together, and then realized in addition to being "delicious," the ticket was an $8 winner. The check, said the lottery, was in the mail.
I've been making the rounds and racking up miles on my Honda Hybrid this month. Friday I was at events in Lincoln City, Newport, Philomath, and a banquet in Portland before returning home to Otis. And Saturday I was back in Philomath, a picnic in Corvallis, and then the Pow-Wow in Siletz.
Highlights for the coming week include the unveiling of the Oregon Coast Art Bus Thursday in Newport followed by a Chamber of Commerce social at the Yaquina Bay Yacht Club.
Friday I'll participate in the first meeting of the Vietnam War Memorial Fund Steering Committee and help plan to create a fitting memorial on the State Capitol grounds.
And over the weekend I'll be in Toledo for the iconic Wooden Boat Show.
Less fun, but critically important, I have meetings this week with SAIF, Business Oregon, a planning session for legislation on the Newport Dam, a zoom with rural legislators working on economic development, a check-in with chair of Ways and Means, and an interview with the International Brotherhood of Electrical Workers.
If someone forwarded you this newsletter and you'd like to get it directly, you can sign up for weekly reports on my Legislative Web Page. You can also review there, maps of our current district and changes for January 2023.
Thanks as always for reading!
Warm Regards,
email: Rep.DavidGomberg@oregonlegislature.gov
phone: 503-986-1410
address: 900 Court St NE, H-480, Salem, OR, 97301
website: http://www.oregonlegislature.gov/gomberg