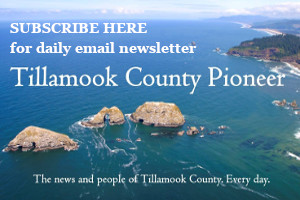 By Representative David Gomberg, House District 10
Dear Neighbors and Friends,
Thanksgiving has always been my favorite annual celebration. It is a time to pause and reflect and appreciate all the things we have to be truly grateful for.
We have learned in the face of all that recent years have thrown at us, that we are fortunate to have family and friends we can count on to help us get through difficult times. It is important that we remember the strength of spirit that binds us together as Oregonians.
In the past few days, I have worked at two community dinners where Thanksgiving meals were served at the Newport and Lincoln City Senior Center. I've watched a new Cultural Plaza unveiled. I gathered with supporters of our marine reserves at the Land and Sea Symposium in Yachats and joined residents advocating for new parklands before the Oregon Parks and Recreation Commission. I've celebrated the Siletz Pow Wow. And I've lunched with local Chambers of Commerce. The common thread for each was volunteers working together to make our communities stronger, more vibrant, more livable, and more successful. Our wealth of volunteers is something we can all be thankful for.
Helping dedicate Lincoln City's new Cultural Plaza.
Each morning, I look out my living room window to the forested hills of Otis and Devils Lake in the distance. You can see each day nature and neighbors recovering from the fires. As the seasons change, each day is different. Some are dark and brooding, some are crisp and clean, and some are shrouded in mist and mystery. Each is remarkable and beautiful and full of promise. I'm thankful to live in this special part of Oregon each and every day.
I'm thankful for the small businesses that make up the backbone of our regional economies. I'm thankful for the fishermen, the farmers, banks, and grocery store workers, the B&Bs, and the gift shops. I'm grateful for the entrepreneurs who are risking everything with little more than their experience, their creativity, and their raw economic courage to try and create something out of nothing. Small business owners are working to create a sustainable future for themselves, their families, and their employees. And as they do so, they make our communities more vibrant, more interesting, and more sustainable.
Pouring coffee at community Thanksgiving meals in Lincoln City and Newport.
I'm thankful for our first responders in the Coast Guard, police departments, fire departments, senior care, pharmacies, and hospitals. I'm thankful for our veterans who have served or who continue to serve and to their families who share their sacrifice to secure our freedoms. I'm thankful for our researchers and scientists who seek to address the challenges of our collective future. I'm thankful for those public employees who keep everything working.
I'm thankful for everyone who helps serve, support, and protect our kids and grandkids. That certainly includes our teachers and educators who strive to prepare future generations to go out into the world and thrive.
I'm thankful for major new developments that will change our communities for the better. There is still work to do. But we have improved roads and bridges, new hospitals, enhancements at our ports, new parks, and growth at the Hatfield Center which is a model for tsunami and earthquake-resistant architecture that can show every coastal city how to live safer.
Speaking at the Land and Sea Symposium in Yachats.
And most important, I'm thankful for my remarkable wife Susan who has shared our ongoing life of adventure, building a business, traveling the world, and caring about the people and environment around her. I learn every day from Susan. I laugh with her every day. And every day I am grateful to have her in my life.
Finally, I am thankful to all of you for the great honor of allowing me to represent you. I have often observed that this is the hardest work I have ever done. It is also the most rewarding. I sincerely believe that together, we can make things better.
Susan and I wish each of you all a meaningful and memorable Thanksgiving.
I often write about the quarterly revenue forecasts delivered by our state economists. Those forecasts tell us how the economy is performing and how much the state has to spend. If actual state revenue exceeds the forecasted revenue by at least 2% the balance is returned to taxpayers through Oregon's unique kicker credit.
The latest state revenue forecast predicts an additional $335 million in the current budget, driven by income taxes from wealthier Oregonians and surging corporate profits. The state is also now anticipating a new infusion of taxes on out-of-state insurance companies. That potentially means more money available in the short term to address addiction and the drug crisis, homelessness and housing programs, and looming unrest in the State's K-12 schools. Additionally, I've been arguing that investing in new housing requires also investing in local water and sewer infrastructure.
The December 2023 Economic and Revenue Forecast was released this week in a joint meeting of the House and Senate Revenue Committees. The Office of Economic Analysis indicated that Oregon's revenue is up, our budget reserves are healthy and inflation is cooling off. I'm pleased to see our state's economy stabilizing, but many Oregonians still struggle to afford basics like rent, gas, and groceries.
Here are some highlights:
2023-25 Net General Fund resources are up $335.4 million from the September 2023 forecast. The 2023-25 General Fund ending balance is now $1,215.5 million versus September's projected ending balance of $880.1 million. Lottery revenue for the 2023-25 biennium is up $8.1 million from the September 2023 forecast.
Reserve accounts are currently at $750 million (Education Stability Fund) and $1,368 million (Rainy Day Fund). The projected ending balances for the 2023-25 biennium reserve account are as follows: Education Stability Fund: $1,008.2 million and Rainy Day Fund: $1,855.5 million. The Rainy Day Fund is projected to receive $271.3 million following the end of the 2023-2025 Biennium.
No personal kicker is projected for 2025-2027 at this time. (The 2023 $5.6 billion kicker will be returned to Oregon taxpayers next filing season.) The Corporate Kicker of $418.3 million is projected to be dedicated to K-12 education spending in 2025-2027.
State economists on Wednesday also focused heavily on Oregon's recent negative population growth. While in-migration to the state has remained steady, census data suggests the state saw a net decline in population last year as more people moved away than relocated to Oregon. It was just the fourth year since World War II that the state had seen a net decline. A "silver lining" is that Oregon has seen gains in residents aged 18-24.
Recently released Census data confirm that the economic recovery from the pandemic has been inclusive and broad-based. Local economic growth is driven by a return to full employment, combined with stronger business investment and productivity gains.The outlooks for both construction and leisure and hospitality have been raised in the current forecast. The combination of increased federal investment and the need to boost housing production means the demand for construction workers will grow stronger in the years ahead. That said, in the near term, construction has slowed down due to the higher interest rates, resulting in less building activity today and in the next few quarters, even as that demand over the medium- and long-term is higher.Leisure and hospitality employment continues to come in above forecast. Consumer spending on travel, going out to eat, and entertainment has fully recovered the past couple of years. However, industry employment has not.Longer term, revenue growth in Oregon and other states will face considerable downward pressure over the 10-year extended forecast horizon. As the baby boom population ages, works less, and spends less, traditional state tax sources such as personal income taxes will become less than seen in the past.If you're interested in listening to the joint meeting of the House and Senate Revenue Committees click here. To access the slideshow presented by the Office of Economic Analysis click here.
I recently wrote about Oregon Department of Transportation plans to reduce snow plowing, painting highway lines, cleaning up graffiti and garbage because — it didn't have the money.
ODOT has a $6.1 billion budget. Legislators got an explanation of how this can mean shortages during legislative committee days in a presentation from ODOT officials to the Joint Committee on Transportation.
ODOT has a lot of money. But they can't spend the money they get on anything they want. Much of those funds are rigidly dedicated to certain purposes, such as construction projects and not operations and maintenance.
About $1.7 billion in revenue flows into the state highway fund every two years. It's made up of $489 million in DMV fees, $531 million in fees on heavy trucks and $700 million in taxes on fuels. Subtract the money that goes to cities and counties, the money for debt service, the money for capital programs, and the money left for operations and maintenance is $370 million.
That number really hasn't grown much in recent years. But costs certainly have.
Reliance on a gas tax to help pay for roads doesn't work as vehicles become more efficient or don't even use gas. And it especially doesn't work if other fees are not increased to compensate. Options include increasing taxes and fees for inflation, tolling, or a mileage fee. None of those changes would be popular.
For the last three two-year budget cycles, the agency has been making reductions in its budget and it is at the stage now "where the public is really feeling it."
I was in Washington DC recently, I argued that the Federal Government needed to take leadership on highway funding changes or we would end up with a confusing hodgepodge of laws in different states. But the fact is that the Feds are playing a smaller role than in the past.Meanwhile, we're hearing increasingly that the legislature needs to step up and address this problem. I now serve on the Special Joint Committee On Transportation Subcommittee On Transportation Planning. We are tasked with looking for answers to some of these very difficult questions. Stay tuned.
Here is some more ODOT News.
The Oregon Department of Transportation has announced successful completion of the Yaquina Bay Bridge $30 million restoration project – $2 million under budget and about six months ahead of schedule. Crews had been working on the Yaquina Bay Bridge on Highway 101 in Newport since early 2020.

The project focused on three key areas: protecting the bridge from corrosion, repairing damaged concrete, and fortifying the bridge against potential earthquakes.

There is no formal plan to replace the Bridge. But with the maintenance just completed, ODOT expects it to be in service for at least 20 more years, if not far longer.

Just a few numbers illustrate the challenge of replacing the bridge. State officials put the bridge's replacement cost at more than $200 million. Others familiar with the bridge and its history say the real cost could easily be $600 million to $800 million. By contrast, the Oregon Transportation Commission and ODOT have allocated approximately $300 million for all bridge work for all of Oregon for its 2024-2027 funding cycle. And even that level of funding, they add, will result in the decline of state bridge conditions statewide.

Bottom line: While this project is finished, it won't be the last time crews work on the 87-year-old bridge.

As Oregon invests in building more housing, our commitment to improving water and sewer infrastructure is lagging. Building homes is visible, tangible and exciting. Sewer systems are not as sexy. But if new homes don't have clean water coming out of the tap or dirty water going down the drain, those homes won't be very livable. And the difficult truth is that our water infrastructure is aging out, wearing out, or failing to keep up with planned growth. Too often, small towns can't afford the cost of big projects.

I have made that point recently to legislative leadership, our real estate industry and this week brought 40 legislators and staff, agency representatives, and local advocates to tour water systems, dams, and treatment facilities on the central coast.
We gathered in Siletz where sewer facilities cannot support new housing for the city and tribe. Costs exceed $12 million for a town of 1100. We visited small water and sanitary districts in Otter Rock and Gleneden Beach where aging pipelines lose more water to seepage than is delivered to homes. And we stopped in Newport and stood on the most dangerous dam in Oregon to talk about how we have raised the money from local, state, and national sources to solve an $80 million problem.

Over the past two years, we've had success securing funds for projects in Waldport, Newport, and Monroe. When the legislature convenes in January, I'll be introducing a bipartisan statewide water and sewer package intended to expand and extend that important work.
In December of 2021, an atmospheric river triggered a landslide that damaged Forest Service Road 1861 (FSR 1861).

FSR 1861 is located in the Congressionally designated Cascade Head Scenic Research Area (CHSRA) and is the only road that provides access to the top of Cascade Head. Researchers use FSR 1861 to access the Neskowin Crest Research Natural Area and other study locations on Cascade Head, with ongoing research projects dating back to 1934. Recreationists use FSR 1861 to access the Hart's Cover Trailhead and Upper Cascade Head Trailhead.
The District is preparing to authorize the clearing of slide debris and a geotechnical investigation to determine feasible design alternatives for the re-establishment of safe access to the upper part of Cascade Head.

At the completion of the investigation, preliminary designs will be considered for the feasibility of the following options:
Repairing the existing road in place
Realigning a segment of the road to the north side of the ridge
Converting the road to a trail
If access is important to you, I encourage you to provide feedback for the FSR 1861 Road Failure Geotechnical Investigation CE by December 4, 2023. No other opportunity to comment on this project will be provided.
Comments may be submitted to the Hebo Ranger District using one of the following methods:
Electronic comments may be sent via email to: comments-pacificnorthwest-siuslawhebo@usda.gov
Written comments may be submitted by post mail to: Hebo District Ranger, Siuslaw National Forest. Attn: Planning Department. 31525 Highway 22, Hebo OR 97122.
Persons commenting should include: 1) name, address, telephone number, and organization represented, if any; 2) title of project for which the comment is being submitted; and 3) specific facts, concerns, and supporting reasons for the Responsible Official to consider.email: Rep.DavidGomberg@oregonlegislature.gov
phone: 503-986-1410
address: 900 Court St NE, H-480, Salem, OR, 97301