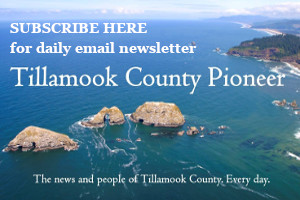 By Representative David Gomberg, House District 10
Memorial Day.
With all the divisions we face in our nation and within our state, yesterday we came together to voice a common value: the respect and gratitude we hold for those who have given all for the rest of us.
On the last Monday of every May, we honor and remember those who lost their lives in our armed forces. It is a time for us to reflect on the sacrifices these men and women have made to keep our nation safe and preserve the freedoms we cherish.
And of course, it is important that we remember our veterans not just on Memorial and Veteran's Day, but every day.
Of particular interest to our district, a new bill, HB 2146, designates U.S. Highway 20 – between the intersection with U.S. Highway 101 in Newport and the Idaho border – as the Oregon Gold Star Families Memorial Highway.

As we all know, Highway 20 is the longest road in America.
Legislation before Congress introduced by Oregon Senator Ron Wyden
 (S.1478) would name the entire length of Highway 20 between Newport and
 Boston as the "National Medal of Honor Highway". In 2017, Oregon became the first state to list our portion of the Highway when then-Gov. Kate Brown declared U.S. 20 as the Oregon Medal of Honor Highway. Other states followed. By the end of last year, all states along the route had passed similar measures.
I spent this Memorial Day in Depoe Bay for the "Fleet of Flowers".
The Fleet of Flowers each Memorial Day is a tradition dating back 77 years. The event expands the theme of Memorial Day to honor not just U.S. military personnel who have died in service but all seafarers who have been lost at sea. The entire city of Depoe Bay rallies together to make this amazing gathering happen each year, raising funds and meticulously assembling gorgeous cedar wreaths that go out on the boats and are left on the water.
Last Wednesday, the budget committee I co-chair approved funding for the Oregon Department of Veterans' Affairs. That budget will improve support for veterans health and housing, education, job creation, and counseling. It includes county outreach programs and funds grants left out of the Governor's recommendations. You can review details of the budget here. The VA budget will be heard by Ways and Means next week and then hold until the Senate returns.
This Memorial Day, we are advocating for numerous bills that would honor and support Oregon veterans and the democracy they fought to defend. These are measures introduced by Democrats and Republicans, Senators and Representatives, and all are currently in limbo until the Senate is able to convene. At risk is legislation that would memorialize fallen veterans, ensure veterans who have died receive a proper burial, boost veteran-owned businesses, and help military families afford college. Legislation supporting Oregon veterans and military families now pending in our Oregon legislature includes, but is not limited to:
On May 17th, our House floor session was interrupted by cannon fire. We paused the debate to listen.
The Oregon Military Department was celebrating Armed Forces Day on the Capitol Mall to honor the men and women currently serving in our military, as well as those who have served and sacrificed to defend our freedom. On display were some of the Guard's newest vehicles, aircraft, and equipment. Attendees enjoyed visiting with Soldiers and Airmen as they listened to the 234th Army Band, observed the cannon salute, and experienced the power of an F-15 Eagle flyover by the Oregon National Guard.
I was honored to be asked to speak last week at the 50th anniversary of Oregon's SB 100 creating a groundbreaking system of comprehensive land use planning that is now embedded in Oregon culture.
Statewide planning was championed by our iconic governor, Tom McCall. And what most people don't realize is that after his term ended, the Governor agreed to teach for one semester at Oregon State. He did a large lecture class in the morning, and two-days-a-week, a small seminar for Political Science seniors. And so it was that every Tuesday and Thursday afternoon, I was able to sit, talk, and listen as Governor McCall talked about the Oregon he loved.
He talked about the bottle bill, the beach bill, and bridging divides. And he spoke about preserving farmlands and forests in the face of urban expansion which he termed "sagebrush subdivisions, coastal condomania and the ravenous rampage of suburbia".
Governor McCall inspired me as he did so many others. In fact, before I began my MBA work at Willamette, I spent a summer interning at a new state agency called the Department of Land Conservation and Development.
As I spoke on the Capitol Mall Wednesday, I looked across the audience and saw many familiar faces who had been there at the beginning.
The Oregon House continues to meet and to pass bills and budgets as we wait for the Senate to return.
A positive revenue forecast, which I detailed last week, has provided important opportunities for us to meaningfully address health care and behavioral health, housing, transportation, public safety, and our schools. There are a plethora of other demands on the state budget, from addiction recovery programs to remedying the shortage of public defenders that's left people languishing in jail for months and ponying up for the massive upgrade of the aging Interstate 5 bridge.
This week, our schools received very positive news.
Oregon schools receive the bulk of their funding from the State School Fund, which the Legislature approves every two years. With school budget season wrapping up across Oregon and without firm spending figures from the state, local school leaders have been operating under the assumption of a two-year fund of $9.9 billion to be split among Oregon's 197 school districts based on student enrollment.
That $9.9 billion is an increase from the previous allocation of $9.3 billion, though education officials and school leaders continue to ask for $10.3 billion, which they say is needed to fully support school services.
Moving anything through the state Capitol has been nearly impossible recently, as the Senate is three weeks into a walkout. However, the State School Fund allocation could be moving a little closer to higher spending levels. Earlier this week, Legislative leadership issued support for $10.2 billion in light of the state's June revenue forecast, calling it a historic investment.
I support a budget that would invest a record-breaking $10.2 billion dollars in the K-12 State School Fund. When paired with local property tax revenues and Student Success Act funding, the total formula resources for K-12 schools reaches $15.3 billion. This is a 12.3% increase over current resources.
In addition, we would invest $140 million in the Early Literacy Success Initiative, which will help schools close reading proficiency gaps for students in kindergarten through third grade. This would also help us improve graduation rates in the long run.
This unprecedented investment in our children will make Oregon's schools stronger, give students a high-quality education, and improve learning outcomes overall. The problem is that local school boards are budgeting now and need clear information from the state in order to complete local plans, hire, and negotiate compensation. If these positive state investment decisions are delayed by the walkout, it leaves our schools in a precarious and uncertain position.
So where do we stand this week in Salem?
With three weeks of no quorum in the Oregon Senate and less than a month before the session ends Sine Die, the cycle of inactivity and uncertainty continues with 224 bills stalled on the Senate floor due to the walkout.
The Joint Committee on Ways and Means is proceeding with our work to prepare budgets, regardless of the walkout. You can check the status of each agency budget with this 2023-2025 Agency Budget Bill Tracker. So far, 10 agency budget bills have been signed into law, 27 are stuck in the Senate, and 46 are moving through the committee. Ways and Means is now meeting twice a week, Wednesday evening and Friday morning with plans to wrap up agency funding proposals for approval in both Chambers.
In addition to moving agency budgets, the full Ways and Means committee started referring policy bills to the subcommittees this week. Check out the bill referrals here:
Thanks to Mahonia Public Affairs for much of this commentary.
The biggest question of the session remains, what will happen before the session ends on June 25. In a statement released on Tuesday, Senate Republican Leader Tim Knopp said that his full caucus will return to the building that morning to pass in one day, what he described as "lawful, substantially bipartisan budgets and bills." That means the Republicans will only allow votes on measures they approve.
I have frequently said in these reports that most legislation passes with wide bi-partisan support. On Thursday, I presided in the House where more than 20 bills passed unanimously.  It's hard to imagine a political scenario that would allow for the passage of the remaining 73 budget bills and the growing list of policy bills in just one long Senate day with any meaningful debate. I remain concerned that measures critically important to our local communities will be lost in the final day scramble.
The outlook is uncertain, so we're preparing for any and all potential outcomes. If we cannot resolve the budget before adjournment, the Governor will call us back into special session.
Saturday, Susie and I dropped by the Habitat for Humanity Home and Garden Show in Lincoln City.
In booths there we found local realtors, mortgage firms, vacation planners, contractors, artisans and non-profits. Lincoln County Schools demonstrated how we are growing produce for our student meals and local food pantries.
I'm a fan of Habitat and the work they do to provide local affordable homes. You can help by donating furniture, tools, or appliances to the ReStore outlets in Newport and Lincoln City, or shopping there.
I'm continuing to strive to be informative and available to all of you. Yesterday, Monday, I was the guest on Hotline with Oregon Coast Daily News. If you missed the show, you can still listen online here.
This will be one of the last Hotline programs from local news reporter Cheri Brubaker as she transitions to a position with Congresswoman Val Hoyle. I look forward to working with her there but will miss her daily news updates.
My regular Town Hall with Senator Anderson was delayed and is now scheduled for this Friday morning, June 2nd from 8 to 9:15 am. Because Ways and Means is meeting in Salem, this will be a "remote" gathering. You can participate to listen or ask questions here.
Saturday, I'll attend a live Town Hall in Corvallis at the City Library at 10:00 am and a Philomath gathering at City Hall after lunch at 1:00 pm.
I hope to see you live or remotely and to hear your comments, questions, and concerns as we stumble toward legislative adjournment.
email: Rep.DavidGomberg@oregonlegislature.gov
phone: 503-986-1410
address: 900 Court St NE, H-480, Salem, OR, 97301
website: http://www.oregonlegislature.gov/gomberg