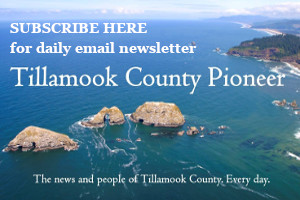 By Representative David Gomberg, House District 10
Hello Friends,
Last Friday afternoon, Oregon Coast Community College broadcast a joint Town Hall with Senator Anderson and myself. The event had been advertised and about 70 people participated and asked questions on a variety of provocative subjects. It was a rare opportunity to have a Senator and a Representative, a republican and a democrat, sitting side-by-side sharing their agreement and honest disagreements. More often than not, we did agree.
I urge you to listen to the recording here. When you log in, you will be asked for a Passcode. That code is U7CM+sry. Note that there is a transcript on the left side and you can read or scroll ahead. Click on the transcript and the recording will advance to that part of the meeting. The transcript is pretty good, although it did call me Representative Gumbo at one point…
Please note that this meeting was in Lincoln County and the conversation focused there. I hope we can have more of these broadcast Town Halls as the session evolves and that we can reach all parts of our large district.
DMV Update and Online Renewal. Starting in early May many Oregonians will be able to renew their driver licenses and ID cards online. This won't be available for everything but it will be available for "typical" renewal transactions. This new feature at DMV2U.Oregon.gov will save thousands of customers a trip to a DMV office and free up appointment times for others. Demand for appointment slots and DMV services remains high because of the COVID-19 backlog.
This online option comes at a critical time. DMV mails renewal reminders to customers about two months before expiration. But many reminders intended to be mailed this winter were delayed by a programming error. Those customers may be eligible to renew online in May faster than waiting for an appointment. News of the online renewal option has been added to the reminders.
Oregon residents with a vehicle registration, permit, or driver license that expires between Nov. 1, 2020, and April 30, 2021, have up to three months after their expiration date to renew. DMV and Oregon Law enforcement have an agreement that officers will use discretion in a traffic stop when a driver has an expired license or vehicle tag and is within the grace period. A bill making its way through the Oregon legislature would extend the grace period through the end of 2021.
In May you can check out the website to see if your renewal qualifies or if you need an on-site appointment. Some of you may also want a new license that can be used for air travel.
If you plan to travel by air, an older driver's license will no longer work as identification. Starting October 1, you will need a Real ID-compliant form of ID at airport security checkpoints for all flights. A passport or passport card still works fine. The newer "Real ID" driver's cards feature a star in the upper right-hand corner. Find out your best option for air travel ID at Oregon.gov/RealID.
Restaurant and Hospitality Support. You have heard me say that all Oregonians have been hurt by COVID, but that our part of Oregon has been hurt just a little more. Much of our population is older and retired. Working families are largely in the hospitality industry and we consistently have the highest unemployment in the state.
I'm working to support and preserve local jobs, benefits, and businesses.
It was one year ago this week that coastal lodging properties were shuttered in response to the emerging pandemic. Our community's restaurants were impacted directly and profoundly, and have been buffeted by myriad rule changes and restrictions ever since. For many, help is coming soon in the form of the Restaurant Relief Grant Program.
A free webinar for restaurants, food trucks, bars, and taprooms is being hosted by the SBDC Monday, April 12 at 9:30 am. Click here to attend.
Applications for this new grant should be available by late April. Meanwhile, if you are interested in restaurant finance, support, or taxation, I encourage you to watch this video, which has the very latest information as of this week.
Newly released data reveals that nearly 13,000 businesses closed in Oregon in the second quarter of 2020, the most recent quarter available. A typical quarter in Oregon sees about 5,500 business closures in this data set.
Governor Kate Brown Announces 10-Point Economic Recovery Plan. With the approval in Washington D.C of the American Rescue Plan and a commitment to send federal dollars to Oregon, we now have to decide how to best use those new funds.
Governor Kate Brown has released a 10-Point Economic Recovery Plan for Oregon. The Plan, which was developed with input from the Governor's Council of Economic Advisors and Racial Justice Council (RJC), builds on the work of local economic development districts across the state to help Oregon families and businesses. It provides a framework for economic recovery related to COVID-19 and wildfires.
These principles and 10-Point Plan are a starting point for conversations these groups are having with the Legislature and stakeholders in the community to develop a process for funding decisions related to American Rescue Plan (ARP) dollars.
Additional details on Governor Brown's 10-Point Plan are available here. You can also find a breakdown of ARP allocations available here.
Spring Breaks Inundate the District. If you have been out on our roadways this week, you know that traffic is up and that the Washington, Idaho, California, and particularly the Oregon Spring Breaks are having an effect.
A year ago, restaurants were ordered closed. Tourists cancelled hotel and motel reservations by the thousands. Shops and galleries emptied as travel restrictions kept the usual throng of beach visitors at home. This year is different. COVID restrictions are still in place. But a combination of government stimulus checks, sufficient vaccination levels to make people comfortable to travel, pent up travel angst, and expected good weather are creating the "perfect storm" for coastal spring break travel.
Lodging taxes collected during the height of the pandemic showed that motels and vacation rentals were not hit as hard as other sectors of the coastal hospitality industry. Those taxes on visitors were up almost 17 percent from July through December compared with the same period of 2019. But challenges remain. Hotel operators in particular, report that they can't find enough employees to replace the thousands who were furloughed in the pandemic's wake last year. In some cases, that means those who are working will be facing six-day workweeks during and after spring break.
Early numbers suggest that most lodging business is focused in Short Term Rentals (STRs).
Last weekend the Oregon Health Authority shared an infographic asking people to try a "staycation" for spring break – with suggestions for activities such as taking a walk, gardening, and finding something good to watch on TV with other household members. But clearly Oregonians have other ideas. The early reports are that they are opting for road trips and many are coming to the coast from the Valley.
One segment of the population notably absent from the coast so far this year is the so-called "Gray Wave" – older, retired travelers who in past years provided reliably solid weekday bookings for hotel and motel operators.
Last week I reported that legislative activities in the House had been cancelled with a report of a member testing positive. Senate meetings continued. And with the necessary waiting and watching period complete, the House has resumed an expanded session schedule this week.
Committee meetings starting at 8 am continue to be remote. But a quorum must be on the floor as reading of each bill is still required. Those sessions run between committees through the lunch hour and then each evening until 9 pm. The good news is that I will be driving back and forth during non-peak tourist times.
Late Sunday we learned of a new positive in the House and Monday sessions were cancelled. News continues to evolve. On a personal note, I will add that I was tested early last week and am confirmed "negative".
Enjoy our variable spring weather, drive carefully, and please stay safe and well. Thanks for reading and please let me know if you have any questions or concerns.
Warm regards,
David
email: Rep.DavidGomberg@oregonlegislature.gov
phone: 503-986-1410
address: 900 Court St NE, H-480, Salem, OR, 97301
website: http://www.oregonlegislature.gov/gomberg