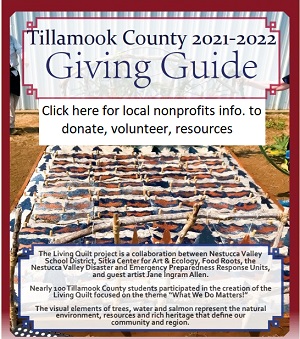 By State Representative Suzanne Weber
We're headed into the final weeks of the "short" session!
The Legislature is required by the Oregon Constitution to adjourn no later than March 7, so everyone has moved into high gear trying to get their bills passed and signed into law. Here are a few bills that I've been working on:
Click on the pictures to be directed to the associated video or bill page.
HB 4053 would direct ODOT to perform a study on the condition of Oregon Highway 6. I'm proud to announce that this bill passed UNANIMOUSLY out of the House! The bill now heads to the Senate, where I hope it will get the same reception it received in the House. Here is a video of my speech on the floor on why I believe the bill is so important not only for those on the coast, but all of Oregon.
HB4124 would require the state to take an inventory of all standardized tests that are given by Oregon students. When we think about "standardized tests", we might think of the "Iowa Tests" or the "Oregon Plus tests" that were taken by students in the 1980s and 1990s, but did you know that there are many, many more standardized tests that are given by both the state and local districts? One district in Oregon has its students take 146 standardized tests over the course of their K-12 career! HB 4124 would allow us to see what tests work, what tests are necessary and what tests are actually hurting student learning and retention instead of helping. The bill has been sent over to Ways and Means, but we hope to see it on the House floor for a full vote soon.
HB 4134 would require that insurance cover the birth of a child as "in-network", even if the facility is "out-of-network" if a patient is transporter there through no fault of their own during a public health emergency. This might sound complex, but it actually stemmed from a real situation. A couple were excited to welcome their first child. They did everything right. They arranged everything with their insurance provider to make sure they gave birth in a hospital that was in their insurance network. When her water broke, she called that hospital and let them know she was coming. When they arrived, she waited for four hours for a bed. Finally, the hospital told her that they wouldn't be able to accommodate them. However, the hospital had found another facility that had a bed available. This other facility, however, was not part of their insurance plan. Imagine their surprise when they opened up their bill and found they owed tens of thousands of dollars! This bill makes sure that that won't happen again.
I haven't made a secret of the fact that I don't like virtual meetings. For two years now, we've all been starting at computer screens instead of meeting face-to-fact. In some cases, though, virtual meetings make sense. That's the case when the Speaker of the House declares that "Sine Die is imminent". Sine Die (a Latin phrase meaning, literally, "without a day") is the adjournment of the legislative session. The rules of the House of Representatives allowed the Speaker to declare that Sine Die is imminent (usually about two weeks before the session is scheduled to end), which allows committees to schedule a public hearing with only one hour notice. This always irks me, because you cannot get to Salem from anywhere in House District 32 in one hour. Before virtual testimony, the only people who could testify at a public hearing that had been scheduled with one hour notice were those who lived within about 30 miles of the Capitol. However, you can now testify via phone or via video. Former Representative Bill Post created an excellent YouTube Video tutorial on how to use OLIS not only to testify, but also to follow bills, get alerts when they are about to have hearings and most anything else. Check it out here:
It's always fun to record "From the District" with my chief of staff, Adam Schwend. This week we have a good chat about some of the bills I've talked about here, as well as some of the bills that I feel have some really big problems. I encourage you to have a listen!
It is my honor to represent rural Northwest Oregon in the Oregon Legislature! As always, please always feel free to reach out.
You can contact me at rep.suzanneweber@oregonlegislature.org or at my Salem office at 503.986.1432.  After the legislative session ends, it's best to contact me at my District office. That number is 503.300.4493.