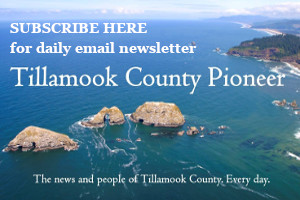 By Representative David Gomberg, District 10
After weeks of rain and unseasonably cold weather many Oregonians are likely enjoying feeling the sun on their faces and wearing something other than a raincoat.
The weather change, that's come just in time for the official start of summer, has also delayed this year's fire season but officials with the Oregon Department of Forestry say they are not expecting that to last much longer. As I suggested at a recent Wildfire Town Hall, the spring moisture has your lawn growing faster. Grass in our woodlands is growing too and by late summer, it will be dry and dangerous.
Two years ago, more acres in Oregon were on fire over the Labor Day Weekend than during the entire ten-year period we know as the Tillamook Burn. And the difference, in addition to size, is that recent fires consumed homes as well as trees.
The fires pushed the Legislature to pass Senate Bill 762, a sweeping 2021 wildfire preparedness and mitigation bill. Among other provisions, it requires utilities to have their wildfire preparedness plans approved by the Public Utility Commission, including plans for preemptive blackouts. A foundational piece of that preparedness for is leveraging new technology to more accurately assess risks across their systems.
To get the bill over the finish line, lawmakers eliminated the definition of wildland-urban interface, or WUI, and instead directed the Board of Forestry to set the parameters based on "national best practices."
The new building code and defensible space requirements garnered considerable opposition during hearings for SB 762 from groups worried they would impose expensive new material and construction costs, restrict farming operations, and require property owners to strip the land around structures of vegetation and legacy trees.
The definition of the interface and the risk map criteria were hashed out by a 26-member rules advisory committee that included representatives of counties and cities, tribal groups, rural fire protection districts, home builders, property owners' associations as well as the Oregon Farm Bureau and Oregon Forest & Industries Council.
The defensible space regulations require fire-prone fuels to be cleared from 50-100 feet around certain structures, depending on your hazard rating. Over the longer term, areas subject to regulation will have to meet stricter building codes, adding expense to new or replacement dwellings. That means it will become harder to develop in communities with these higher standards.
Properties will only be subject to regulation if they're both within the WUI and have a hazard rating of "high" or "extreme" wildfire risk.
Oregonians – renters or owners – can plug in their address to check the classification of their property and see what new requirements that may entail. The state will also provide written notice on July 15 to owners whose property is within the danger zone and classified as high or extreme risk and inform them how to find information on the new requirements or how to appeal a property's classification.
The Oregon Wildfire Risk Explorer is designed to identify the wildland urban interface and wildfire risk at the property ownership level. It shows a comprehensive view of wildfire risk within the State of Oregon, indicates local fire history, and offers additional resources. This site provides information regarding support for homeowners, communities, and professionals to identify and prioritize local wildfire prevention, mitigation efforts, and implement defensible space standards where applicable.
One open question is whether the mapping and classification exercise will affect the availability and cost of insurance for owners of properties or businesses in high-risk zones.
Oregon Public Broadcasting has an excellent story on their website about preparing for Wildfire Season.  You can read it here.
The National Interagency Fire Center keeps a running tally of active wildfires in each state. That tells you how many fires are active, how many are contained and how many are new.
For more detail, the National Wildfire Coordinating Group's incident information system, known as InciWeb, is a regularly updated map of fires across the West. Public information officers post updates on specific fires along with photos and video. The Oregon Smoke Blog also posts periodic updates about potential smoke hazards from fires burning in and out of state.
The Oregon Values and Belief Center, a nonpartisan public opinion research organization, received 1,500 responses to an online survey sent to adults across the state during the first week of June. Nearly 90% of respondents expect wildfires in the state to increase during the next decade.
Persistent drought conditions put the state at risk for large wildfires this year, despite above-average rainfall in April, May and June.
According to the National Oceanic and Atmospheric Administration, the West is in the worst drought in 1,200 years and the driest 22-year period on record. Most of central Oregon is in an "exceptional drought."
Every Fourth of July, Oregon coast towns have to contend with the single largest inundation of beach garbage and litter for the entire year. I'm very grateful to the partners that have teamed up to host a series of Fifth of July Cleanups throughout Lincoln County.
The varied groups will host more than a dozen cleanups on July 5th. Most of the scourings will take place from 11 am to 1 pm. That's today and I know this is last-minute. But I hope the reminder will allow and encourage you to lend a hand. I will too!
These on-the-ground scooper troopers will gather a wide array of beach access spots from Waldport to Lincoln City. You'll also find them in Otter Rock, Waldport's Alsea Bay Bridge, Governor Patterson State Park in Waldport, Nye Beach, NW 50th in Newport, and several locations in Lincoln City. Visit this Surfrider link to find a cleanup near you.
The groups involved in this effort are Lincoln County Solid Waste District, the cities of Depoe Bay, Lincoln City, Newport, Siletz, Toledo, Waldport, and Yachats; Dahl Disposal Service; North Lincoln Sanitary Service, Thompson's Sanitary Service, Lincoln County, Surfrider Foundation, Explore Lincoln City, the Waldport Chamber of Commerce, SOLVE, Rotary Club of Newport, Roads End Improvement Association, and Oregon Parks and Recreation Department.
According to a release from the Oregon Department of Fish & Wildlife, a late wild salmonberry crop has left Oregon's coastal black bear population without one of its primary summer food sources and is causing an increase in sightings within residential communities
Salmonberries usually ripen in May, but this year saw a cool and wet spring delay plant maturation into summer, which disrupted pollination. Without proper pollination, fewer berries form, creating a shortage for animals that rely on them as part of their regular diets.
Coastal communities have reported bears digging into garbage cans, tearing apart bird feeders, licking barbecue grills, ransacking pet food dishes and even attacking pets and livestock in rare instances. Once a bear becomes used to finding easy food near homes, it becomes a threat to human safety, so the goal is to keep bears in the wild where they belong and out of neighborhoods.
The best remedy is prevention and securing food, garbage, and recycling. Help keep bears wild by following these BearWise tips:
Never feed or approach bears
Secure food, garbage, and recycling
Remove bird feeders when bears are active
Never leave pet food outdoors
Clean and store grills
Alert neighbors to bear activity
If you are confronted by a bear, ODFW recommends you do the following:
Never approach a bear at any time for any reason. If you see bear cubs, leave the area.
Give any bear you encounter space and a way to escape.
Do not run or make sudden movements. Face the bear and slowly back away.
Do not make eye contact with the bear.
Do not run, it may encourage the bear to chase you.
In the unlikely event you are attacked, fight back, shout, be aggressive, use rocks, sticks and your hands to assail the bear and force it to back off.
I was surprised and humbled at the opening of the July 4th public symphony when representatives from the Newport Symphony, Lincoln City Cultural Center, the Oregon Coast Council for the Arts, the Liberty Theater in Astoria, Oregon Shakespeare Festival, High Desert Museum, the Oregon Symphony and the Portland Opera presented me with an award for my work to support live entertainment venues, performing arts, and the arts scene in general during the pandemic.
All of these wonderful programs were affected by the pandemic and fortunately all are still with us – in most cases because of help from the state. I reminded the audience in Newport yesterday that the arts and culture strengthen communities, improve the economy, and enrich our lives.
Later today (Tuesday) I will join US Senator Ron Wyden and Labor Commissioner Val Hoyle on a tour of the Big Creek Dams in Newport. I have visited these sites frequently as we work to secure funding to relace what are among the most vulnerable earthen dams in the state and a critical risk to homes, the highway, and the health and the economy of Lincoln County. But the anticipated costs would exceed $9,000 for every resident of Newport. This is another example of how small cities are challenged by the cost of big projects and why state and federal help is needed. In 2021, I brought home $14 million to begin the process. Proposals in Washington DC will add $60 million to this much needed effort.
Wednesday I'm scheduled to meet with the Oregon Ocean Science Trust and make decisions on investments in ocean and climate science research.
Thursday I tour the Newport Community Recovery Center & ReConnections Annex. I will meet with the Superintendent of the Alsea School District and then zoom with representatives of the Oregon Ironworkers who have interest in offshore windfarm proposals. Coastal Caucus meets late in the afternoon and then I'll drop in on a Lincoln City Chamber social at Charlotte Lehto Insurance.
Friday, Susan and I slip away for a long weekend together.
I hope you too are finding time to enjoy our beautiful summer here in our special part of Oregon.
Warm Regards,
Representative David Gomberg
House District 10
Fishing Rock Eatery cut the ribbon Friday and opened their remodeled restaurant in the former Lord Brixton's just north of Depoe Bay.
email: Rep.DavidGomberg@oregonlegislature.gov
phone: 503-986-1410
address: 900 Court St NE, H-480, Salem, OR, 97301
website: http://www.oregonlegislature.gov/gomberg