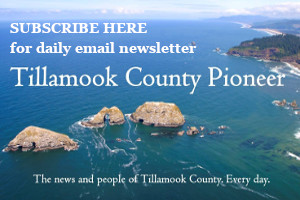 By David Dillon, North County News
Manzanita resident Owen Nicholson and his late wife Ann have been honored by the Oregon Heritage Commission for their efforts over the years on behalf of the Nehalem Valley Historical Society.
The Oregon Heritage Excellence Award recognizes individuals, businesses and organizations for outstanding efforts, and particularly those that have made the most of available resources.
The Nicholsons were nominated by the Nehalem Valley Historical Society for their critical role in providing that organization with a museum and archive, located in the basement of the Pine Grove Community House in Manzanita.
The award will be formally presented at a special banquet April 25 in Medford.
"The efforts of organizations and people like you are essential for the strength of Oregon's cultural heritage" said Beth Dehn, Heritage Commission Coordinator, in a letter announcing the honor. "I commend and congratulate your outstanding work," she added.
A World War II Navy combat veteran, Owen and Ann Nicholson settled in Oregon after the war, raising a family and three sons. Upon retirement, they moved to Manzanita.
Ann was a member of the Manzanita Women's Club, and served as its president for several years. She was instrumental in beginning formal archiving of items donated to the society. Owen served on the city's planning commission for over 25 years, many as its chair. In 2004, the couple was recognized as Citizens of the Year. Ann Nicholson died in 2016.
In his nominating letter, Historical Society president Tom Campbell said Owen, aware that grant money might be available, came up with an idea to help the Pine Grove and provide a permanent home for the society. The first funds obtained were used to finish the basement. A second grant funded an HVAC system to serve the whole building and ensure a better temperature-controlled environment for the artifacts.
"Pine Grove is now on the register of historical buildings," said Campbell.