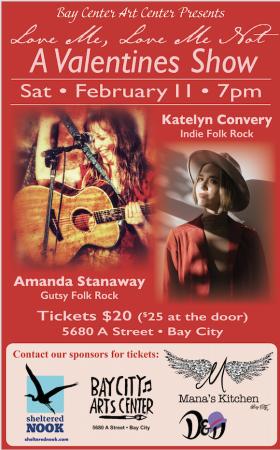 Music lovers will be in for a treat April 5th and 6th when the North Coast Chamber Orchestra and Neah-Kah-Nie High School Choir join forces to present two unique concerts. The programs, titled "Spring Voices", will feature performances by the Neah-Kah-Nie choir alone and alongside the North Coast Chamber Orchestra. Each concert will depict the joyous arrival of spring, with a blend of voices, strings, winds, and percussion evoking the hope and promise of the season. This concert collaboration is part of an ongoing effort by the North Coast Chamber Orchestra to involve, inspire and spotlight local student musicians, and to give local audiences an opportunity to experience the variety and skill of musicians living here on the north coast.

The Neah-Kah-Nie High Choir, directed by Michael Simpson, consists of 25 talented students whose voices enliven the music they perform. They will present several choral selections alone to showcase their spirited arrangements. The combined selections with orchestra will include "My Heart Is Glad", "Hope" by Greg Gilpin, and "Colossus" by Paul Barker.
The North Coast Chamber Orchestra, under the direction of Conductor Cory Pederson, is an all-volunteer ensemble of North Coast musicians dedicated to providing local audiences with the opportunity to hear live classical music. NCCO will perform two selections separate from the choir: Johannes Brahms' "Serenade No. 1, Op 11 (movement 1)" and Pietro Masscagni's "Selections from Cavalleria Rusticana".
The first concert will take place at 7 pm on Friday, April 5th at the NCRD Performing Arts Center (36155 9th St, Nehalem). (This concert is assisted by a grant from the Tillamook County Cultural Coalition.) The second concert will be at 3 pm on Saturday, April 6th at Astoria Elks Lodge Ballroom (453 11th St. Astoria). Admission to the concerts will be: $10 adults, $5 students, and children under 12 (with adult supervision) free. All concerts are very family-friendly.
There will also be an "open rehearsal" Tuesday, April 2nd at the Cannon Beach Community Church (132 E. Washington, Cannon Beach) with no admission charge.
The North Coast Chamber Orchestra (the current performing ensemble of the North Oregon Coast Symphony organization) is actively seeking string players (violin, viola, cello, bass) as well as all brass, woodwind, and percussion players at this time, and we invite those who are interested in participating to contact the Conductor, Cory Pederson, at 503-836-2198 or nocscory@gmail.com.
The NOCS board is also seeking energetic individuals who are interested in supporting the continued growth of classical music in the N. Oregon and S. Washington coastal communities. Stepping forth to be a board member will help NOCS further its goals of providing and sustaining opportunities for musicians to play, and audiences to hear, live classical music on the coast, and will help shape the future of the symphony. For information, contact Cory Pederson (contact info above).
For more information about the orchestra, and to view the full 2019 concert schedule, please visit the NOCS website at: northoregoncoastsymphony.org. & our Facebook page: North Coast Chamber Orchestra.