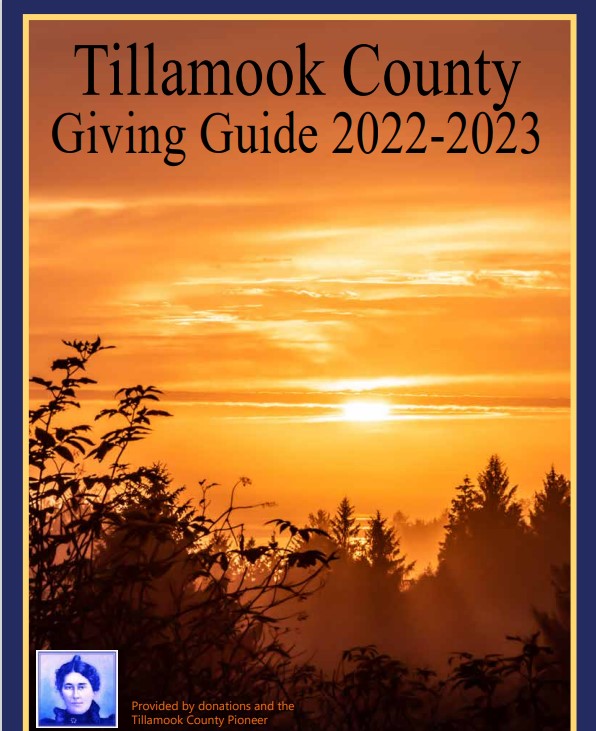 A landmark Memorandum of Understanding was signed on February 7, 2020 between environmental groups and industrial timber corporations. Yes, we've all been wondering, and feeling frustrated, about the timing of the MOU. Having participated in the Forest Waters Coalition, I strongly believe that all members participated to the best of their ability and in good faith. Individuals and groups have spent considerable time trying to bring forth the ballot measure and now the MOU. NCCWP did not sign the MOU at this time; however, as an individual, I do support the efforts of those coalition members who signed, and are working on, the MOU. It is important that our group continues educating people about, and advocating for, healthy watersheds. It's a public health issue. Contact Gov. Kate Brown and your legislators to say you want strong forestry and spray regulations.
NCCWP Calendar of Upcoming Activities
Everyone is invited to the N.C.C.W.P working-group meeting on Sunday, February 23, from 3:00 to 5:00 pm at the Wolfmoon Bakery, 35915 8th St. in Nehalem. Much has happened lately that concerns us. Let's get together to share our ideas and plans for the future. An agenda will be mailed before the meeting.. Remember, we still have our voice! We continue to be recognized as a strong grass-roots group, thanks to everyone's work.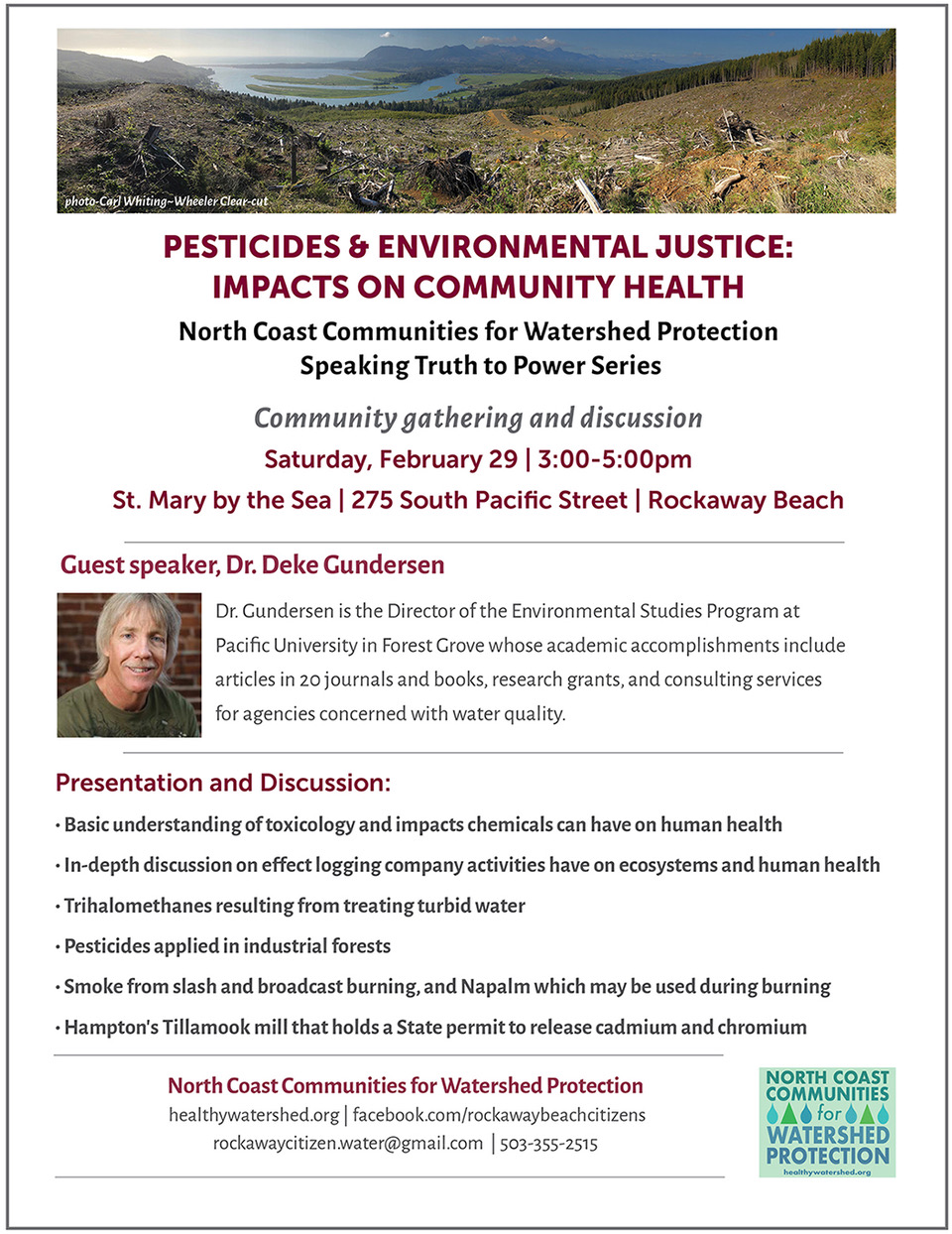 "Pesticides and Environmental Justice: Impacts on Community Health," a talk by Dr. Deke Gundersen from Pacific University, one of a series of talks in the "Speaking Truth to Power" series sponsored by NCCWP, will be held on Saturday, February 29, 2020, starting at 3:00 pm at St. Mary by the Sea in Rockaway Beach, Oregon. A major issue to be considered is potential additional regulation of aerial pesticide sprays on timberlands, especially those that abut watersheds and communities. Learn more about the impact of pesticides on health—your health, your pet's health, the health of your garden, and the safety of municipal water supplies—at this educational presentation.
Join us at the Public Interest Environmental Law Conference (PIELC) in Eugene. This free conference opens on Thursday, March 5, and goes through Sunday, March 8. It promises to be a wonderfully educational, informative, inspiring, and empowering event. If you can join us there for a day, or the entire conference, we would appreciate your help with the information table NCCWP will have. (Thanks go to Pam Birmingham for making arrangements for us to have this table there.)This should be a great opportunity to raise awareness of the importance of Northwest Oregon coastal forests and their critical role in mitigating climate change and providing clean water for people and fish. Also, we can point out the shortcomings of the Oregon Forest Practices Act. For more information, go to the conference's website pielc.
For more on the MOU – Please read the following report by Rob Davis: https://www.oregonlive.com/environment/2020/02/oregon-environmental-groups-timber-companies-strike-landmark-compromise-signaling-end-to-november-ballot-fight.html



Our name, North Coast Communities for Watershed Protection (formerly known as Rockaway Beach Citizens for Watershed Protection), reflects our working together on a regional basis to insure that the air we breathe and the water we drink are safe.

https://www.facebook.com/rockawaybeachcitizens