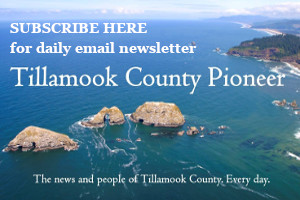 Saturday, May 12, the Nehalem, Rockaway, Wheeler, and Manzanita Post Offices conducted their annual National Association of Letter Carriers' "Stamp Out Hunger" Food Drive. The Postal Employees and the communities combined with the North County Food Bank volunteers to help feed needy families in North Tillamook County.
NCFB volunteers Tom Ayres, Barbara Ayres, Bill Wright and Blain Bocarde collected 2,183 pounds of food, which had been gathered by the Postal Carriers. The Food Bank received 1264 pounds from Nehalem and Manzanita, 919 pounds from Rockaway Beach and Wheeler.
NCFB Director Bill Wright wants to thank all the postal workers who participated for all their hard work and especially thank Jerry Croak and Katie Todd, the Nehalem and Rockaway Postmasters. He said that the Food Bank volunteers and the families we serve are overwhelmed by the community's generosity.
NCFB President Tom Ayres said, "These donations help our Food Bank meet our goal of ending hunger in our community. Every month the NCFB serves between 200-300 people, distributing 6,000 to 10,000 pounds of food per month. The NCFB depends on food drives like this, generous donations of food and money from many individuals and organizations in the community, and the work of many volunteers."
The North County Food Bank has been serving North Tillamook County for 25 years. The Food Bank is open from 1:00 pm to 3:00 pm every Tuesday and continues to operate from it's usual location in the lower level of the Old Wheeler Hospital Building across the parking lot from the Rinehart Clinic in Wheeler (278 Rowe Street, Wheeler, OR 97147).