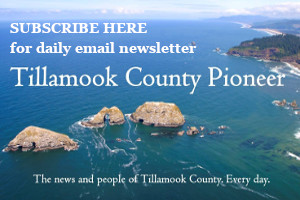 At approximately 1230am on August 3, 2022, Nehalem Bay Fire & Rescue and Seaside Fire Department were dispatched to assist Cannon Beach Fire Department with rescuing a dog stuck on a cliffside at Hug Point State Recreation Site.
The Australian Shepherd, named Gnocchi, had fallen from the cliffside trail and was stuck on a narrow ledge approximately 100' above the beach. Although Gnocchi was uninjured, she was unable to climb the steep cliff. Firefighters from Cannon Beach Fire, Seaside Fire, and Nehalem Bay Fire established a rope rescue system, and Firefighter Jason Weiss was lowered down to Gnocchi's location. Firefighter Weiss was able to secure Gnocchi using a special dog rescue harness, and the two were lifted to safety. Gnocchi was safely returned to her owners unharmed.
Unedited footage of the rescue, taken from NBFR's unmanned aerial vehicle (UAV), can be found here:
<iframe width="560″ height="315″ src="https://www.youtube.com/embed/Alm8p6U-MU4″ title="YouTube video player" frameborder="0″ allow="accelerometer; autoplay; clipboard-write; encrypted-media; gyroscope; picture-in-picture" allowfullscreen></iframe>
The funds to purchase NBFR's UAV, which provided lighting and aerial reconnaissance for this rescue, were donated by the friends and family of Michelle Casey, who tragically lost her life after a fall from the Neahkhanie Mountain overlook in 2020.