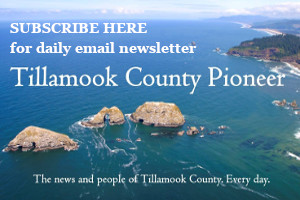 Participating businesses span from Cannon Beach through Tillamook County to Lincoln City, with the theme of Food, Farm, Fish and Forage
Tillamook, Ore. – Visit Tillamook Coast is launching the North Coast Food Trail at Coastally Crafted, a beer and cheese event held April 14 at Pelican Brewing in Tillamook. Pelican Brewing and Tillamook Creamery are joining Visit Tillamook Coast to kick off the food trail, the first of its kind in the state. Over 60 businesses, ranging from agricultural to retail to restaurants, make up the trail, which showcases the abundance of Oregon's North Coast.
The theme of "Food, Farm, Fish and Forage" encompasses the region's vast and diverse range of agriculture and recreational opportunities. The trail features 60 farms, farmers' markets, breweries, wineries, distilleries, restaurants, cooking schools, guided tours and experiences, lodging and retail stores. Participants will be denoted on a map, to be handed out at the event and available at participating businesses and online, as well as on the North Coast Food Trail website and through signage.
The North Coast Food trail celebrates the current renaissance in food and agriculture businesses on Oregon's North Coast. The area has welcomed a new generation of farmers, fishers, producers, harvesters, chefs and guide services who are drawn to the bountiful and beautiful natural environment.
"This is the first food trail in Oregon covering multiple types of products and services connected to food," said Nan Devlin, tourism director of Visit Tillamook Coast. "We're eager to spread the word regionally and nationally that this is a great addition to Oregon's reputation for food and exploration.
"Often, those of us in the Northwest return to the same places on the coast over and over again, without knowing what else is just a short drive away. We hope the North Coast Food Trail will help visitors find new restaurants to try, adventures to go on, and places to stay and shop," Devlin added.
The trail was made possible through funding from Travel Oregon and Visit Tillamook Coast, as well as the Lincoln City Visitor Bureau and the Cannon Beach Chamber of Commerce.
Coastally Crafted is from noon to 4 p.m. on April 14 and will focus on beer and cheese pairings. Entry is $10, and includes a tote bag, taster glass and 10 tasting tokens for sampling beers. Children 12 and under get in for free. Participating breweries include Pelican Brewing, Werner Brewing, Public Coast Brewing and Depoe Bay Brewing. Participating creameries include Tillamook Creamery, Nestucca Bay Creamery, Briar Rose Creamery and Willamette Valley Cheese. Other vendors are Mercury Coast, Nehalem River Ranch, Nehalem Bay Winery, Salmonberry Saloon, Brickyard Farms and North Fork 53.
For more information on the North Coast Food Trail, visit www.northcoastfoodtrail.com. For more information on Coastally Crafted, visit www.pelicanbrewing.com/happenings.
About Visit Tillamook Coast
Oregon's Tillamook Coast is one of the state's natural wonders. Picturesque bays, inland waterways, forests, farmlands, rivers and ocean beaches offer visitors a wide range of nature-based activities from kayaking, fishing and surfing to beachcombing and hiking. Fresh seafood is abundant, as is world-famous cheese and award-winning beer. The Tillamook Coast's villages, from Manzanita to Neskowin, each have their own unique heritage, personality and charm. For more information and to plan your getaway, visit www.tillamookcoast.com.
For more information, contact Nan Devlin, nan@tillamookcoast.com