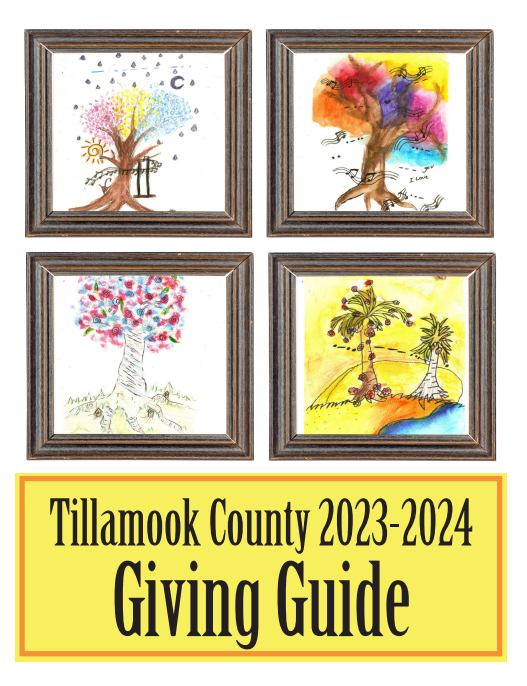 Dozens gathered October 2, 2021 on the corner of Hwy. 101 in downtown Nehalem declaring their support for Women's rights, and especially with states banning abortions, sexual harassment in women's sports continues and the international issues depriving women of rights and education. In the 21st century and we are still having these discussions.
From local Women's March organizer, Constance Shimek, "I am so proud of my community, and I thank you! We had 35+ people from as far as Long Beach, Wa., up from Tillamook, Garibaldi, Rockaway, Manzanita, Nehalem and more! For those who showed up, or those who drove by, honked and gave us a thumbs up, acknowledging the power of our Voice and Intention to demand we continue to have personal choice, as a Right. Our chanting mantra was My body, My choice; Your body, your choice.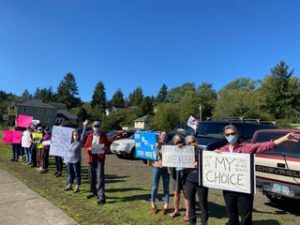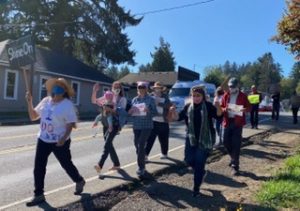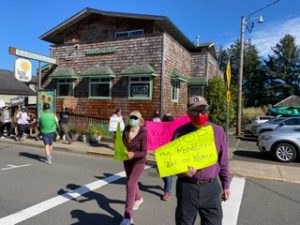 Women's Marches took place throughout the country on October 2nd – the Women's Marches started with the #metoo in 2019 and have continued to draw attention to equity issues among many groups.
The Women's March Mission
The mission of Women's March is to harness the political power of diverse women and their communities to create transformative social change. Women's March is a women-led movement providing intersectional education on a diverse range of issues and creating entry points for new grassroots activists & organizers to engage in their local communities through trainings, outreach programs and events. Women's March is committed to dismantling systems of oppression through nonviolent resistance and building inclusive structures guided by self-determination, dignity and respect.