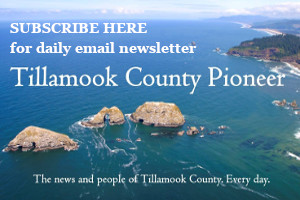 Stimson Lumber has given notice to the Oregon Department of Forestry of their intention to spray pesticides in the Bob's Creek area near Nehalem.  The FERNS notification number is 2021-511-03147.  This spraying will affect areas which Stimson recently clearcut logged close to Bob's Creek, the water source for Nehalem's drinking water.  There are valid reasons to be seriously concerned about the potentially detrimental health effects from this application of pesticides.
The pesticides listed on this notification, some or all of which Stimson may use, include:
Activity: Pesticide Application (Unit)
"Window of Opportunity" for Spraying:  Start: 3/26/2021 to  End: 6/30/2021
Pesticides: 2,4-D with choline, 2,4-D with ester, atrazine, clopyralid, glyphosate, hexazinone, sulfometuron methyl
Pesticide Carrier: water
Pesticide Additives: MSO Concentrate, Super Spread MSO, Syl-Tac, Syl-Coat (silicone surfactant)

Method(s): Ground – Pressurized / Broadcast, Ground – Manual spot application
A toxicology expert who was consulted stated that this is an alarming combination of pesticides.  Additional concern is raised by the fact that there has been very limited research done as to the potential synergistic effects created when pesticides are combined.  These pesticides will be applied using backpack sprayers by workers whose health may be endangered by the chemicals they will be spraying, as well as by their potential workplace exposure to COVID-19. 
VOICE YOUR CONCERNS:  it is absolutely necessary for the community to have a minimum 24-hour notice before spraying begins so that people may safeguard their families, gardens, and pets as they deem necessary.  ASK FOR CHANGE: NO MORE SPRAYING OF TOXIC CHEMICALS AND CLEARCUT LOGGING IN OUR WATERSHEDS! 

Contact:
-Stimson Lumber: Robert Crawford    Phone: 503-423-7074
–Governor Kate Brown   Phone: 503-378-4582   https://www.oregon.gov/gov/Pages/contact.aspx

  

 Write a message to Governor Brown and then share it with local news sources, other elected officials, and the appropriate governmental agencies.

Learn about pesticide spraying and clearcut logging activity near you:
On the Oregon Coast, we are currently witnessing an alarming increase in clearcut logging and toxic pesticide spraying.  For some communities, this is happening in close proximity to where people live and within their drinking water sources.  These industrial forestry activities are a public health concern, threatening air and water safety.  Read below to learn how you can monitor what is happening in neighboring forestlands and about how you can join others advocating for best practices for drinking water sources and a healthy habitat.  
Interactive mapping that shows clearcut logging and pesticide spraying notifications throughout Oregon:
North Coast Communities for Watershed Protection (formerly known as Rockaway Beach Citizens for Watershed Protection) is a grassroots group working, through education and advocacy, for better protections of the water we drink, the air we breathe, and the forests that sustain us.
healthywatershed.org
www.facebook.com/NCCWATERSHEDPROTECTION