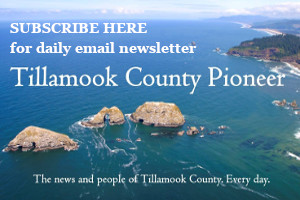 Allen Harvey Johnson was born to Darwin and Patricia Johnson of Bewley Creek Road on September 12, 1960. He grew up on the family dairy farm, playing in the woods and the barn, swimming in the Tillamook River and doing chores. Allen attended South Prairie School, Tillamook Junior High and graduated from Tillamook High School in 1979.
Everyone in Tillamook knew Allen, who owned an auto detailing business. He always had a ready smile, a voice that everyone loved, and he was generous with his well known bear hugs and great stories. Allen's sudden and unexpected passing has left family and friends shocked and grieving.
Allend is survived by his sweet and loving wife Beth Johnson, his children Gary Johnson (Sadie), Sherry Hartford (Justin), Alyssa Thurston, Brooke Jorgensen (Anthony). Beth's children: Richard and Krista Knutsen. Eight grandchildren: Avery and Logan Johnson, Grace, Keith and Luke Hartford, Ally and Braxton Thurston, Orion JOrgensen and Scarlett Knutsen. His step-father Del Schultz, sister Gayle Ridderbusch (Rob), brother Marvin Johnson (Sharon), stepbrother Doug Schultz, stepsister Cindy, mother-in-law Ida Johnston and father-in-law Dick Johnston (Doris). In addition, he leaves many aunts uncles, cousins, nieces, nephews and friends. A memorial service will be held at the Tillamook County Fairgrounds on September 19th at 2:30 pm.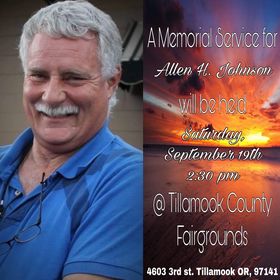 PLEASE NOTE: The Tillamook County Pioneer publishes Obituaries and Memorial Service notices FREE OF CHARGE. Send to editor@tillamookcountypioneer.net.