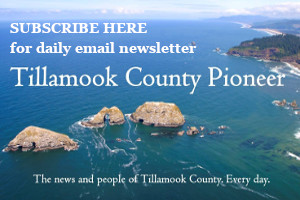 A Celebration of her life (a party, by Imie's request) will be held on Saturday March 16th from 2 to 4 pm at Pine Grove Community House, Manzanita.
Imie Lane Camelli, daughter of the late Claude R. Watts and Mayme Jane (née Waller) Watts of Benton, Illinois, died on Monday, February 25, 2019, at her home in Nehalem, Oregon. She was 95.
Born July 3, 1923, Imie grew up in Benton but left for California after graduating from high school. In Los Angeles she auditioned for Special Services, the entertainment branch of the American military. Leaving by ship from San Francisco, she spent two years entertaining the troops in Japan along with other Civilians Actor Technicians, also known as CATS.
Returning to the United States, Imie went to New York where she sang in clubs. One of her day jobs was as a hat model for the society milliner, Mr. John. She also met and married Anthony Allen Camelli (1922-1974), a sports writer in 1949. It was while at Esquire magazine the opportunity to work for the television game show producers Mark Goodson and Bill Todman came along. Over the next 25 years her assignments were varied and colorful; writing imposter affidavits for To Tell The Truth, buying furs and jewelry for The Price is Right, and moving to Los Angeles as celebrity coordinator when the company moved all its game show production to California in 1975.
Always adept at reinventing herself, it was after moving to Nehalem in 1995 that Imie found a new niche and a home on the coast. A collector by nature, she opened a boutique in Cannon Beach, Oregon stocked with her considerable collection of Bakelite and marcasite jewelry. Finding she was better suited to buying than selling she closed the shop and began amassing deviled egg plates, hats and flower frogs. Obsessive compulsive collecting paled in comparison to the volunteer work that became her passion. From the school "lunch buddy" program to the Tillamook Women's Political Caucus; from the Lioness Club (Lions Club International) and North County Food Bank, both of which she served as president for many years, her generosity was genuine and remarkable. Exhibitions and sales of her collections benefited a broad range of the causes she championed.
Imie is survived by her three nieces: Erica Watts, Imi Grant and Carlotta Watts; her two cats, Chris and Jeff; and their namesakes.
At her request, donations in lieu of flowers should be sent to Neah-Kah-Nie Education Foundation/Imie Camelli Scholarship Fund, Post Office Box 28, Rockaway Beach, Oregon 97136, or North County Food Bank, 278 Rowe Street, Wheeler, Oregon 97147. Imie also requested a "party" be held celebrating her life for "anyone who wishes to attend" on Saturday, March 16, 2019 at the Pine Grove Community House, 225 Laneda Avenue, Manzanita, Oregon from 2 until 4 p.m.