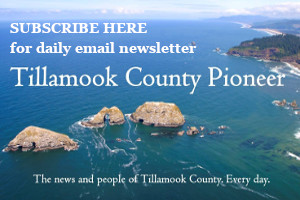 Jacqulyn Lanna Mae Elligsen, or affectionately known as Jackie, was Clatsop County's first baby born of the year on January 8th, 2001, to Julia and Gerry Elligsen at the Seaside Hospital. She grew up in Nehalem, Oregon with two older siblings, Victoria and Gregory, who rode bikes, played pretend in the backyard, watched television, played with toys together, road tripped to the Willamette Valley, Portland, and Eastern Oregon, and frequent runs and walks with the family dog, Sparkles, with the family cat trailing closely behind. Jackie grew up to be a track star for Neah-Kah-Nie High School, going to state twice for 4x400m relay her freshman year and 4x100m relay her junior year, and placing in events like 100m, 200m, 100m hurdles, and 300m hurdles. She was also an avid volleyball player, clarinet player for band, raised a Californian/New Zealand rabbit and a cow named Blueberry through her local 4-H club White Clover, as well as submitting art and photography for This 'N' That 4-H Club. She loved to read, English being her favorite subject, and one of her favorite books being Mind Hunter.
Despite a shy demeanor during many introductions, Jackie was a sassy, vibrant, and vivacious personality with a talent for snark while also caring greatly for younger children like her toddler cousins or any animals that came across her way. She loved to spend time with her close friends in sports, 4-H, and in nature swimming at the river and the beach, going on hikes, and getting her favorite foods: sushi, boba tea, Thai food, and burritos. She was able to spend December 2017 and her 17th birthday in Tallinn, Estonia and visiting Stockholm, Sweden; Helsinki, Finland; and St. Petersburg with her sister, Victoria, while visiting their Russian-Estonian mother's parents, babushka Svetlana and dedushka Viktor (grandmother and grandfather) and another three months and her 18th birthday with babushka and her uncle, Aleks, (dedushka had since passed away) during winter term of her senior year of high school in 2019. She was happy spending time with her loving babushka touring the well preserved medieval Old Town Tallinn, seeing ballet in the Estonian National Opera House and eating Russian food in the restaurant across the street, taking Russian classes at Tallinn University, and taking dedushka's American German shepherd, Jim, for walks like she had with her sister during the earlier winter break visit. Her other travel aspirations were Italy and France.
After graduating high school in 2019, she had many aspirations in different directions i.e. studying marketing, fashion, athletic companies, dental hygienist, psychology, phlebotomist. She struggled with conforming to a rigid academic system that focused on test scores and one-time tries on assignments but loved to create art and teach the family cat (which she renamed Kitty Cat Meow Face) how to lay on loved ones chest while resting in bed, when the cat had previously not been one to want to lay in laps. She also worked hard at improving her athleticism by going on runs, practicing yoga, flexibility, and gymnastics. She was greatly interested in self-improvement, nutrition, fitness, motivation, and goal setting much like the rest of the family, and had been improving greatly in the last month and a half of her life.
On Sunday, June 20th, 2021, after struggling despite trying her best with anxiety, depression, a recently diagnosed borderline personality disorder, among many other things, and calling her doctor, therapists, helplines, and local clinic with little to no answers on her pertinent questions and worries, she committed suicide in her family home and did not survive. She is greatly loved and missed among her family and friends, and will be laid to rest with half her ashes with her paternal great grandparents' graves in the Oregon Willamette Valley, and the other half with her dedushka Viktor in Tallinn, Estonia. She is survived by her father Gerry, 55, mother Julia, 50, sister Victoria, 23, and brother Gregory, 22, grandfather Gary, 72, babushka Svetlana Moskal, 74, maternal uncle Aleksandr Moskal, 47, paternal aunts Deanne Irving, 52, Lauren Ibarra, 28, Katelyn Elligsen, 27, and Rachel Kreutz 23.
The memorial service will take place at Covenant Community Church (36563 Highway 101 N, Manzanita,OR) on Saturday, July 17, 2021 at 1pm.
A GoFundme account has been set up to help the family with costs – https://www.gofundme.com/f/fundraiser-for-the-elligson-family