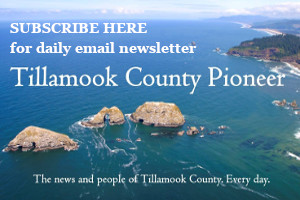 John Walter (Walt) Rigterink, 90, of Tillamook, OR, passed away suddenly at home on January 21, 2023. Walt was born on May 11,1932 in New Haven, CT to Albert Rigterink and Harriett Notier Rigterink. The family later returned to its native Michigan, where Walt grew up on a farm near Dowagiac. He attended public schools, graduated as salutatorian from Dowagiac HS in I950, and was a letterman in football, basketball, baseball, and track.
He attended the United States Naval Academy and graduated in 1954 with a BS degree in engineering. Like approximately one quarter of his 1954 Naval Academy class, he joined the United States Air Force (because there was no Air Force Academy at that time), pursued the burgeoning computer science field, and earned his Master of Science degree in statistics at Stanford University. After leaving the USAF in 1962, he joined IBM and worked as a Program Manager/Systems Analyst for the Federal Systems Division for the next 29 years.
Walt married Marilyn Goldring in 1954 and they had four children. He is survived by his wife Marilyn of 68 years and children Daniel of Montross, VA, Nancy of Tacoma, WA, and Andrew (Cindy) of Haleiwa, HI. Their youngest son, Mark, died in 1987. Walt has six grandchildren and five great grandchildren. He was preceded in death by his parents (Albert and Harriet) and his sister Ruth and brother Ray.
Prior to moving to Tillamook in 1992 upon his retirement, they lived primarily in Rockville, MD and spent several years in Kailua, HI. Wherever he lived, Walt was very active in the community. He was a Cub and Boy Scout leader, church treasurer, AARP income tax volunteer, YMCA board president, and held other roles with the Tillamook Historical Society, Old Iron Club and St. Alban's Episcopal Church. While in Maryland, Walt was a long-distance runner and completed the Marine Corps Marathon and the Boston Marathon numerous times. After they moved to Tillamook, he retired his running shoes and enjoyed fishing, chopping and stacking many years' supply of firewood, and gardening. He also enjoyed traveling both in the US and abroad.
A memorial service will be held at St. Alban's Episcopal Church in Tillamook, February 18th at 2:00.
In lieu of flowers, donations may be made in his name to Tillamook YMCA and/or St. Alban's Church, Tillamook, OR.