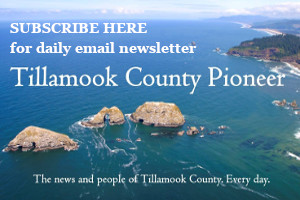 Viola Marjorie "Marge" Christensen was born in Portland, Ore. on March 24, 1923 to Wells and Viola (Carlton) Fleming. Marge passed away in Tillamook, Ore. on July 2, 2017 at the age of 94.
Marge grew up in Portland and graduated from Jefferson High School in 1941. Right out of high school she worked for the Federal Reserve Bank and then for the Kaiser shipyards.
On Dec. 11, 1942 she was united in marriage to Herbert Christensen. Herb was in the military and they moved a couple times following his service until they settled in Tillamook, Ore. in 1945. While in Tillamook, Marge was a bookkeeper at Pete's Electric and then a secretary at Tillamook High School. Her family remembers her hand writing all of the diplomas for the graduating seniors.
Marge was later working for an accounting firm when she overheard the court house was looking for a bookkeeper, she got that job which eventually led to her running for justice of the peace. She was a Tillamook County judge for more than 18 years, winning three elections.
Upon her retirement Herb and Marge enjoyed traveling in their RV and spent many years going to Yuma, Ariz. Marge was a past cub scout den mother as well as a member of the Tillamook First Christian Church and the Avion Travel Club.
Marge will be deeply missed by many as she loved people and had many friends.
She was preceded in death by her husband Herb in 2016.
She leaves behind to honor her life her loving family: Sons – Larry and wife Nikki Christensen of Tillamook; Robert "Bob" and wife Carol Christensen of Tillamook; eight grandchildren – Heidi Christensen, Kimberly Christensen, Wells Christensen, Matt Christensen and wife Alaina, DLynn Souba and husband Pat, Dean Seaburg and wife Molly, Warren Neth II and wife Amanda, Lori York and husband Dan; six great-grandchildren and one great-great-grandchild.
A Memorial Service for Marge will be held on Monday, July 17, 2017 at 1 p.m. at Waud's Funeral Home in Tillamook. A celebration of life will follow at the officer's mess hall at the Port of Tillamook Bay. Those who wish to make memorial contributions may do so to the Kilchis House or First Christian Church. Arrangements are in care of Waud's Funeral Home.