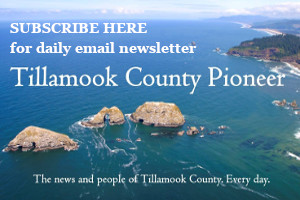 EDITOR'S NOTE: With our unseasonably sunny warm weather coming this weekend, Ocean Inn's "View from a Step Back" messages are particularly appropriate. Please enjoy our beautiful places safely, so you can come back again and again. That "little bit better view" from over the wall, fence, edge or closer to the water is not worth the chance of your life or putting the lives of search and rescuers at risk. Take care out there!
By Laura Swanson
"We see it almost every day, right out here on Manzanita Beach," explains Ocean Inn owner Janice Zagata. "I walk the beach nearly every day, and there are so many more people. And they really aren't aware of the dangers. During the last set of King Tides, I watched dozens of people, families with small children, get knocked down by a sneaker wave. It was terrifying and traumatizing. Our local community is so impacted every time there's a tragedy," Janice continued. "When we received a grant for marketing, I wanted our social media to be more than just pretty photos – I wanted to provide marketing with a message."
Zagata is an innkeeper that truly cares about the personal safety of her guests as well as the local community, as Ocean Inn continues to practice COVID-19 safety protocols, including leaving rooms vacant 24 hours between guests. "It's the right thing, and the safest thing to do, for our family, employees, guests and community," said Janice.
Ocean Inn has always had a special way of doing business, and taking care of guests. In 2019, they announced that they would provide Go-Bags for their guests (see link to that story below). "We're an oceanfront location, if a tsunami hits, it's our responsibility to make sure our guests needs are taken care of," said Zagata.
The same philosophy applies to the Ocean Inn's new "A View From a Step Back" social media campaign. Stunning photos are accompanied by thoughtful messaging with public safety in mind. A half-dozen different locations will be featured with cautions about high cliffs, sneaker waves, tides and more.
Local residents are weary from warning visitors (to often be ignored or bullied) about the inherent dangers of our beautiful, wild coastline. Ocean Inn's approach urges folks to enjoy while being careful, and hopefully will build awareness, and save the community from the trauma of future tragedy.
Enjoy the view, from a step back and from the perspective of local residents.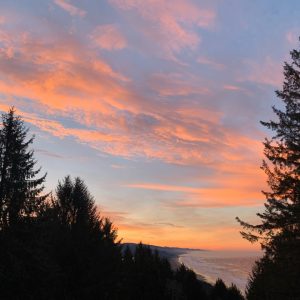 Here's the introduction to Ocean Inn's "A View From a Step Back":
Beauty abounds on Oregon's beaches and rugged shoreline, with cliffside views and mountaintop panoramas. But how close is too close to capture that perfect picture or catch a glimpse of the unending sunset? Every year lives are lost, and close calls are had while attempting that perfect shot. Take a look at the beauty through our eyes with our series: The View from a Step Back. Check back each week for a new featured view.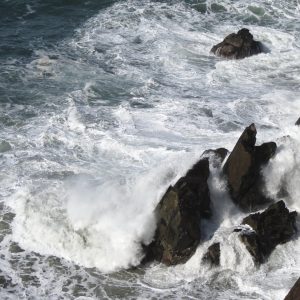 The second installment features a popular hiking trail, where a local resident fell last year – our cliffside trails are certainly a place to "View From a Step Back."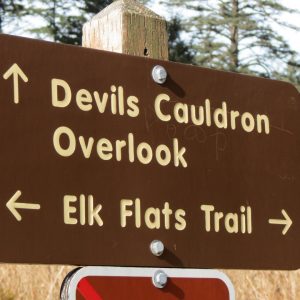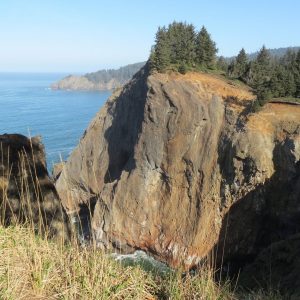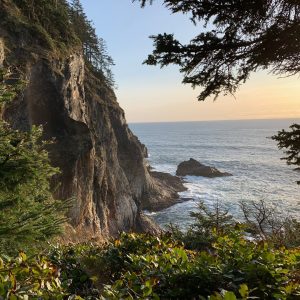 A short drive from Manzanita beach, at the North end of Neahkahnie Mt. trail, lie a number of short but incredibly beautiful offshoot hikes from the Elk Flats Trail junction. They lead you to small cliff-lined coves where the power and majesty of the ocean are clear. Waves crash onto the craggy rock walls, birds fly between the waves, and sometimes whales swim just beyond the rocks. Take the trail north to look back at sheer caldron walls, or find an offshoot to the south to catch a peak of Manzanita or the sun setting over the water. Of course, there may be better views by the cliffs edge , but from just a step back there are plenty of sights to behold.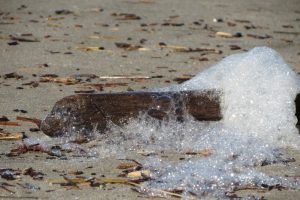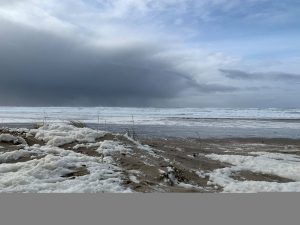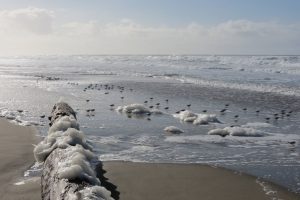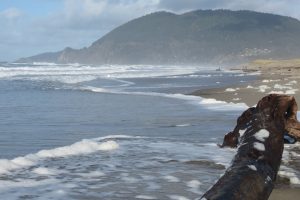 The power of the ocean – tides, sneaker waves, logs, rip tides – even local coasties have stories of "close calls."
Whether it's your first visit to the beach or your 100th, you're likely familiar with the term "sneaker waves." A few times a year, especially in the winter, the alignment of the moon, sun, and earth bring extra high and low tides to our beaches. While intriguing to see, especially when they bring with them piles of natural sea foam made from choppy seas and phytoplankton, they are perhaps the sneakiest of sneaker waves. These "King Tides" are beautiful to see but are also a reminder of the power of the Pacific Ocean, best viewed from just a few steps back. Remember to never turn your back to the ocean!
The Pioneer will feature beach and trail safety messaging throughout the spring and summer to help inform our residents and visitors about recreating safely. We can work together to consistently, regularly get the word out about enjoying our natural wonders safely, responsibly, so they can come back again and again to enjoy Tillamook County's great wild outdoors.
Ocean Inn Stocks Emergency Go-Bags for Guests
https://www.tillamookcountypioneer.net/manzanitas-ocean-inn-stocks-emergency-gobags-for-guests/