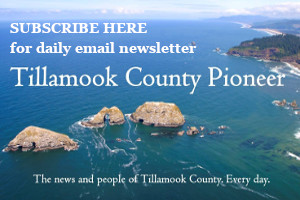 By Deb Simmons
About a year ago, four retired professionals pulled together to study the significant problems facing our city. Short term rentals (STRs) was only one of several issues studied.
This research group dug deeply into Manzanita's profile. We mapped out the STRs to understand the density issues and were alarmed to see some neighborhoods reflected a 50% saturation of STR — half a block was transient lodging. We looked into the STR cap for our city (17.5%) and discovered that multiple cities don't want "caps." Why, because tourists want to be closest to the attraction of the area. In our case, it's the ocean.
STRs in Oregon and across our country contribute to a broad spectrum of livability issues directly affecting the area's economic impact, one example is affordable housing. The STR, because of its investment value, drives up the price of homes and drives out the affordability of the neighborhood – ultimately decreasing the resident population.
The research group made videos ( This Video Link: https://youtu.be/v3kj5r5emY8 from https://neighborhood-forum.org/ ) and wrote articles to educate folks about the problem. We developed a comprehensive, multi-prong solution. This solution included many aspects of necessary balances in our neighborhoods integrating transient visitors as a majority portion of the population. We strove for fairness plus additional and diversified revenue to city coffers. The plan addressed good neighbor courtesies needed to create harmony between residents and tourists around problems such as traffic and parking.
On Aug. 4, our research team's proposals were presented to the Concerned Citizens of Manzanita and guests. The proposals were understood and were well received by the majority. Residents don't want a piecemeal plan. They are looking for coordinated, fact-based solutions that enhance the city's assets — but not at the expense of our neighborhoods.
During the City Council Work Session on Aug. 3, the second STR Work Group appointed by the Council was discussed, and noted that in order to reach a level of significant effectiveness, they must start with a Mission Statement written by the City Council. Once the Council states the objectives that the Work Group needs to achieve, the City Council will ultimately draft policy from those findings. The city manager's role is to carry out those policies.
Below is the STR Task Force Mission Statement from Cannon Beach:
"In order to maintain the residential character and livability of its neighborhoods and to prevent the adverse effects of the transient occupancy of dwelling units on residential neighborhoods, it is necessary to limit and regulate the transient occupany of dwelling units by investigating the rental permitting, violations and impacts of the STR program in Cannon Beach."
Compared to other Oregon Coast cities with proactive leadership such as Waldport, Cannon Beach and Gearhart, Manzanita has dug a very deep hole. Our resident population shrinks to only 14% when all homes are fully occupied. This is a very skewed, unsustainable demographic for any town. Many do not think the status quo is a problem. But for me, our town is like a resort – a commercial enterprise, not a community. Yet we have not the structure or resources of a resort business, but we have all the limitations of a small, one-revenue-source-volunteer-dependent village.
To effect solutions, the committee actually belongs with its select Council Member under the charter of the Planning Commission. Bottom line…. STRs are a Land Use issue.
The Comprehensive Plan provides the basis for the Planning Commission to evaluate the STR Committee's findings within the purview of the Comprehensive Plan.
The City Council has a broader responsibility which encompasses, in this particular case, revenues. Land use solutions should come before the Council prior to any revenue alterations. The Work Group should not worry about revenue. Land Use is their priority.
If elected Mayor, my intention is to move forward with the findings from the Work Group and also those independently done. Time is of the essence. Citizens want a strong Council leadership that is focused, transparent and takes action.
My Dad was an electrician in Portland. I used to tell my friends that he lit up the city.
He was a hunter, fisherman, pilot, SCUBA diver and a master of logic. He said many times over – 'You can either complain or you can stand up and do something.'
In Manzanita, I got tired of complaining. We have some solutions that won't take 5 or 10 years to implement. But before it's too late, we need to break out of the cycle we're in and support balanced and healthy neighborhoods in our town.
My name is 𝗗𝗲𝗯 𝗦𝗶𝗺𝗺𝗼𝗻𝘀 and I am a candidate for Mayor of Manzanita. I believe in livability, accountability and sustainability.