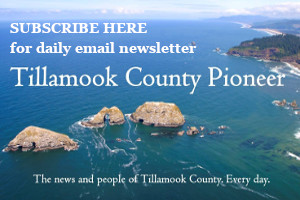 By Kris Lachenmeier
As a Tillamook School Board member for 10 years, and Board Chair for the last 2 years, I wanted to share my first-hand experience working with Eva Manderson and Nick Troxel. Both of these Board Members deserve to be reelected in May.
With 7 years of Board experience, Eva brings a quiet and steady leadership to the Board. Her expertise in Early Childhood Education is invaluable as we serve our youngest students. Eva asks questions and digs deeper to get to the heart of issues. Eva directed the recruitment process for current Superintendent Curt Shelley, one of the Board's primary responsibilities. Curt has demonstrated that he is a strong and kind leader over the last difficult year and has made decisions based on scientific data and a regard for students and staff. Because Eva said, "I want to know more", we have a Statewide Executive leader at the helm of our District.
I have known Nick Troxel through Rotary for 12 years. He's been a School Board member for the last 3 years. Nick has taken a leadership role in the Superintendent annual evaluation process and also was a part of the District committee who reviewed all of our District Policies in preparation for them to be available online. That's dedication. I know Nick to be ethical, fair, thoughtful and he brings a Safety expertise to the Board that makes our schools stronger. Nick cares for students and understands the bigger challenges our community faces. He's someone you would want on your team or beside you in the trenches.
One of the things I enjoy the most about School Board service is the opportunity to learn something new every day. Our leaders consider a variety of complex decisions daily. These include financial resource management, student achievement, employee recruitment and retention, professional development, technology, curriculum, safety, and communication. Meeting the needs of all students in our District is always a challenge and doing it during a pandemic has required our leaders to demonstrate courage, resiliency and compassion. As Board members, we need to stay aware of the fact that schools are a foundation in our community and that decisions affect students, families and business owners. We provide support for our school leaders in these decision-making processes TSD9 has led Tillamook County in getting kids back to school, all the while balancing the variety of
interests in every decision. I'm thankful for the work that all our employees and specifically Superintendent Shelley do on a daily basis. The path ahead of us continues to pose challenges and I urge you to consider experience and the steep learning curve ahead for new Board members as you cast your vote. This position requires commitment, an open mind, confidentiality and an ability to think bigger – at the policy level. It requires an ability to develop relationships with a variety of people and to listen to viewpoints which may differ from our own. Eva and Nick are solid contributors who have earned my vote.