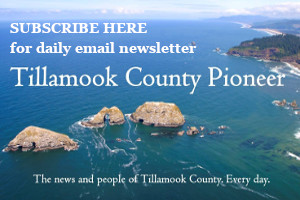 By Fred Bassett, Chair, Tillamook County Democrats
This is Tuesday, January 19, 2021 – a day that was set aside nationally between Martin Luther King, Jr. Day and Inauguration Day as a time to consider, reflect and mourn for all those whose lives have been most severely affected by the Covid 19 pandemic.
Over the past week, after I saw an announcement about things we could do today, I did a little research and math because of the staggering numbers of the actual infections and deaths from the pandemic in this country. The population of the United States is just a little over 4 percent of the world's population. However, we account for approximately 25 percent of Covid 19 infections worldwide, and 20 percent of the deaths. The only good news – if you live in the U.S.A. – is that we have been the beneficiaries of approximately 33 percent of the vaccinations that have been administered worldwide.
However, make no mistake. For a country that has prided itself on being at the forefront of science, technology, and medicine, this is an abominable failure. As history records the impacts of the past four years, let it not diminish or cover up this avoidable tragedy,
It is fair to say that none of us have been untouched by the pandemic. For those who have lost their most precious gift of life to this disease we must pause and reflect on their loss. And we must consider what their loss in such great numbers – approximately 400,000 – means to the millions of people who called them mom, dad, uncle, aunt, grandma, grandpa, sister, brother, daughter, son, cousin or friend.
So, yes, we are a nation in grief today. It is a grief that will take years, if ever, to dissipate.
It is fair to say, as well, that none of us has been untouched by the economic crisis this pandemic has caused. I count myself currently as one of those most lucky, because I have not lost a job or struggled to keep a lifelong dream of owning my own business alive during forced closures and the fear of infecting my customers. But it saddens me deeply to see shuttered doors of my favorite shops, and to consider the despair of those who have been forced to trade pay checks for unemployment checks, and shopping trips to the store for trips to one of our local life-saving food pantries.
So, yes, we are a nation in a state of economic crisis. Like the grief we feel, this economic crisis will not go away when the Coronavirus finally wanes.
Finally, it is fair to say that we all have experienced some loss from the dramatic changes that have occurred in our lives. I am thankful everyday that I have the love and companionship of my dear wife Sonya. But, I miss terribly my regular visits with my children and my grandchildren, my sisters and my brother and their families. The loss of the time we all could have been sharing with our loved ones can never be replaced.
So, yes, we are a nation in sorrow for lost family reunions, community events, or simply game nights with our favorite friends.
However, there is some light at the end of this tunnel. Despite the false promise of impending vaccinations this last week – was this the last jab in the ribs from the Trump administration? – we will be getting vaccines. It will undoubtedly take many months before a large enough number of us are vaccinated to really allow things to open up, but, this, too, will happen.
And, tomorrow morning, 9 a.m. our time, we will inaugurate a new President and Vice President and a new ray of hope will be ushered in. I have no doubt that President Biden's Covid 19 Economic and Health Recovery Act will bring the light of hope to the darkest corners of the pandemic's effects on all of us. It won't be fast and we will stumble on the way. But, it is a PLAN, and that's more hope than we've had since Covid 19 raged into our country almost a year ago.