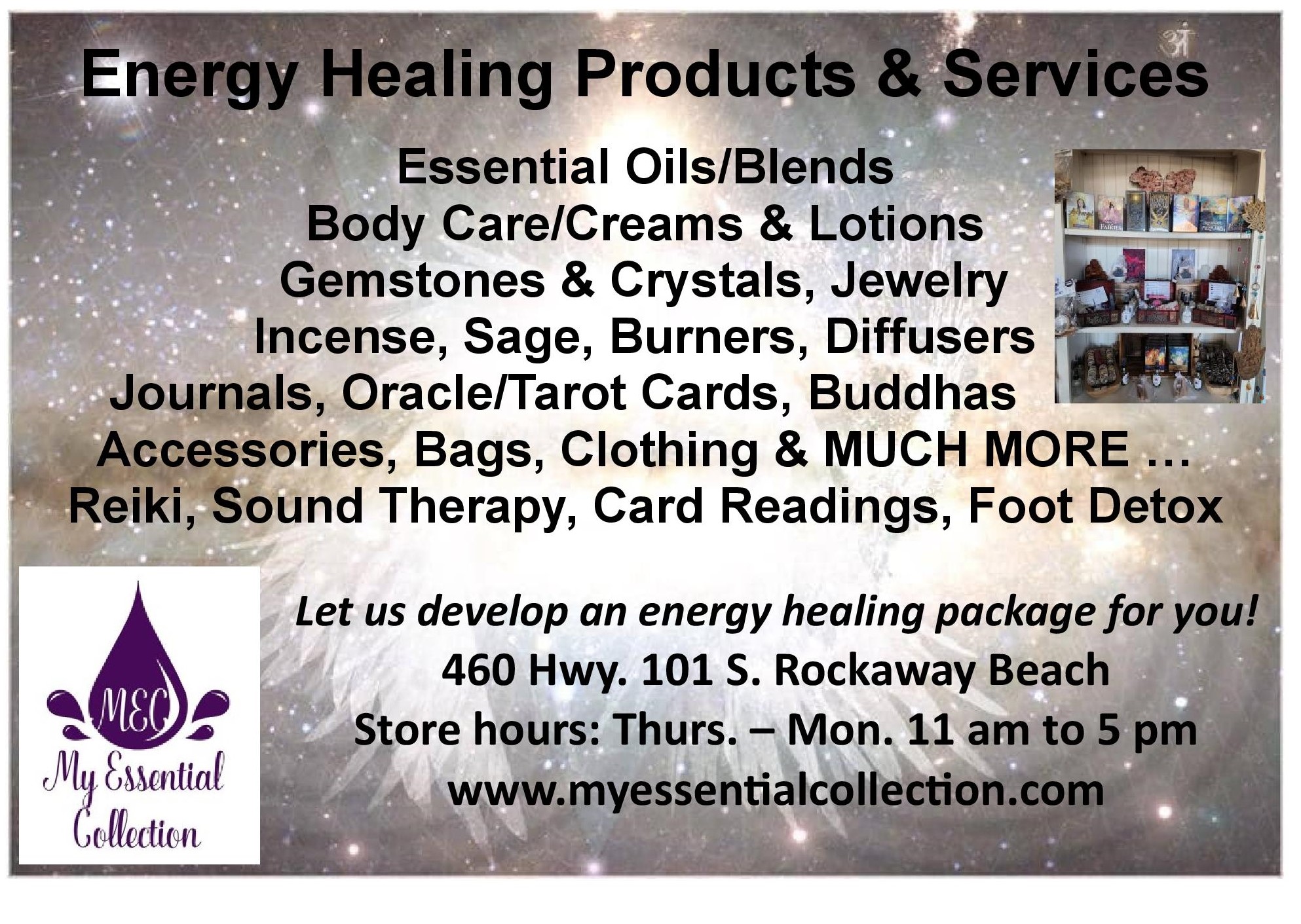 Photos & Comments from Don Backman
The Orcas were in Tillamook Bay today, April 17, 2023. Also known as killer whales, these impressive creatures come into Tillamook Bay occasionally to prowl about. Today they went in past the Ghost Hole and across to the Bay Ocean side making a circle. They were in really shallow water and were rolling sideways. Not at all sure what that was about, unless they caught a seal or something.
By the time I heard that they were in the bay, grabbed a camera and lens, and made it to the Ghost Hole, the whales were down toward the south end of the bay. They then made a circle over by Bay Ocean Spit, then headed back out. The close up fin is where one rolled right in front of me at the entrance to Barview Jetty County Park. It did it twice and I missed catching it both times. I guess it's the big one that got away… Honestly, it was the size of a whale!
Out on the jetty, one whale headed out swimming next to each of the jetties as if they were herding something, or were checking it out. One came up almost to the group of us waiting, dove, and disappeared.
Someday I will get a good photo. Had the opportunity slip by today. Two of these are pretty extreme range photos.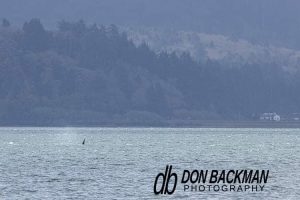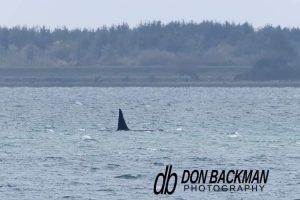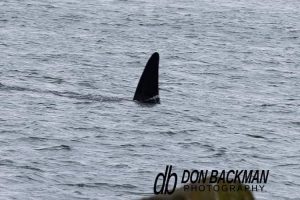 From Josh McInnes – Oceanic Ecology Research Group – Tillamook Bay, Oregon (2023-04-17): Photographs from Don Backman from today's encounter with transient killer whales in Tillamook Bay. Still working on identifying these whales. Sounds like 3 whales were in the area.
One of the males might be transient killer whale T049C, a commonly sighted whale off the Oregon Coast.
Another exciting day of killer whales being sighted. Today two or three transient killer whales were encountered in Tillamook Bay, Oregon. After some detective work and photographs shared by many members, including a photograph from Don Backman, we have been able to identify one of the adult male whales as T049C.
T049C (born 1998) is a west coast (inner coast) transient that is a common visitor to the Oregon Coast. We have been monitoring his recent sightings in the inland coastal waters off Southern Vancouver Island and Washington State the last couple of weeks and he was travelling with his nephew T049A2 (born. 2007), the likely second male transient sighted today.
A huge thanks to everyone in this group for helping collect photographs and information for our Oceanic Ecology Research Group Pacific Killer Whale Ecology and Behavior Study. This data is collaboratively shared with the Marine Mammal Research Unit UBC (MMRU), Marine Mammal Institute, and Oregon Coast Aquarium.
If anyone has photographs from these encounters, please email them transientproject@gmail.com
Ryan Vantress video – 4/17/23 @ 1pm – Original/first report – Orcas in the Ghost Hole area of Tillamook Bay
https://www.facebook.com/1578796088/videos/pcb.1628943640881627/6707851182582743
Ann Harper video – 4/17/23
https://www.facebook.com/1181150204/videos/1335521610343921/