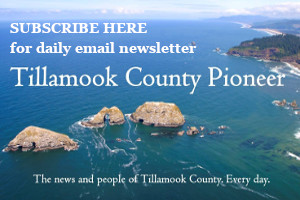 By Samantha Swindler | The Oregonian/OregonLive The Oregonian
Email the author | Follow on Twitter
on December 21, 2016 at 5:05 AM, updated December 21, 2016 at 7:58 AM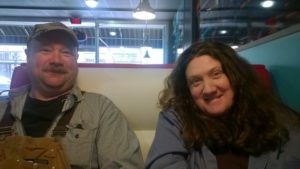 LeeAnn Neal, a long-time local journalist and pioneering daughter of Tillamook County, died on Saturday, less than two months after she was diagnosed with stage four liver cancer.
As was her way, LeeAnn, 46, didn't want folks to make a fuss. She spent nearly a month in the hospital, much of it in intensive care, but was always upbeat when describing her health issues.
The cancer had been discovered during emergency surgery. After post-op complications, it became clear it was quite advanced. She was waiting to tell friends about her diagnosis but never got the chance.
It was left to LeeAnn's family to share the news of her rapid decline in health.
LeeAnn arrived at Nehalem Bay House on Friday, where she was meant to receive end-of-life care.
By Saturday night, she was gone.
LeeAnn came from true Oregon stock. She was a sixth-generation Tillamook resident whose great-great-great grandfather, Elbridge Trask, was among the area's first white settlers in the 1850s.
She started covering local news as a teenager, and over the years served as a tireless amplifier of her community's triumphs – and a tactful recorder of its tragedies. Her work appeared locally in the Tillamook Headlight Herald and Coast River Business Journal, and sometimes statewide in The Oregonian/OregonLive.
Most recently – and most personally – LeeAnn helped start the Tillamook County Pioneer, a hyper-local online news source, in July 2013.
She was one of the first people I met when I moved to Tillamook in 2010 to work for the Headlight Herald. LeeAnn called it a "grand old dame" of a newspaper.
She wore oversized, untucked men's button shirts and had a wild mane of curly dark hair. You could hear her coming, that loud voice, that booming laugh, that joyous bounce in her step.
All Tillamook, through and through.
Later, after I moved to Forest Grove, the demands of deadlines and the distance between us meant we most often communicated online. We left a digital trail of more than 5,000 Facebook messages, preserving our conversations about coastal gossip and encouragement in an often stressful profession.
After my first column at The Oregonian/OregonLive, she told me, "I hate writing too, but, as the saying goes, I love having written."
I know that's a Dorothy Parker quote. But to me, it will always be LeeAnn Neal's.
We often daydreamed about starting or buying a community paper, making it work within what LeeAnn jokingly called her "maverick-no-resources lifestyle." We'd share ideas on revenue models and paywalls. And we'd consult with one another while writing sensitive stories.
"The Tillamook County Pioneer staff is small, as is our community," she wrote once as a disclaimer. "If I were to avoid writing about everything that touches my personal life, I would have to skip a lot of worthwhile articles."
LeeAnn was a first-name-only celebrity in Tillamook County. She understood the journalism of attachment – of caring about the people and places you report on – which is the only journalism of value you can provide for a rural town. She cared because she was connected, directly or indirectly, by blood or by heart, to everyone she wrote about.
During festivals and floods, major events, people looked to LeeAnn to tell it straight and accurate.
David Dillon, who worked with LeeAnn as editor of Manzanita's North Coast Citizen from 1996 to 2003, said she chased news and feature stories "with equal ferocity."
"She would invariably come back with great work," he said, "complete with more details, quotes and insights on the topic than I ever imagined would be there."
"Her office was clear across the building from mine, but I always knew when she was in her office because I could hear that wonderful laugh," said Carol Hungerford, co-owner of the Tillamook Headlight Herald. "I miss her for the joy and integrity she brought to her craft."
Looking back through our conversations this year, I realized how often LeeAnn felt ill. How she couldn't shake a cold. How she had to cancel plans. How she kept trying new diets and vitamins and workouts. How we commiserated about seasonal affective disorder.
"For the last few months, I've been having lots of frustrating memory issues (mostly involving the names of people, places and things), trouble concentrating and a flare-up of my old OCD intrusive thoughts," she wrote in March. "I've also been tearing up from time to time for no good reason and having a hard time motivating myself to work, which isn't like me."
I visited LeeAnn the day she died. I had been told only that she "didn't have a lot of time," which I interpreted to mean days, weeks or maybe months.
But when we arrived Saturday afternoon, the nurse said she had only a few hours left. She was in a coma, but could still hear us, we were told.
We took turns sitting near her bedside, telling her how much she meant to us, how thankful we were for her friendship. Hundreds of well-wishes came in over social media and they were read to her in her final hours.
"Thank you, LeeAnn, for your life, for your brilliant, heartfelt journalism that knit the community together in love, humor and honesty," wrote Helen Hill.
"You gave and gave and gave to us."
This is, sadly, the second death to hit the Pioneer's small staff in a little more than a year. Another friend and co-founder, Will Seymour, died of cancer on Sept. 26, 2015, his 29th birthday.
It's unclear what will happen to the Pioneer without LeeAnn, but her family hopes to keep it going in some form.
— Samantha Swindler