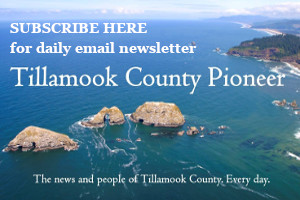 Tillamook, Ore. – The Tillamook State Forest was closed, beginning at 1:00 p.m. today, September 9th to all public entry and industrial operations. The public entry restriction is through Sunday, September 13th at 11:00 pm when the restriction will be re-evaluated.
More logging equipment is now available. A total of six bulldozers and three feller-bunchers are currently working the fire. This equipment can build a fire line much wider and faster than doing it by hand and is not hampered by the extremely smoky conditions at the fire and vicinity. Currently there are about 180 personnel working on the fire.
Easterly, hot and drying winds have pushed the growth of the fire eastward since its start, the evening of Labor Day. Currently the fire is estimated at 175 acres. Growth this afternoon (September 9th) has been in the Vaughn Creek area and somewhat away from the privately held forest and residential areas. Level 2 and 3 evacuation orders from the Tillamook County Sheriff's Office remain in effect because of the unpredictable winds and growth of the fire. There is no current estimate of containment.
The fire effort is being managed by the Oregon Department of Forestry with help from the Tillamook County Sheriff's Office, Bay City Fire Department, Tillamook Fire Department, Garibaldi Fire Department, Nehalem Fire Department and Nestucca Rural Fire Department.
Resources currently assigned to the Pike Road Fire:
6 bulldozers
3 feller bunchers
4 excavators
6 crews
5 wildland fire engines
1 water tender
2 Zwald water tankers
Fire engines and personnel from the Bay City Fire Department, Tillamook Fire Department, Garibaldi Fire Department, Nehalem Fire Department, Nestucca Rural Fire Department
Total personnel: 180
Here are some photos by Jarett Juarez from September 9th: