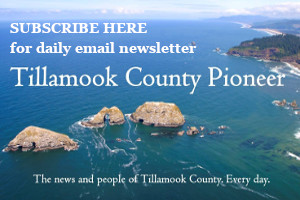 U.S. 30 will remain closed about 20 miles east of Astoria until landslide repairs can make the highway safe enough to reopen at least one lane of travel with flaggers.
Our first goal is to make the area safe enough to reopen one lane while work continues on lanes closer to the hillside. We have no estimated time for reopening a single lane, but expect it will be no sooner than Friday, Dec. 2.
Work will continue Friday and through the weekend if necessary to reopen the highway as soon as it is safe to do so.
If you plan to travel between the Portland Metro Area and the Northern Oregon Coast in the next few days, including this weekend, please use an alternate route. U.S. 26 is the best alternative. OR 47 and 202 are an option for passenger vehicles, but OR 47 has length restrictions on commercial vehicles. Please do not use your GPS to detour on less developed roads. This can be dangerous for you, especially in these severe weather conditions.
The slide started about 10:30-11 p.m. Tuesday about 100 feet above the roadway, likely due to rain and strong winds on trees with roots deep in rocky hillside. The slide is about 110 feet wide and sent at least 1,800 cubic yards of mostly rock onto the highway.
Progress toward reopening:
Debris removal has begun on the roadway surface.
Commercial truck has been removed from the debris but still needs to be towed.
ODOT geologist found two car-sized sections of hillside that need to be removed because they are large enough to block the highway again when they fall.
Work remaining before one lane can reopen:
Removal of the two large sections of hillside that are on the verge of sliding and large enough to block the entire highway.
Clearing enough debris on the road surface to allow reopening a single lane and provide space for crews to continue work and to catch any new smaller rock slides.
Repairing any pavement damage and setting up a single lane detour with flaggers.
Before you travel, visit TripCheck.com
The best way to get timely updates on U.S. 30 – and all Oregon highways – is on Tripcheck.com. We post road and weather conditions, highway closures, crash locations, traffic speeds and more as quickly as possible there. You can also see traffic camera views.
Remember to slow down in wintry weather when visibility is lower and stopping distances are longer on wet and/or freezing conditions. Also remember to bring traction devices if you cross snow zones.