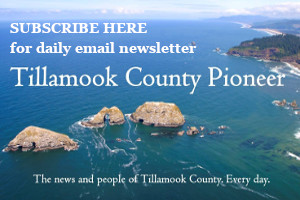 Today, August 4, 2021, Oregon Health Authority is reporting 1,213 new confirmed and presumptive cases of COVID-19 as of 12:01 a.m. today, bringing the state total to 224,547. The new cases reported today are in the following counties: Baker (15), Benton (19), Clackamas (107), Clatsop (4), Columbia (13), Coos (34), Crook (12), Curry (10), Deschutes (33), Douglas (78), Gilliam (1), Harney (2), Hood River (3), Jackson (149), Jefferson (3), Josephine (54), Klamath (5), Lane (111), Lincoln (19), Linn (28), Malheur (10), Marion (84), Morrow (7), Multnomah (140), Polk (30), Tillamook (15), Umatilla (86), Union (15), Wallowa (3), Wasco (11), Washington (89), Yamhill (23).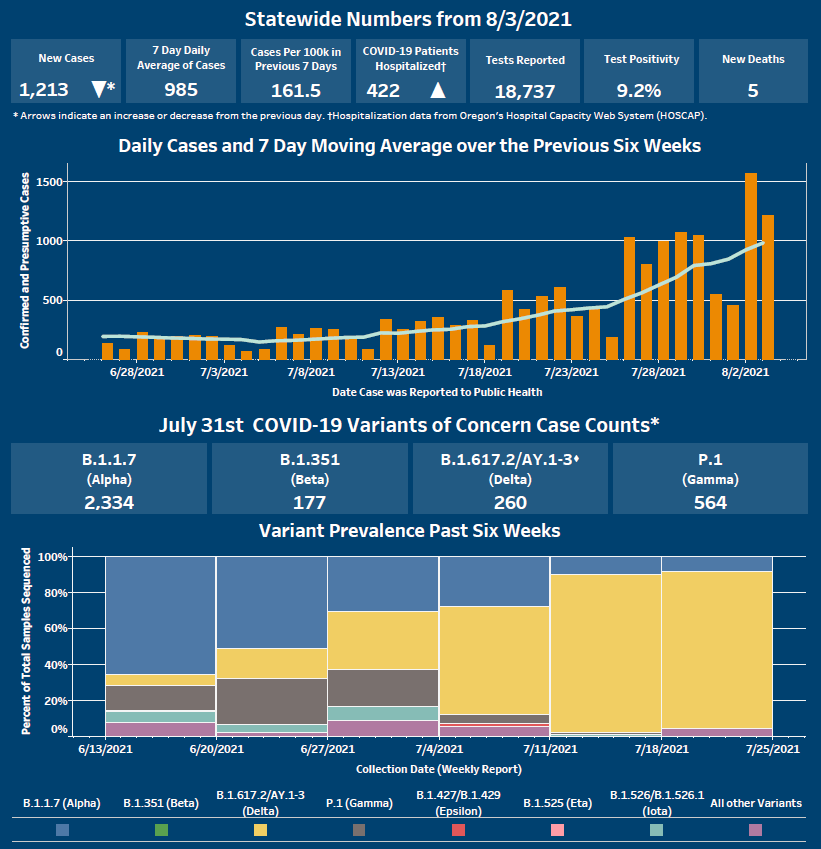 We want to keep you informed about COVID-19 in Oregon. Data are provisional and change frequently.
• Samples for 321,648 tests have been reported positive.
• Samples for 5,431,174 tests have been reported negative.
The number of hospitalized patients with COVID-19 across Oregon is 422, which is 43 more than yesterday. There are 133 COVID-19 patients in intensive care unit (ICU) beds, which is 14 more than yesterday.
The total number of patients in hospital beds may fluctuate between report times. The numbers do not reflect admissions per day, nor the length of hospital stay. Staffing limitations are not captured in this data and may further limit bed capacity.
Take the time to catch up on vaccination during National Immunization Awareness Month
 Your family may have held off on scheduling well-child visits and recommended vaccines during the COVID-19 pandemic. It's understandable you might have felt hesitant to take your child in for an appointment. We want you to know that health care providers are taking necessary precautions to prevent the spread of COVID-19.
As your children head back to school this fall, it's important to make sure they get caught up on any immunizations and well-child visits that they may have missed. August is National Immunization Awareness Month which makes it a good time to talk with your child's health care provider about what vaccines your child needs to stay healthy this school year.
The immunization schedule is designed to provide immunity early in life, before children are likely to be exposed to serious, potentially life-threatening diseases. Some vaccines require more than one dose to provide your child with the best protection. Each recommended dose is important to gain full protection.
As a parent or guardian, another way you can help protect your children is to get the COVID-19 vaccine. You may be able to schedule your own vaccination at the same time as your child's visit. Children 12 or older can also get their COVID-19 vaccines at the same time as other vaccines. If you have questions about COVID-19 vaccination for your children or yourself, your health care provider can answer them.
The Vaccines for Children (VFC) program offers free vaccines to families who cannot afford to pay for their children's vaccines. Call 211 to find out more about VFC.
You can learn more about routine vaccination by visiting the Centers for Disease Control and Prevention's (CDC) Growing Up with Vaccines interactive guide, which provides information on the vaccines recommended during pregnancy, throughout childhood, and into adulthood.
If your children need health insurance, they may be eligible for the Oregon Health Plan (OHP). It is open to all children and teens younger than 19, regardless of immigration status, who meet income and other criteria. Trained community partners across the state can help you fill out an application. Visit http://www.OHP.Oregon.gov to find community partners in your area.
New rule will require workers in health care settings to be tested weekly unless vaccinated
Governor Kate Brown announced today that she has directed the Oregon Health Authority (OHA) to issue a rule outlining new, required health and safety measures for personnel in health care settings. The rule requires weekly COVID-19 testing for personnel in health care settings to prevent the spread of COVID-19 in health care settings, which can be waived with a proof of vaccination.
You can read more about this in the news release.
Air quality advisory for Southern, Central, Northeastern Oregon
The Oregon Department of Environmental Quality (DEQ) issued an air quality advisory Wednesday for Southern, Central and Northeastern Oregon due to smoke from fires in Oregon and Northern California.
Protect yourself and your family when smoke levels are high:
Stay inside if possible. Keep windows and doors closed.
Avoid strenuous outdoor activity.
Use high efficiency particulate air (HEPA) filters in indoor ventilation systems or portable air purifiers. Or create your own air purifying filter by following these instructions.
Be aware of smoke in your area and avoid places with the highest levels.
If you have heart or lung disease or asthma, follow your healthcare provider's advice.
Weekly COVID-19 cases, hospitalizations and deaths rise
The Oregon Health Authority's COVID-19 Weekly Report, released today, shows an increase in daily cases, hospitalizations and COVID-19 related deaths.
OHA reported 5,946 new daily cases of COVID-19 during the week of 

Monday, July 26

, through 

Sunday

, Aug. 1. That represents a 92% rise over the previous week.
New COVID-19 related hospitalizations rose to 256, up from 146 the previous week, a 75% increase.
There were 25 reported COVID-19 related deaths, up from 12 reported the previous week.
There were 82,701 tests for COVID-19 for the week of 

July 25

 through 

July 31

. Test positivity was 8.2%, up from 5.0% the previous week.
Case rates have generally been higher in counties with lower COVID-19 vaccination rates.
During the week of 

July 26

 – Aug. 1, the statewide case rate was 129.3 cases per 100,000 population. Thirteen of Oregon's 36 counties had case rates in excess of 200 per 100,000. All 13 of these counties had population vaccination rates less than the statewide average of 56.4%.
Today's COVID-19 Weekly Outbreak Report shows 33 active COVID-19 outbreaks in senior living communities and congregate living settings, with three or more confirmed cases and one or more COVID-19 related deaths.
Variant and COVID-19 Daily Data Update dashboards updated 

today
The Variants dashboard is updated on Wednesdays with data reported through the previous Saturday. The cases per 100,000 residents in the previous seven days will be updated Monday through Friday.
Learn more about COVID-19 vaccinations