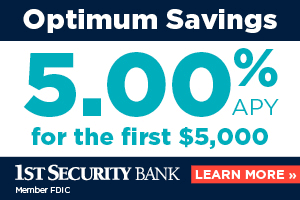 The Oregon Health Authority wants to keep you informed about COVID-19 in Oregon. Data are provisional and change frequently.
Samples for 373,778 tests have been reported positive.
Samples for 5,822,535 tests have been reported negative.
For Thursday August 26, 2021, OHA is reporting 2,057 new confirmed and presumptive COVID-19 cases, bringing the state total to 265,210. The new cases reported are in the following counties: Baker (15), Benton (12), Clackamas (133), Clatsop (19), Columbia (22), Coos (21), Crook (13), Curry (24), Deschutes (95), Douglas (69), Grant (29), Harney (9), Hood River (5), Jackson (215), Jefferson (8), Josephine (75), Klamath (67), Lake (5), Lane (190), Lincoln (24), Linn (103), Malheur (26), Marion (206), Morrow (13), Multnomah (184), Polk (67), Sherman (1), Tillamook (22) Umatilla (112), Union (13), Wallowa (8), Wasco (23), Washington (158), Wheeler (3) and Yamhill (68).
There are nine new COVID-19 related deaths in Oregon, raising the state's death toll to 3,095. More information on COVID-19 related deaths can be found here: oregon.gov/oha/erd/pages/covid-19-news.aspx.

Hospitalizations
The number of hospitalized patients with COVID-19 across Oregon is 1,085, which is five more than yesterday. There are 299 COVID-19 patients in intensive care unit (ICU) beds, which is four more than yesterday.
There are 51 available adult ICU beds out of 661 total (8% availability) and 333 available adult non-ICU beds out of 4,269 (8% availability).
The total number of patients in hospital beds may fluctuate between report times. The numbers do not reflect admissions per day, nor the length of hospital stay. Staffing limitations are not captured in this data and may further limit bed capacity.
Note: Please do not visit an emergency department for COVID-19 testing, unless you require emergency care for your symptoms. Emergency departments in Oregon are under significant strain responding to the current surge in COVID-19. You can find a test here.
If you have a medical condition that doesn't require emergency care, contact your provider. An urgent care center may also help you get the care you need and will save emergency departments from added strain.
More information about hospital capacity can be found here.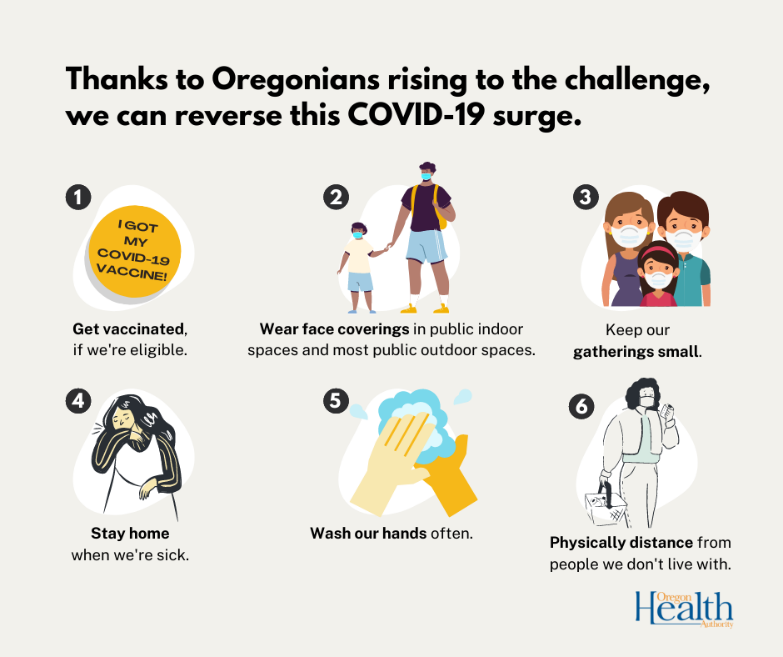 With vaccinations, precautions, and care, we can reverse the surge
As we see an increase in cases and hospitalizations, many of us may be remembering how we have flattened the curve when our hospitals and health care systems were threatened in the past. Let's recommit to taking steps to protect ourselves, our loved ones and our communities. We can rise to the challenge.
Get vaccinated and help your friends, family and neighbors get vaccinated.
Wear face coverings in public indoor spaces and most public outdoor spaces.
Keep our gatherings small.
Stay home when we're sick.
Wash our hands often.
Physically distance from those we don't live with.
Vaccination rules for health care and K–12 staff
On Aug. 25, the Oregon Secretary of State posted the new vaccination rules for health care and K–12 employees in Oregon. Here's what you need to know.
In response to the spread of the highly contagious Delta variant, Governor Brown and OHA officials determined that a vaccination requirement is necessary for health care providers and staff in health care settings and for teachers and school staff.
On or before Oct. 18, all health care providers and staff, and all K–12 teachers, school staff and volunteers must:
Be fully vaccinated and
Provide their employer, school, contractor or responsible party with proof of vaccination.
You can read the full rule for health care providers and staff here.
You can read the full rule for teachers, school staff and volunteers here.
Your questions about schools and COVID-19, answered
As parents and guardians know, school starts soon. In fact, a few school districts in Oregon are already open for in-person school.
Computers have been a great tool, but most students learn best when they are able physically to be in school and see their teachers and friends. To keep students, teachers, staff, and their families safe – and avoid having to re-close due to outbreaks of COVID-19 – the Oregon Health Authority (OHA) and the Oregon Department of Education (ODE) designed a set of the protocols to limit the spread of the virus in schools. Based on last year, we know schools and school districts can successfully control COVID-19 by following these measures.
Recently, OHA and ODE held a series of townhall meetings on Facebook to answer questions about school reopening and COVID-19. Videos are available here: Eastern Oregon/English, Statewide/English, Statewide/Espańol.
Also, this FAQ answers common questions submitted by the public for those townhalls.
Pediatric Weekly dashboard update
Today, OHA published its newest dashboard report of pediatric COVID-19 case data in Oregon.
This dashboard replaces the previous report and will be published weekly on Thursdays with the most recent full week's data.
A key finding this week is an increase in hospitalizations in children 0-5 years old.
This increase isn't unique to Oregon. Children are now being hospitalized in large numbers across the United States as the highly contagious Delta variant continues to spread.
"While an increase in COVID cases is difficult news to hear, it's especially disheartening when there is a sharp rise in serious cases among the youngest people in our community," said State Health Officer Dr. Dean Sidelinger. "New hospital admission rates for kids due to COVID-19 in the U.S. have reached the highest levels since tracking pediatric cases started about a year ago.
"The Delta variant is more contagious than previous variants—and likely is causing more severe disease in children, as it is in adults—and is leading to a surge in pediatric hospitalizations nationwide. Please get vaccinated if you can and wear a mask to help stop COVID from spreading, especially to kids who can't yet get the vaccine. Let's work together to keep our community and our children safe."
Weekly Breakthrough Case Report
OHA's most recent update on COVID-19 breakthrough cases, released today, found that 88% of the 14,523 reported COVID-19 cases between Aug. 15 and Aug. 21 occurred in people who were unvaccinated. There were 1,739 breakthrough cases, accounting for 12% of the week's cases.
The median age of the breakthrough cases during this period was 48. Thirty-six breakthrough cases involved residents of care facilities, senior living communities or other congregate care settings. There were 31 breakthrough cases in people aged 12 to 17.
To date, there have been 9,539 COVID-19 vaccine breakthrough cases in Oregon. The median age of all cases was 48. Breakthrough cases have been reported in all 36 counties.
Cases of COVID-19 are far more common in unvaccinated people. The report shows that the rate of COVID-19 in unvaccinated people is currently approximately six times higher than in vaccinated people.
To date, 5.5% of all vaccine breakthrough cases have been hospitalized and 0.9% have died. The median age of the people who died was 83.
The number of vaccine breakthrough cases identified in Oregon remains very small when compared to the more than 2.38 million Oregonians who have completed their COVID-19 vaccination series.
The latest breakthrough report can be found here.
Vaccinations in Oregon
Today, OHA reported that 10,970 new doses of COVID-19 vaccinations were added to the state immunization registry. Of this total, 2,922 were initial doses and 1,604 were second doses administered on Aug. 25. The remaining 5,669 were administered on previous days, but were entered into the vaccine registry on Aug. 25.
The seven-day running average is now 7,921 doses per day.
Oregon has now administered 2,781,997 first and second doses of Pfizer Comirnaty, 1,834,344 first and second doses of Moderna and 196,219 single doses of Johnson & Johnson COVID-19 vaccines.
As of today, 2,604,664 people have had at least one dose of a COVID-19 vaccine and 2,385,186 people have completed a COVID-19 vaccine series.
These data are preliminary and subject to change.
Updated vaccination data are provided on Oregon's COVID-19 data dashboards and have been updated today.
Learn more about COVID-19 vaccinations
To learn more about the COVID-19 vaccine situation in Oregon, visit our webpage (English or Spanish), which has a breakdown of distribution and other information.
For more information, visit healthoregon.org/coronavirus.
Monoclonal antibody treatment for COVID-19 now available by injection
Getting diagnosed with COVID-19 can be scary. However, in addition to the safe and effective vaccines we have in the US, we now have more treatments available that can reduce the severity of COVID-19 in those who have become infected.
Monoclonal antibody (mAb) treatments have the potential to save lives, keep COVID-19 patients out of the hospital and relieve the current burden on Oregon's health care system. The treatment is now available in both subcutaneous (an injection) and intravenous (IV) form.
One monoclonal antibody treatment is currently available in Oregon through Health and Human Services (HHS) for free and has proven to be effective against the Delta variant.
People ages 12 and older, who weigh at least 88 lbs. and meet the following requirements may be eligible for mAb treatment:
Have tested positive for COVID-19.
Are experiencing mild or moderate symptoms of COVID-19.
Had first symptoms within the last 10 days.
Are considered high risk for going into the hospital because of age, weight, pregnancy, immunosuppressive disease or treatment for some other chronic disease. See the full list.
To learn more about mAb treatment, read the full story on Oregon Vaccine News.