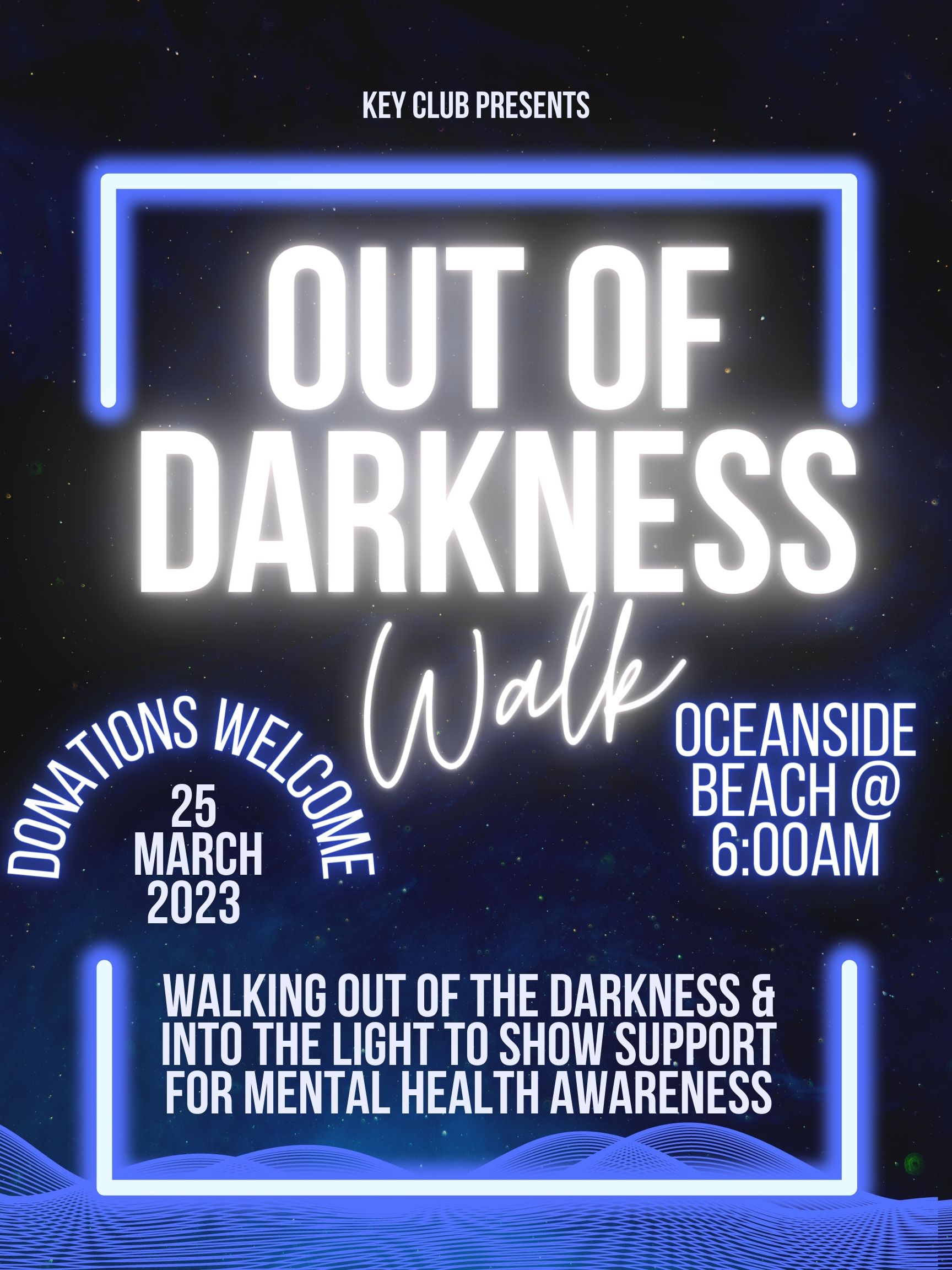 Today August 19, 2021,  Oregon Health Authority is reporting 2,971 new confirmed and presumptive cases of COVID-19 bringing the state total to 250,835.
The new cases reported today are in the following counties: Baker (14), Benton (14), Clackamas (269), Clatsop (26), Columbia (25), Coos (38), Crook (12), Curry (34), Deschutes (171), Douglas (238), Gilliam (4), Grant (9), Harney (4), Hood River (11), Jackson (345), Jefferson (15), Josephine (188), Klamath (53), Lake (1), Lane (319), Lincoln (57), Linn (82), Malheur (23), Marion (218), Morrow (22), Multnomah (225), Polk (67), Sherman (5), Tillamook (44), Umatilla (70), Union (64), Wallowa (16), Wasco (17), Washington (207) and Yamhill (64).
Workplace Outbreaks – In Tillamook County, from the week of 8/8/21 – there are currently four active workplace outbreaks:  Tillamook Fred Meyer (19 cases); Oregon Youth Authority (13 cases); Tillamook County Creamery Assoc. (10 cases); Tillamook Country Smoker (5 cases)
https://www.oregon.gov/oha/covid19/Documents/DataReports/Weekly-Outbreak-COVID-19-Report.pdf
Governor Brown, OHA leadership discuss hospital crisis, vaccination requirements
Today, Governor Kate Brown announced new vaccination requirements for Oregon health care and K–12 staff during a press conference.
Previously, Governor Brown had directed OHA to create a rule that would require health care providers and staff to get vaccinated or undergo routine testing. Now, there will be no option for a testing alternative. All K–12 staff and volunteers will be required to get vaccinated by Oct. 18 or six weeks following FDA approval.
"In the weeks since I announced Oregon's original test-or-vaccination policy, the Delta variant has put enormous pressure on our health systems," said Governor Brown. "There are simply not enough resources to stand up weekly testing systems while also responding to the current crisis."
More than 93% of Oregon's hospital beds are currently occupied and 94% of adult ICU beds are full. With hospitals nearing capacity, Governor Brown is deploying the National Guard and nurse strike teams as well as securing FEMA assistance to support Oregon hospitals.
"If you are unvaccinated, you have never been more vulnerable to being sickened by the virus, passing the virus on to your loved ones, getting seriously ill or dying from COVID-19," said Dr. Sidelinger, State Health Officer. "If you are unvaccinated, you are risking the health of your family, your loved ones and everyone you encounter while infected.
To learn more about today's press conference, read the full story on Oregon Vaccine News.
When will we know more about COVID-19 booster shots?
On Aug. 18, public health and medical experts from the U.S. Department of Health and Human Services (HHS) released a media statement related to COVID-19 booster shots for the mRNA vaccines.
"Based on our latest assessment, the current protection against severe disease, hospitalization, and death could diminish in the months ahead, especially among those who are at higher risk or were vaccinated during the earlier phases of the vaccination rollout," read the statement.
"For that reason, we conclude that a booster shot will be needed to maximize vaccine-induced protection and prolong its durability."
The current administration is prepared to offer COVID-19 booster shots for all Americans starting the week of Sept. 20 and eight months after an individual's second dose of an mRNA vaccine series.
(HHS expects more data on the need for a potential Johnson & Johnson booster shot in the coming weeks.)
Before any booster shots are distributed, the U.S. Food and Drug Administration (FDA) must first review the safety and effectiveness of administering booster doses of the Pfizer and Moderna vaccines. The Centers for Disease Control and Prevention's (CDC) Advisory Committee on Immunization Practices (ACIP) will then review the FDA's evaluation.
When the FDA and ACIP complete their reviews, the Western States Scientific Safety Review Workgroup will assess the recommendation.
Once the workgroup finishes its analysis, OHA will establish further guidance for booster shots in Oregon.
New pediatric dashboard report
Today, OHA published a new dashboard report of pediatric COVID-19 case data in Oregon. This dashboard replaces the previous report and will be published weekly on Thursdays with the most recent full week's data. Here are some key findings:
There have been 31,394 confirmed and presumptive cases of COVID-19 among people under 18 years old (12.7% of the total cases).
As with COVID-19 cases overall, weekly COVID-19 pediatric cases have increased dramatically since 

July 2021

.
Pediatric case rates are highest among some communities of color and Tribal communities: people who identify as Pacific Islander, American Indian/Alaska Native, Black or Hispanic.
The report indicates that while pediatric case counts have increased, severe outcomes among pediatric patients are rare:

0.9% of pediatric patients have been hospitalized at some point during their COVID-19 illness.
There have been two reported deaths with COVID-19 among people under 18 years.
You can read more about the report on Oregon Vaccine News.
Data tracking vaccinations at Oregon long-term care facilities
Oregon Health Authority is launching a data dashboard that allows the agency to continue to track vaccination rates at long-term care facilities (LTCF) licensed by the Oregon Department of Human Services' (ODHS) Office of Aging and People with Disabilities.
The data dashboard, which will go live tomorrow will be available here and will be updated weekly, shows facility-level data for nursing, assisted living and residential care facilities. Adult foster homes are not included in the dashboard.
You can read more about the dashboard here.
COVID-19 vaccine breakthrough report released
OHA's most recent update on COVID-19 breakthrough cases, released today, found that 85.6% of the 20,701 reported COVID-19 cases between Aug. 1 and Aug. 14 occurred in people who were unvaccinated. There were 2,982 breakthrough cases, accounting for 14.4% of all cases.
The average age of the breakthrough cases during that period was 46. Ninety-five breakthrough cases involved residents of care facilities, senior living communities or other congregate care settings. There were 52 breakthrough cases in people aged 12 to 17.
To date, there have been 7,138 COVID-19 vaccine breakthrough cases in Oregon. The average age of all cases was 48. Breakthrough cases have been reported in all 36 counties.
Cases of COVID-19 are far more common in unvaccinated people. The report shows that the rate of COVID-19 in unvaccinated people is currently approximately six times higher than in vaccinated people. "Vaccination remains the most effective tool to reduce the spread of COVID-19," according to the report.
To date, 5.8% of all vaccine breakthrough cases have been hospitalized and 0.8% have died. The average age of the people who died was 82.
The number of vaccine breakthrough cases identified in Oregon remains very small when compared to the more than 2.36 million Oregonians who have completed their COVID-19 vaccination series.
The latest breakthrough report can be found here.
Today, OHA reported that 10,674 new doses of COVID-19 vaccinations were added to the state immunization registry. Of this total, 2,567 were initial doses and 1,405 were second doses administered on Aug. 18. The remaining 6,227 were administered on previous days but were entered into the vaccine registry on Aug. 18.
Oregon has now administered 2,740,551 first and second doses of Pfizer, 1,817,898 first and second doses of Moderna and 191,863 single doses of Johnson & Johnson COVID-19 vaccines.
As of today, 2,569,143 people have had at least one dose of a COVID-19 vaccine and 2,362,014 people have completed a COVID-19 vaccine series.
Cumulative daily totals can take several days to finalize because providers have 72 hours to report doses administered and technical challenges have caused lags in providers reporting updated information. OHA has been providing technical support to vaccination sites to improve the timeliness of their data entry into the state's ALERT Immunization Information System (IIS).
These data are preliminary and subject to change.
Updated vaccination data are provided on Oregon's COVID-19 data dashboards and have been updated today.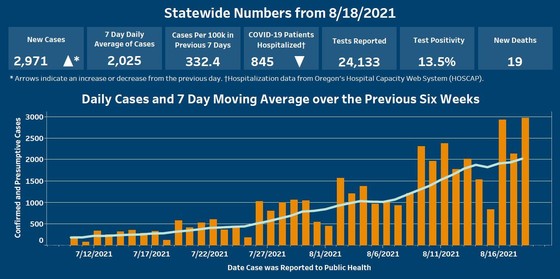 CASES & DEATHS:
We want to keep you informed about COVID-19 in Oregon. Data are provisional and change frequently. 
• Samples for 355,833 tests have been reported positive.
• Samples for 5,690,918 tests have been reported negative.
The number of hospitalized patients with COVID-19 across Oregon is 845, which is five fewer than yesterday. There are 226 COVID-19 patients in intensive care unit (ICU) beds, which is two more than yesterday.
As of this morning, there are 41 available adult ICU beds out of 667 total (6% availability) and 310 available adult non-ICU beds out of 4,182 (7% availability).
The total number of patients in hospital beds may fluctuate between report times. The numbers do not reflect admissions per day, nor the length of hospital stay. Staffing limitations are not captured in this data and may further limit bed capacity.
Learn more about COVID-19 vaccinations