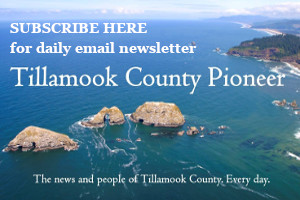 Health Authority reported at 12:01 a.m.
today
.OHA also reported 324 new confirmed and presumptive cases of COVID-19 as of 12:01 a.m. 
today
, bringing the state total to 153,134.
The new confirmed and presumptive COVID-19 cases reported today are in the following counties: Baker (5), Benton (8), Clackamas (25), Columbia (3), Coos (18), Curry (10), Deschutes (11), Douglas (14), Harney (2), Hood River (1), Jackson (43), Jefferson (4), Lane (12), Linn (2), Marion (26), Morrow (1), Multnomah (83), Polk (12), Tillamook (1), Union (1), Washington (32) and Yamhill (10).
Flags lowered to half-staff in memory of more than 500,000 Americans lost to COVID-19
Governor Kate Brown today ordered all flags at Oregon public institutions to be flown at half-staff until sunset, Feb. 26 in memory of the more than 500,000 Americans who have lost their lives due to COVID-19. This includes 2,155 Oregonians.
"Every life lost to COVID-19 is a tragedy," said Governor Brown. "With more than 500,000 Americans who have died from this virus, there are infinitely more people who are now without a friend, family member, or other loved one. My thoughts are with all those who have lost someone to this disease and, to all Oregonians, I want you to know I remain committed to ensuring that we do everything we can to stop the spread and save lives. I hope that, as we remember all those we have lost, we collectively continue to help protect each other from this disease."
The full Presidential Proclamation is available on the White House's website.
Adults 70 and older are eligible for vaccination starting 

today
Starting today, people in Oregon who are 70 years of age or older become eligible for COVID-19 vaccinations.
Adults who are eligible can use the following resources to get linked to vaccine information in their communities. Tools that allow scheduling will be available with new appointment slots at 9 a.m. on Mondays and Thursdays:
Get Vaccinated Oregon: Find answers to basic questions to learn if you are eligible and get linked to information about vaccinations in your county. You can also sign up for alerts to get notified about upcoming vaccination events or find out when you may become eligible. Find this tool at covidvaccine.oregon.gov or getvaccinated.oregon.gov.
Vaccine Information chat bot on the 

covidvaccine.oregon.gov website is available to find out if you're eligible for a vaccine in Oregon or to get answers to other questions about vaccines. If you live in Clackamas, Columbia, Marion, Multnomah or Washington counties you can schedule vaccine appointments by using the Vaccine Information chat bot. The friendly Vaccine Information chat bot tool is an orange box that appears when you open the 

covidvaccine.oregon.gov website.
211: Text ORCOVID to 898211 to get text/SMS updates about vaccination clinics in English or Spanish or email ORCOVID@211info.org. If you can't get your COVID-19 vaccine question answered on the website, by text or by email, you can call 211 or 1-866-698-6155, open from 6 a.m. to 7 p.m. daily, including holidays. Please be aware that wait times may be long due to high call volumes.
Helping your kids cope with uncertainty
Life right now can feel overwhelming and difficult. The pandemic is heading into a second year, and today, the United States surpassed more than 500,000 COVID-19 related deaths. Grief and sadness are compounded by so many months of disrupted routines, employment struggles and more.
In a recent article, Dr. Ajit Jetmalani, head of Child and Adolescent Psychiatry at Oregon Health & Science University, offered tips on how to build family resilience in these stressful times:
Take care of your own stability first: Our Safe + Strong website is a good place to start if you are having challenges with food,  housing, or your mental health. You'll find support for parents by parents at Reach Out Oregon.
Take your children's worries seriously: Avoid saying things like, "Don't worry about that." Instead, encourage them to talk about how they're feeling and explain what you are doing to keep the family safe. After you have answered their questions switch to a routine activity such as cooking together or doing an art project.
Limit their (and your) news and screen time: Too much exposure can cause anxiety for everyone.
Get yourself and your kids moving: Take a walk or go for a bike ride. It still feels good out there.
Look for signs that a child is struggling to cope with their emotions and seek help if necessary:
Young children may lose skills, stop dressing themselves for example or start wetting the bed.
Older children might seem withdrawn and uninterested in school or friends.
OHA en Español hosts Facebook Live about COVID-19 vaccines on Feb. 24
OHA en Español will host a Spanish language Facebook Live event on Wednesday, February 24, from 6 p.m. to 7 p.m. about the COVID-19 vaccine. We'll share vaccine updates, hear from people who have received the vaccine and have a Q&A exchange. OHA Senior Health Advisor Dr. Emilio DeBess and Director of Sabiduría: Latina/o Psychology Emphasis, Dr. Ruth Zúñiga, PhD will lead our discussion.
You can participate in the Facebook Live event at www.facebook.com/ohaespanol. If you can't make it to the live event, you'll find a recording of it on that same page following the live session.
Today, OHA reported that 18,907 new doses of COVID-19 vaccinations were added to the state immunization registry. Of this total, 13,790 doses were administered on Feb. 21 and 5,117 were administered on previous days but were entered into the vaccine registry on Feb. 21.
Cumulative daily totals can take several days to finalize because providers have 72 hours to report doses administered and technical challenges have caused many providers to lag in their reporting. OHA has been providing technical support to vaccination sites to improve the timeliness of their data entry into the state's ALERT Immunization Information System (IIS).
Oregon has now administered a cumulative total of 821,311 first and second doses of COVID-19 vaccines. To date, 924,575 doses of vaccine have been delivered to sites across Oregon.
These data are preliminary and subject to change. OHA's dashboards provide regularly updated vaccination data, and Oregon's dashboard has been updated today.
The new confirmed and presumptive COVID-19 cases reported today are in the following counties: Baker (5), Benton (8), Clackamas (25), Columbia (3), Coos (18), Curry (10), Deschutes (11), Douglas (14), Harney (2), Hood River (1), Jackson (43), Jefferson (4), Lane (12), Linn (2), Marion (26), Morrow (1), Multnomah (83), Polk (12), Tillamook (1), Union (1), Washington (32) and Yamhill (10).
COVID-19 hospitalizations
The number of hospitalized patients with COVID-19 across Oregon is 167, which is one more than yesterday. There are 47 COVID-19 patients in intensive care unit (ICU) beds, which is three more than yesterday. The total number of patients in hospital beds may fluctuate between report times. The numbers do not reflect admissions per day, nor the length of hospital stay. Staffing limitations are not captured in this data and may further limit bed capacity. More information about hospital capacity can be found here.
Learn more about COVID-19 vaccinations
To learn more about the COVID-19 vaccine situation in Oregon, visit our webpage (English or Spanish), which has a breakdown of distribution and other information.