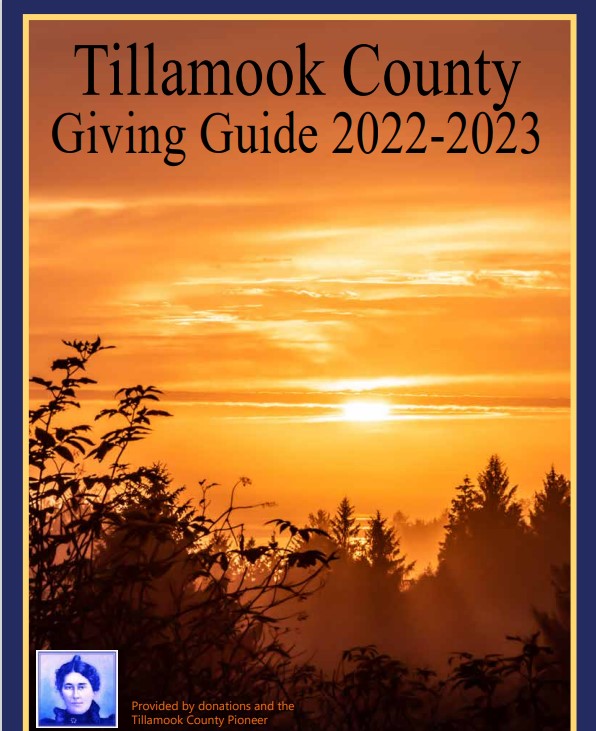 EDITOR'S NOTE: Do you miss the daily COVID-19 report? I didn't think you would … as Tillamook County continues to have zero to two cases per day and nears the 65% vaccination rate (we are at 60.4% today May 25th) the Pioneer is going have just weekly updates (or occasional announcements as needed for important changes, such as risk levels, etc.). Can we have a YAHOO! and WHEW!? Let's hear it for good news stories …
PORTLAND, Ore. — There are four new COVID-19 related deaths in Oregon, raising the state's death toll to 2,628, the Oregon Health Authority reported today May 25, 2021.
Oregon Health Authority reported 424 new confirmed and presumptive cases of COVID-19, bringing the state total to 199,391.
Cases and deaths
The new confirmed and presumptive COVID-19 cases reported are in the following counties: Baker (2), Benton (4), Clackamas (48), Columbia (7), Coos (3), Crook (5), Deschutes (48), Douglas (19), Grant (1), Harney (1), Jackson (24), Jefferson (12), Josephine (7), Klamath (18), Lane (26), Linn (16), Malheur (3), Marion (41), Morrow (1), Multnomah (57), Polk (3), Umatilla (21), Union (5), Washington (39), Wheeler (1) and Yamhill (12).
When do I need to wear a face covering?
Oregon has had a lot of changes in the past few weeks. When information is changing rapidly, it may be difficult to keep track. The Things to know this week graphic below has the most up-to-date information on when you need to wear a face covering.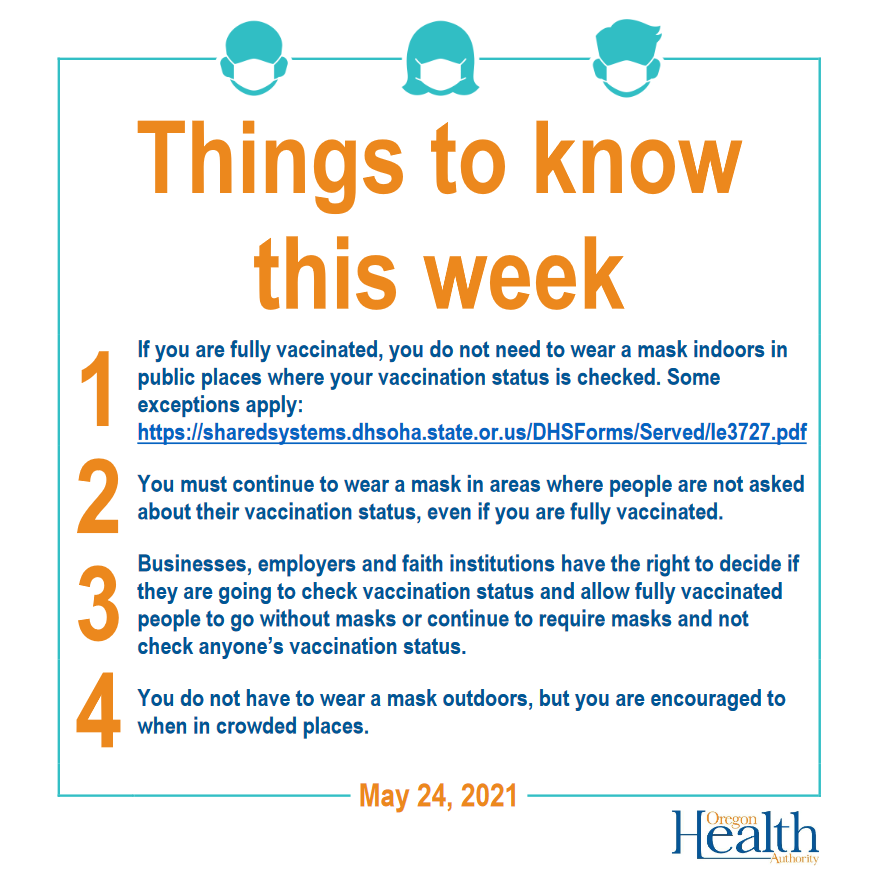 Transitioning back to pre-pandemic life can mean starting small
One thing is sure. The pandemic meant a time of change for everyone. Collectively we found ourselves helping our kids with virtual school, working the front lines while worrying about safety, working remotely, learning to wear masks, moving our gatherings outside, and missing our loved ones.
Public health is also adapting, and despite best intentions, the guidance is sometimes frustrating and can be challenging to keep up with. Once again, we are facing more change, but this time the change involves reopening to life beyond COVID-19.
The transition to post-pandemic life can be gradual. It's okay if you prefer to stick with what's predictable. Even though the restaurant down the street may have opened their indoor seating, it's still fine to order takeout and eat at home. Or to wear a mask on a neighborhood walk.
Since the pandemic began, we have had to experiment. You might ask yourself 'what was successful for me?' Next, you may want to think about:
How can I hold onto what worked?
How can I let go of what didn't work?
What do I need to thrive?
Maybe you like being at home more and want to keep that as a practice. Or maybe you've found that you want to see friends more often. You can make a plan to keep the practices that you appreciate. Consider writing these down, mark your calendar, or set a reminder on your phone.
We may also feel out of step with others. While we are each impacted in unique ways, we are going through this together. Remembering that will help when we take on this new change. Working through this transition with others will take time and understanding.
If you're having trouble transitioning back to your pre-pandemic life, start small. If you're fully vaccinated, you might choose to do one thing you haven't done in long time. Maybe that's getting a haircut, going to a park with your pet, catching up with a friend in person, or shopping at a bookstore. Any of these can be your first step.
Live Q and A session on revised face covering guidance on 

Wednesday, May 26
Governor Kate Brown recently issued revised guidance on face coverings. Join Oregon Health Authority (OHA) and Oregon Occupational Safety and Health Administration (OSHA) for a Facebook Live at noon on Wednesday, May 26 to get answers from our experts.
Vaccinations in Oregon
Today, OHA reported that 25,851 new doses of COVID-19 vaccinations were added to the state immunization registry. Of this total, 15,160 doses were administered on May 24 and 10,691 were administered on previous days but were entered into the vaccine registry on May 24.
The seven-day running average is now 30,070 doses per day.
Oregon has now administered 2,124,214 first and second doses of Pfizer, 1,550,655 first and second doses of Moderna and 135,220 single doses of Johnson & Johnson COVID-19 vaccines. As of today,1,755,318 people have completed a COVID-19 vaccine series. There are 2,182,229 people who have had at least one dose.
Cumulative daily totals can take several days to finalize because providers have 72 hours to report doses administered and technical challenges have caused many providers to lag in their reporting. OHA has been providing technical support to vaccination sites to improve the timeliness of their data entry into the state's ALERT Immunization Information System (IIS).
To date, 2,619,045 doses of Pfizer, 2,053,920 doses of Moderna and 285,800 doses of Johnson & Johnson COVID-19 vaccines have been delivered to sites across Oregon.
These data are preliminary and subject to change.
OHA's dashboards provide regularly updated vaccination data, and Oregon's dashboard has been updated today.
COVID-19 hospitalizations
The number of hospitalized patients with COVID-19 across Oregon is 274, which is eight more than yesterday. There are 75 COVID-19 patients in intensive care unit (ICU) beds, which is no change from yesterday.
The total number of COVID-19 positive patient bed-days in the most recent seven days is 1,938, which is an 18.5% decrease from the previous seven days. The peak daily number of beds occupied by COVID-19 positive patients in the most recent seven days is 306.
The total number of patients in hospital beds may fluctuate between report times. The numbers do not reflect admissions per day, nor the length of hospital stay. Staffing limitations are not captured in this data and may further limit bed capacity.
More information about hospital capacity can be found here.