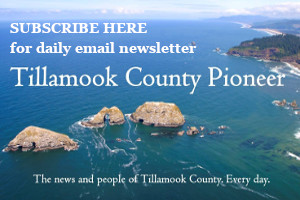 The Oregon Shores Conservation Coalition offers a free, online panel discussion of a fundamental topic in coastal conservation—the ways in which human activities have reshaped the land in our region. "Human Impact on Oregon Coastal Landscapes" will take place virtually on Thursday, Sept. 30, at 6 p.m. The event, part of a series sponsored by Oregon Shores in celebration of the group's 50th anniversary, is open to all.
For more information, and to find a registration link, go to https://oregonshores.org/events/panel-human-impacts-landscape.
The panel moderator will be Ernie Niemi, president of Natural Resource Economics, a consultancy in Eugene, and co-director of the Forest Carbon Coalition, a national organization that promotes climate-smart management of U.S. forests.
The speakers include:
*Scott Burns, professor emeritus of geology from Portland State University, on "Forestry Practices, Landslides, and Sediments in the Streams." Focusing on the north coast, Dr. Bruns will discuss the forestry practices in the Oregon Coast Range that have many impacts on the slopes of the mountains and the sediment in the streams. He will discuss the overall impacts, especially landslides and sediment movement and their effects on fish populations.
*Paul Engelmeyer, manager of the Tenmile Creek Sanctuary for the Portland Audubon Society. chapter. Speaking on "Coastal Conservation Issues and Species of Concern," Engelmeyer will cover a range coastal issues and strategies, including protection and restoration of watersheds for the Endangered Species-listed coho salmon and the Marbled Murrelet, a seabird which nests in old-growth forests and thus depends on the health of the ocean as well as the quality of forest habitat. He will also touch on water quality in coastal watersheds.
*William G. Robbins, emeritus distinguished professor of history from Oregon State University, speaking on "Production Driven Endgames and Oregon's Coastal Environment." He will discuss how market-related values dramatically reshaped the ecology and landscapes of the coastal environment, in particular transforming watersheds.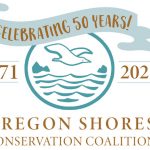 Oregon Shores Conservation Coalition – Oregon Shores is dedicated to preserving the natural communities, ecosystems, and landscapes of the Oregon coast while conserving the public's access. Oregon Shores helps citizens and visitors learn about, enjoy and defend the Oregon coast through natural history education and conservation action. www.oregonshores.org