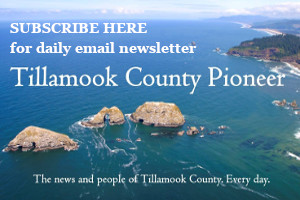 Oregon Shores has been protecting the coastal environment for fifty years, and the actual 50th anniversary date arrives this Thursday.  Please join us for some special activities on that day, including beach walks and two stellar speakers of national renown.
And then join us in considering the conservation needs of the next 50 years.  There are many ways to make common cause with us as we face the coming challenges.
We are featuring two nationally renowned speakers whose work has a special bearing on our concerns and programs: Geologist Orrin Pilkey (inset photo), one of the world's leading experts on the conservation of beaches and management of shorelines; and Mary Ellen Hannibal, author of Citizen Scientist:  Searching for Heroes and Hope in an Age of Extinction.  And between 3 and 4 p.m., we'll have some announcements and a short talk on Oregon Shores' history by Executive Director Phillip Johnson.  For more on the speakers, see the website article.
Our anniversary day begins with two guided beachwalks, south and north.  On the south coast, Fawn Custer, our citizen science trainer, will lead a tidepool-oriented walk at Sunset Bay at 10:30 a.m.  And on the north, marine ecologist Stewart Schultz, author of The Northwest Coast: A Natural History, will conduct a more sandy-shore-focused tour of Manhattan Beach, also at 10:30.  For details on both events, see the CoastWatch page on our website.

These activities are free and open to everyone.  You can register for the day, and join us whenever you wish.  To register for all events, go here.
Mary Ellen Hannibal practicing citizen science in the field.
Many Ways to Carry Forward this Conservation Legacy
Our theme throughout this anniversary year has been "The Next 50 Years of Coastal Conservation."  The first step on this journey is to renew your membership in Oregon Shores, if you have yet to do so this year, or join for the first time.  And if possible for you, accompany your dues with a special anniversary gift.

Beyond this, there are many options for supporting Oregon Shores as we prepare for the next 50 years.  Let us count the ways….
A kayak adventure is open for bid on the auction site.
Bid on Coastal Conservation
We're sponsoring a 50th anniversary auction, featuring everything from painting lessons and whale-watching tours to lodging, wine, and art—even an electric bike!  Learn more about the auction here.

And when you are ready to explore all the items on offer and bid, here's the link to the auction site: bwc.io/OregonShores.
Mile 161.\Photo by Dina Pavlis.
Join the Mile-by-Mile Competition
We are inviting donors to celebrate their favorite stretch of shoreline through a special fund-raising competition pegged to our signature CoastWatch program.  We now have a special place on our website devoted to this campaign:  https://oregonshores.org/50-years-oregon-shores-conservation-coalition.

This year, when you contribute to Oregon Shores, regardless of the amount, you can designate a CoastWatch mile to be honored by your gift.  You don't need to be a CoastWatcher to do this; a CoastWatch mile can simply be a way of identifying your favorite stretch of shoreline.  If you don't know where CoastWatch miles are located in relation to your favored area, see the Tour of the Miles feature on the website, https://oregonshores.org/coastwatch/tour-miles.

If you donate via the website, you will find a place to indicate the mile you wish to honor.  (You will see this after you begin to make a donation; a box where you can indicate the mile number will appear before final checkout.)  If contributing by check, indicate this in the memo line, or add a note with the check.

There will be two winners:  the mile with the highest total of donations, and the mile with the highest total of donors.

To learn more about this friendly competition with a serious purpose, go here.
Stewart Schultz, who leads a beachwalk on 

Thursday

, conducting a CoastWatch training session.\Photo by Michael Coe.
Help with a Match for CoastWatch
As announced earlier, we received a $10,000 matching gift for CoastWatch from a private (and anonymous) donor.  This will help us to expand our capacity to provide training and support to mile adopters, and to develop our CoastWatch-in-the-schools programming.  All the more so, if as we hope we can match it 3-2.

We have received $6,000 in matching donations to date.  Another $4,000 will complete the match, and $9,000 will enable us to hit the final goal.  If you care about CoastWatch and its unique mission of monitoring the entire Oregon shoreline, now is the time to give the program a boost.

If you contribute with the intention of matching the CoastWatch gift through our website donation portal, be sure to send us a message at contact@oregonshores.org to let us know that this is the purpose.  If you contribute by check (to P.O. Box 33, Seal Rock, OR  97376) note this on the memo line or add a note.
Provide the Match for Our Legal Fund
Also as announced earlier, we received a $25,000 matching grant from the So-Hum Foundation to support the creation of a new legal fund for Oregon Shores, to back up our Land Use Program.  We accomplish a great deal through our Coastal Law Project (a partnership with the Crag Law Center), and our own advocacy.  But the new fund will be available when major cases of crucial precedent-setting proportions arise, the kinds of cases that work their way through the courts and could outstrip our existing resources.  The fund will also enable us to tackle the in-depth research and planning necessary for far-reaching initiatives, such as those for estuary management planning and coastal adaption and resilience.

We have now raised $17,000 of the match, so we have $8,000 to go in order to complete the match and bring the legal fund into existence.  However, we don't want to stop there; we want to make sure the fund stays healthy and at the ready even if we take on major cases that would deplete it.  Our real goal is a 3-1 match.  Your matching gift for the legal fund can make a very significant difference by providing us with the resources to tackle those legal and regulatory issues with the potential to shape the future of the Oregon coast.

As with matches for the CoastWatch fund, send us a message at contact@oregonshores.org to let us know your intention with an online donation, or note the purpose on the memo line of a check or in an accompanying note.
Shop for the Coastal Environment
We strongly urge you to buy local and support coastal businesses whenever you possibly can.  But if necessity does drive you to Amazon, you can benefit Oregon Shores and the cause of conservation at no cost to yourself.  The company shares a very small sliver of its vast profits through its AmazonSmile Foundation.  If you sign up for AmazonSmile—you shop through a different portal, but the shopping experience is the same—and designate Oregon Shores to benefit, a percentage of your purchase price goes to our work

To sign up for AmazonSmile, go here.
Similarly, if you purchase any of your groceries from Fred Meyer, the company's Community Rewards program aids non-profit organizations whose members or other supporters designate them as beneficiaries. Here again, the support comes at no cost to you as a shopper.  Sign up for the Community Rewards program by linking your Fred Meyer Rewards Card to Oregon Shores. You can search for us by our name or by our non-profit number, FT512. Once you've done this, every time you use your Rewards Card, you help to build Oregon Shores' stake in the company's annual charitable giving. For more information about the program or sign up, go to www.fredmeyer.com/communityrewards.
We've been working for five decades to preserve the best of our Oregon coast.  In doing so, we've been standing on the shoulders of the pioneering conservationists who founded this organization in 1971, and the dozens of passionate board members, staffers, and volunteers who have carried out our mission.

Consider offering your shoulders to those future generations of coastal activists who will fight to protect the shorelands and sea for the next five decades and more.  Your bequest will declare your unending love for the Oregon coast, and allow you to continue to play a part in its protection.  To learn how to make Oregon Shores part of your legacy, go here.
Copyright © 2021 Oregon Shores Conservation Coalition, All rights reserved.
Our mailing address is:
P.O. Box 33
Seal Rock, Oregon 97376