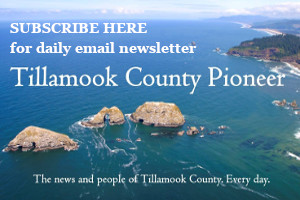 News Release from Oregon State Police
On June 12, 2018 at approximately 1:25 PM, Tillamook County Law Enforcement received a complaint of a reckless driver traveling southbound on Hwy 101 near Manzanita.
Rockaway Beach PD located the vehicle southbound on 101 and a pursuit started they quickly terminated due to continued reckless driving. Manzanita PD / Clatsop County SO located the vehicle northbound on 101 and quickly terminated the pursuit due to continued reckless driving.
The suspect vehicle eventually went east on Hwy 26, where it crashed into the ditch near mile post 9. The male occupant attempted a carjacking of a female witness, before fleeing into the woods on foot. Washington County SO responded and assisted with a K-9 and searched the area.
On June 13, 2018 a suspect was taken into custody.
Oregon State Police is requesting anyone who witnessed the driving of the vehicle to contact Sergeant Dee Rzewnicki at 971-673-4003.
No further information at this time as investigation is continuing.