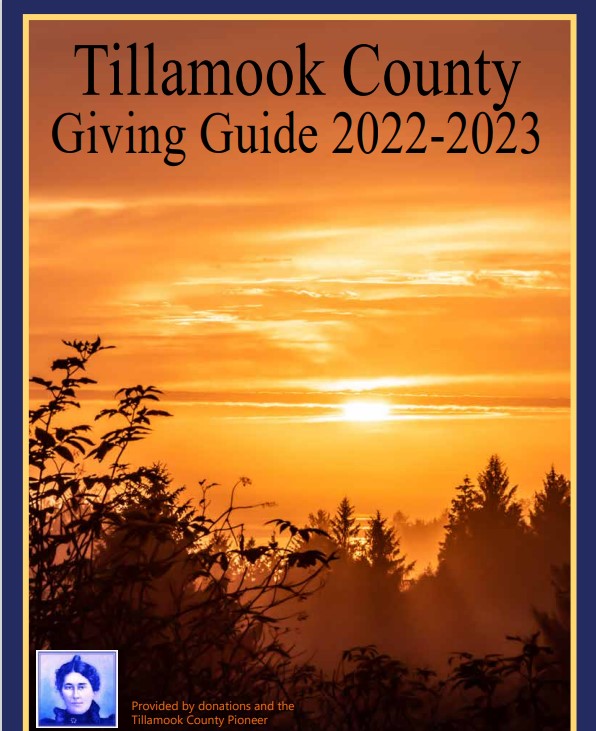 EDITOR'S NOTE: There is a LOT of mis-information (imagine that!) out there about the Stay Home order, and we have seen reports on social media of people behaving badly (again, what a surprise!) YES, you can still walk on the beach. Due to the County's Resolution closing parks and parking lots and beach access points, places where you can drive onto the beach are closed. The beach is a "state highway" and open to the public.
YES, you can go fishing, from the bank as boat ramps are closed.
BE KIND – Remember, there are people in our community driving vehicles with out-of-state plates that are working here, in the military, ie. the Coast Guard, or own homes here. They are allowed to be in their homes. Do not call 911 to "report" these people. There was a report of a Coast Guardsman's wife being verbally harassed in Tillamook which makes my heart hurt, as the report continues that she is now afraid to go out. Seriously people, relax. As it says below, this is not "martial law" and as Sheriff Horton stated, "Your constitutional rights will not be violated. You can freely travel and move about the state." But you can't stay – you must reside in your own home.
Here's information from the Oregon State Police to answer frequently asked questions relating to the enforcement of the Governor's Executive Order 20-12 "Stay Home, Save Lives," the Oregon State Police is offering this guidance.
𝐈𝐬 𝐭𝐡𝐢𝐬 𝐦𝐚𝐫𝐭𝐢𝐚𝐥 𝐥𝐚𝐰?
No, not even close. There are no curfews and a person's movements are not restricted under the Governor's Executive Order. While details are offered in the order relating to social distancing, specific business closures and non-essential social gatherings- Oregonian's movements are generally unrestricted.
𝐃𝐨 𝐈 𝐧𝐞𝐞𝐝 𝐝𝐨𝐜𝐮𝐦𝐞𝐧𝐭𝐚𝐭𝐢𝐨𝐧 𝐟𝐫𝐨𝐦 𝐦𝐲 𝐞𝐦𝐩𝐥𝐨𝐲𝐞𝐫 𝐝𝐞𝐞𝐦𝐢𝐧𝐠 𝐦𝐞 𝐞𝐬𝐬𝐞𝐧𝐭𝐢𝐚𝐥?
No. The Governor's Executive Order closes certain businesses, outlined in section (2). These businesses reflect operations that would make close contact difficult or impossible to avoid. Officers are not asking or looking for any type of special paperwork from your employer.
𝐃𝐨 𝐈 𝐧𝐞𝐞𝐝 𝐚 𝐬𝐩𝐞𝐜𝐢𝐚𝐥 𝐩𝐥𝐚𝐜𝐚𝐫𝐝 𝐨𝐧 𝐦𝐲 𝐜𝐚𝐫, 𝐰𝐡𝐞𝐧 𝐠𝐨𝐢𝐧𝐠 𝐭𝐨 𝐰𝐨𝐫𝐤 𝐨𝐫 𝐢𝐟 𝐈 𝐝𝐫𝐢𝐯𝐞 𝐟𝐨𝐫 𝐰𝐨𝐫𝐤?
No. There is no special documentation or placards for people going to work or permitted activities.
𝐖𝐢𝐥𝐥 𝐈 𝐛𝐞 𝐩𝐮𝐥𝐥𝐞𝐝 𝐨𝐯𝐞𝐫 𝐟𝐨𝐫 𝐝𝐫𝐢𝐯𝐢𝐧𝐠 𝐨𝐧 𝐭𝐡𝐞 𝐡𝐢𝐠𝐡𝐰𝐚𝐲?
Not for violation of the Governor's Executive Order, which specifically outlines efforts to avoid large gatherings- not restrict the movement of Oregonians. If, however, you are committing a traffic violation or crime that would be enforced independent of the order, you may be stopped, like any other day.
𝐀𝐫𝐞 𝐭𝐡𝐞 𝐬𝐭𝐚𝐭𝐞 𝐥𝐢𝐧𝐞𝐬 𝐜𝐥𝐨𝐬𝐞𝐝 𝐚𝐧𝐝 𝐚𝐫𝐞 𝐭𝐡𝐞𝐫𝐞 𝐫𝐨𝐚𝐝𝐛𝐥𝐨𝐜𝐤𝐬?
No, traffic is moving freely within Oregon and our border states. There are no roadblocks or restrictions of vehicle movement. Washington State is operating under a similar executive order from their Governor, so Oregonians should be aware of these provisions when traveling in their state.
𝐈𝐟 𝐦𝐲 𝐛𝐮𝐬𝐢𝐧𝐞𝐬𝐬 𝐢𝐬 𝐜𝐥𝐨𝐬𝐞𝐝, 𝐜𝐚𝐧 𝐈 𝐬𝐭𝐢𝐥𝐥 𝐠𝐨 𝐭𝐨 𝐰𝐨𝐫𝐤 𝐢𝐟 𝐦𝐲 𝐞𝐦𝐩𝐥𝐨𝐲𝐞𝐫 𝐦𝐚𝐤𝐞𝐬 𝐦𝐞? 𝐖𝐨𝐧'𝐭 𝐈 𝐛𝐞 𝐚𝐫𝐫𝐞𝐬𝐭𝐞𝐝?
While the order prohibits the public from congregating at a closed business, the employer may still have work to do on site. As long as employees are not conducting business that is prohibited by the Executive Order, it is okay to still be at the worksite. No "passes" or paperwork is required.
𝐀𝐫𝐞 𝐫𝐞𝐬𝐭 𝐚𝐫𝐞𝐚𝐬 𝐨𝐩𝐞𝐧?
Yes, generally. Some rest areas are connected to parks, which are currently closed to comply with the Executive Order.
𝐀𝐫𝐞 𝐩𝐨𝐥𝐢𝐜𝐞 𝐚𝐫𝐫𝐞𝐬𝐭𝐢𝐧𝐠 𝐨𝐫 𝐭𝐢𝐜𝐤𝐞𝐭𝐢𝐧𝐠 𝐩𝐞𝐨𝐩𝐥𝐞 𝐢𝐧 𝐩𝐮𝐛𝐥𝐢𝐜 𝐨𝐫 𝐢𝐧 𝐯𝐢𝐨𝐥𝐚𝐭𝐢𝐨𝐧 𝐨𝐟 𝐭𝐡𝐞 𝐆𝐨𝐯𝐞𝐫𝐧𝐨𝐫'𝐬 𝐄𝐱𝐞𝐜𝐮𝐭𝐢𝐯𝐞 𝐎𝐫𝐝𝐞𝐫?
People that violate the Governor's Order in an Emergency Declaration could be arrested or cited, which is a C Misdemeanor- the lowest level of criminal conduct designation. All Oregon law enforcement are united on the premise that police action is extremely undesirable and we hope to educate Oregonians if congregating in violation of the Governor's Order. Citation or arrest would be an extreme last resort if a person failed to comply with the lawful direction of a police officer.
𝐖𝐡𝐚𝐭 𝐚𝐛𝐨𝐮𝐭 𝐦𝐲 𝐤𝐢𝐝𝐬 𝐭𝐡𝐚𝐭 𝐦𝐲 𝐜𝐨𝐧𝐠𝐫𝐞𝐠𝐚𝐭𝐞 𝐢𝐧 𝐚 𝐩𝐥𝐚𝐜𝐞 𝐰𝐢𝐭𝐡𝐨𝐮𝐭 𝐦𝐲 𝐩𝐞𝐫𝐦𝐢𝐬𝐬𝐢𝐨𝐧, 𝐥𝐢𝐤𝐞 𝐚 𝐬𝐤𝐚𝐭𝐞 𝐩𝐚𝐫𝐤?
Police know our children don't often take their parent's advice and may ignore direction when away. Like adults found to be congregating in a location, officers will likely approach the youths and educate them on the order. Citations and arrest are extremely unlikely, reserved for only the most extreme circumstances.
𝐂𝐚𝐧 𝐈 𝐬𝐭𝐢𝐥𝐥 𝐠𝐨 𝐡𝐢𝐤𝐢𝐧𝐠 𝐚𝐧𝐝 𝐟𝐢𝐬𝐡𝐢𝐧𝐠?
Yes. Oregonians can still recreate outdoors, if their recreational activity involves non-contact with others and they can maintain appropriate social distancing- which is defined as 6 feet or more from others. Oregonians and visitors to our state should be aware most campgrounds and boat ramps are closed, so you should research your plans before recreating.
𝐒𝐡𝐨𝐮𝐥𝐝 𝐈 𝐜𝐚𝐥𝐥 𝟗𝟏𝟏 𝐢𝐟 𝐈 𝐬𝐞𝐞 𝐩𝐞𝐨𝐩𝐥𝐞 𝐜𝐨𝐧𝐠𝐫𝐞𝐠𝐚𝐭𝐢𝐧𝐠?
No. The level of this violation is not for reporting police, fire or medical emergencies through 911. People may choose to self-educate their fellow Oregonians or if a large gathering is noted, they may call their respective police agency's non-emergency number.
#StayHomeSaveLives #CombattingCorona #FlattentheCurve
#OregonLawEnforcement