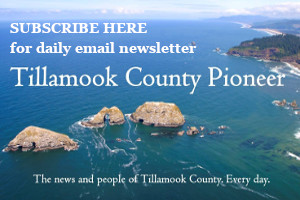 Lots of sunshine the next few days … and here's some helpful information from OSU Extension Tillamook County Master Gardeners in the quarterly "Tiller" publication.
<ahref="http://extension.oregonstate.edu/tillamook/sites/default/files/2018springtiller.pdf">http://extension.oregonstate.edu/tillamook/sites/default/files/2018springtiller.pdf
IT'S TIME FOR SPRING CLEANING IN THE GARDEN
A few chores this time of year that will get your garden ready to bloom.
 Remove heavy winter mulch from perennial beds after night
temperatures stay above freezing to allow sunshine to warm
the soil. Leave a thin layer of mulch in place.
 Fertilize established perennials, bulbs and shrubs with
compost, bone meal or a 5-10-5 or other balanced synthetic
fertilizer. Apply fertilizer to the soil surface and then
carefully scratch fertilizer into the soil between plants.
Cover fertilized area with a thin layer of mulch.
 Rake leaves and debris knocked down by winter storms.
Add leaves to the compost pile and shred larger branches.
 Divide late-spring and summer perennials, including daylilies, lilies and early chrysanthemums, if they
seem crowded or past their prime. Dig up root clumps and remove the old, woody part in the middle.
Replant young, healthy sections in loose, fertile soil. Pot up any extras and give them away to friends.
 Check and repair arbors, trellises and garden fences.
 Make sure pruning shears and other cutting tools are sharp and clean.
 Consider replacing or moving plants that have not performed well in recent years.
Now reward yourself with a stroll through your local nursery. Every year, a parade of new perennial varieties
can entice you to fill every conceivable spot in the garden. Make sure that any new plant you purchase will
match the specific characteristics of the garden bed you have just prepared.