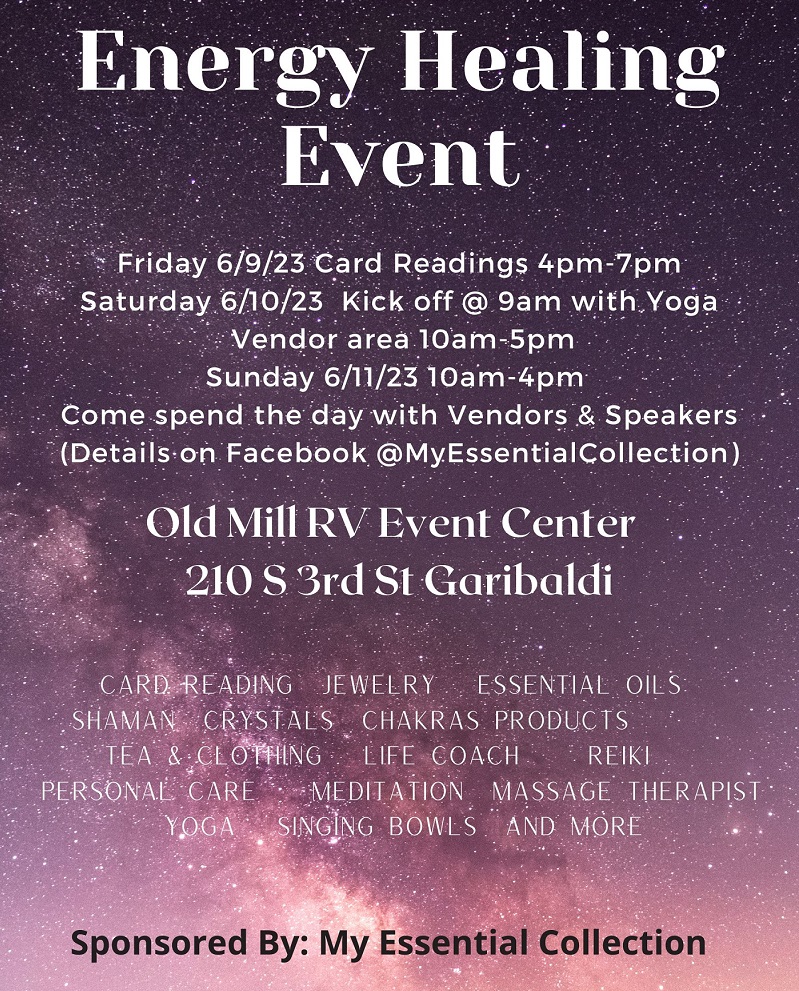 By Don Backman
"Here comes a big wave!"
"Better hustle up the bank!" The wave swept in all the way up the beach, washing away our tracks from moments before, reaching the edge of the small dune we scrambled up and out of the way. Was it a sneaker wave catching tourists unused to the ocean by surprise? No, this was just another day winter hiking the Oregon Coast Trail between Nedonna and Rockaway Beach, Oregon.
What in the heck gave us this crazy idea? Hiking on the beaches in the cold, rainy, windy winter weather? Why would anyone do this?
It's all Dan Haag's, Outdoor Recreation Coordinator for the Tillamook Coast Visitors Association, fault. Just kidding. Sort of.
It all started in late fall of 2021. "I'd like to do the Tillamook County part of the Oregon Coast trail," I told Mike McCaulay, my longtime friend and hiking buddy. "And make a video of it. Day hikes. We can use two vehicles. It will be fun." Mike agreed, partially because he has long wanted to hike or bike the Oregon Coast Trail, and mostly because we were going to see snow in the coast range and needed a lower elevation place to do our weekly hikes for a while.
However, it really began on the drive home after meeting Dan Haag in Nehalem to discuss hiking in Tillamook County and my belief that we need to develop more trails. On the way home through Rockaway Beach it occurred to me that maybe we should hike the Tillamook county portion of the Oregon Coast Trail and create videos about it.
The Oregon Coast Trail (OCT) runs from the Columbia River to the California border. According to the Oregon Coast Trail Foundation, the trail follows the length of Oregon's 363 mile coastline, possibly the most scenic coastline in the world. "Totaling approximately 425 miles when walked in entirety (380 miles if the recommended water ferries are used to cross coastal bays/river mouths), it is helpful to divide and think about the OCT in 10 sections, with each section covering roughly 35-45 miles each. The trail is unique because hikers have several options in terms of how to complete it: explore and hike solely those portions of trail that call to you; thru-hike the entire trail in one-go; or section-hike the trail over a longer period of time."
Currently, the OCT includes about 190 miles of road walking. The boat rides, if one can hitch a ride or make arrangements with one of the local marinas to cross the rivers and bays, can cut approximately 45 miles off. Efforts are underway to develop more trail routes to get hikers away from highway 101 in areas where it is necessary to walk alongside due to 101's notorious narrow or near-nonexistent shoulders and blind curves. In fact, there are road sections the Trail Foundation recommends hikers avoid by hitching a ride or taking a bus. For example, the road from Cape Perpetua south to past Heceta Head can be difficult to navigate on foot and there is a narrow highway tunnel that is best avoided.
Tillamook County hosts a growing number of hikers on the OCT. They are usually easy to spot, hiking along 101 or on of the side roads or trails with backpack and trekking poles. This year the OCT hiker numbers were augmented in the early summer by Pacific Crest Trail hikers in the Cascades who opted to do the OCT while waiting for the late snow to melt off the Oregon portion of the PCT.
The OCT is unique in that it is considered the longest and most scenic coastal trail in the world. Hikers can opt to hike from town to town and sleep in a bed every night, at least along the northern and central coast. Many choose to do a mix of camping and staying in lodgings and eating in restaurants.
The Tillamook County section extends roughly 78 miles along the coast, that is if hikers catch all the boat rides and are able to wade across places such as Sand Lake to Sitka Sedge and avoid having to walk all the way around the bays. Hikers in this section can literally hike from lodging to lodging and don't necessarily need a heavy backpack. A simple day pack that can carry a few essentials such as rain gear and a stuff-able jacket would work well. There are also grocery stores readily available to buy food so there isn't a need for heavy food carries. Most hikers do this trail north to south because of the ever present northwest wind.
We began our first hike on November 17th where the OCT crosses Highway 101 between Arch Cape and Falcon Cove. From there, we worked our way down the coast to Highway 101 south of Cascade head in a series of seven day hikes. We had to skip Netarts Spit due to a storm, so we went back and finished that section in early summer.
The OCT adventure is not over. Throughout the late fall, winter, and spring we hiked the coast from the Columbia River jetty south to Heceta Head. The day hikes began to require over three hours of driving just one way and with the gas prices it began to get expensive. We decided to stop and finish it up later when we could camp overnight and save on travel. Besides, the higher elevations in Oregon began to melt out and we were able to get back up there.
This is the first part of a series of articles detailing our hike along the coast in Tillamook County. Locals often consider outdoor recreation ended for the year in late fall when the heavy rains return. However, with proper gear and being very aware of ocean conditions, one can enjoy the beaches and trails in any season – Fall and Winter provide less crowded conditions, too.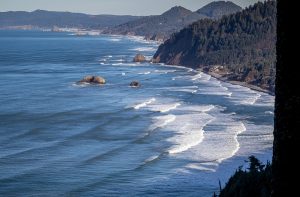 Oregon Coast Trail – Hike #1, Highway 101 crossing north of Falcon Cove to Elk Flats trailhead on Neah-Kah-Nie Mountain.
8.67 Miles
1,532 Feet Elevation Gain
1,012 Feet Maximum Elevation Gain
November 17, 2021
We started this adventure at the road crossing where the trail crosses Highway 101 just north of Falcon Cove. The trail closed signs were still up because the OCT was blocked by blown down trees where it crosses over the ridge from Arch Cape to the 101 crossing. The Section from Arch Cape is now open and we hiked it at a later time.
Once across 101, the trail cuts through some older mossy forest. This section features wooden bridges that were a bit slick from being wet. After crossing the upper access road to Falcon Cove, the trail climbed up onto the ridges, then worked its way over to Cape Falcon. A blown down tree that happened to land right on the trail made things slightly difficult. I almost fell and bent my trekking pole in the process. Again.
The trail itself was in good shape. Often, muddy trails in the summer are much less so in the winter. This is likely due to a combination of little use and the rain washing off the loose mud. We met no other hikers and there were no recent tracks. However, after eating lunch at Cape Falcon we met quite few hikers including several large groups between Cape Falcon and Short Sands, even though it was a weekday. Surfers were out in force at Short Sands.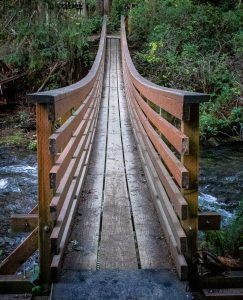 The trail crosses through the park at the beach and reaches a very nicely built suspension bridge across Necarney Creek. At this point, the trail starts to climb as it winds up the ridge toward Elk Flats. We made good time despite the climb as it switched back nicely and soon reached the open area visible from the Elk Flats pullout on Highway 101 along Neah-Kah-Nie mountain. Here the trail almost disappears and we took a wrong turn and headed west. After some backtracking we found the correct trail. When leaving the timber be sure to keep to your left. Once we were on the right trail it was a short hike up to reach the car.
This entire section of trail was in pretty good condition, considering it was late fall and we'd had a number of storms. The late fall slime on the wooden bridges was a little slick in a few places. Mud wasn't a real problem for much of the way, but there were some significant spots of mud along the trail from Cape Falcon down to Short Sands.
Waterproof hiking shoes and trekking poles are highly recommended. Waterproof shoes are a blessing due to not only the mud where it is present, they also help with small springs flowing across the trail and with wet grass. A good lugged sole is needed. I used Altra Lone Peaks high tops for most of the OCT and they only got wet one time in a stream crossing. Trekking poles, when used correctly, provide a significant boost on uphill sections and they are very useful on slippery trail sections. They are also good for reducing the stress on my older knees.
Just keep moving! And we'll keep hiking – hike along with us in the next article as we explore sections of the Oregon Coast Trail – from Elk Flats on Neah-Kah-Nie Mountain to Nehalem Bay State Park and Nedonna to Barview. We'll share tips and helpful information about hiking in general and the OCT. See ya' on the trail!
Link to Oregon State Parks maps:
https://stateparks.oregon.gov/ckFiles/files/OCT-Map-2.pdf