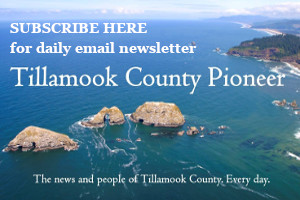 EDITOR'S NOTE: Don Backman pivots here when the weather didn't cooperate for a hike in late January … and takes us on a spectacular hike in Central Oregon. Where are your favorite hikes – locally and regionally? We'd love to hear about them, and send Backman outback for a firsthand report. Send your hike ideas to editor@tillamookcountypioneer.net.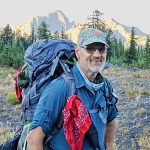 By Don Backman, Photos & Video by Don Backman
"Where do you want to go this week?"
"I'd like to do Giveout Mountain from Reeher's camp trailhead."
"That's by Timber. Sounds like fun. It's supposed to be in the mid-'40s at Banks and dry in the afternoon. Should be a good day for a hike."
"Meet you at Reeher's Camp at nine tomorrow."
"I'll leave early. There might be some snow at the Summit."
Somebody should have asked Mother Nature.
The plan was to meet at Reeher's camp just outside of Timber, Oregon, on January 28th, 2021, and hike to the top of Giveout Mountain which is on the eastern edge of Tillamook County. The trip up Highway Six was pretty good, just wet, but the deep snow on the sides of the summit pointed out in big white letters that the hike wasn't happening as planned. Unfortunately, cell coverage is spotty, and that meant driving all the way to Reeher's Camp. Timber Road and Cochran Road both had six to eight inches of snow along the sides which had me literally shaking my head and saying "I do not have the gear for this."
Mike was waiting at the turn into Reeher's camp, up to his front bumper in snow, a log truck pulled off right behind him. The trailhead parking area had been rutted up by people playing in their 4 wheel drives which made it a challenge for cars. I was left wondering if bringing my truck would have been the better choice. We had a good laugh at our predicament and quickly decided the best plan was to go home and try again another day.
The elevation at the parking area is 1,140-1,180 feet, depending on which website you look at, and had 8 inches of snow. Giveout Mountain is at 2,700 feet, give or take, also depending on the source. Instead of 45 degrees, the temperature was a balmy 32 degrees. I stopped at the Highway Six summit and measured 17" of snow at 1550 feet.
On the drive back I thought back on a summer hike that had an unexpected cold experience. South Sister, one of the Three Sisters, located outside of Bend, Oregon, was a lot warmer last summer when we climbed it. It had been on my bucket list ever since seeing photos of a cousin's hike about ten years ago. When the US Forest Service announced plans to start requiring a Central Cascades Wilderness Permit for 2020, it looked like my chance had passed. But with COVID, the Forest Service delayed implementing it. Deciding to take advantage of the opportunity, I called Mike and we made plans to drive over separately, hike into a camping area, spend the night, and then climb up first thing in the morning.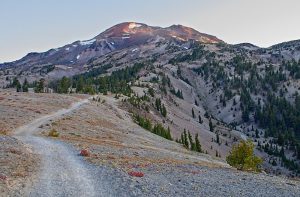 Devils Lake trailhead is located off of the Cascade Lakes National Scenic Byway (Highway 40) west of Bend, Oregon. Even though it was midweek, Wednesday, August 26th, the parking area and along the road was packed with cars. Fortunately, a really late start from home meant people were already leaving and there was a spot right by the trailhead near where Mike was parked.
After a fast hike of about three miles, we made camp just before dark. The sky that night featured an incredible display of stars. If I had packed a tripod I would have stayed up to photograph it. An interesting fact was even in the middle of the night there were people with headlamps moving around on the trails. At 1:30 AM a fast-moving group went up the climber trail toward the mountain. More on them later. Why was I up at 1:30 AM? A forgotten sleeping pad, a thin summer sleeping bag, and as one local put it, "…. the coldest night of the summer and did it freeze where you were?" had something to do with it.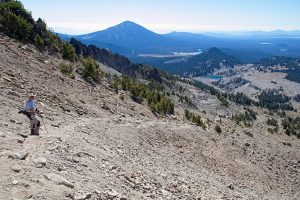 The next morning we were up and on the trail at daylight. A bowl of oatmeal, a can of cold coffee, day packs, and we were off. Other than another group who were standing around their tent, still getting ready, the trail was empty. The first section of the climbers trail rolls a little bit across a plateau but is relatively flat compared to what we could see was coming up. It offers views of Moraine Lake and nearby mountains. South Sister towered above, a hint of morning sunlight just touching the summit with color. It looked pretty daunting and was beautiful. I use that word a lot and that is because so much of the climb is just that, beautiful. Photographs couldn't do it justice.
This trail gradually gets pretty rugged as you go higher. This is a volcano so there are large areas with boulders and a lot of sharp broken volcanic rocks to work through. We were both wearing trail runners and somewhere along the line I snagged my foot on a small boulder and put a big slice in the top of my right shoe.
The trail gradually became steeper and a bit more challenging. Trekking poles helped a lot and I'd recommend them for this hike. Somewhere after halfway a trail runner caught up with us. She had slowed to a fast hike for the section. We exchanged a few words, then she gradually pulled away. A couple of other hikers passed, extremely fit young people going very light and fast. We held our own, though, not bad for OFH's (Old Fart Hikers).
At the top of a particularly steep section where the trail went through some boulders, a group of high school kids were waiting for us to pass so they could climb down. They were the ones who had fast hiked in at 1:30 AM. It was a cross country team and they had gone up to the summit to watch the sunrise. It turns out that Mike knows one of their coaches. It's a small world.
The trail got particularly steep and worked up through a big patch of huge boulders. The cinders underfoot made the ground soft so we had to pick our way up carefully. At the top of that stretch, the trail leveled out for a few feet and forked. One led down to a small lake at the bottom of a glacier. We turned left instead and started the slog up to the summit. This part was the toughest. The trail climbs a ridge above the edge of the glacier and was very steep, plus covered in deep cinders that slid back one step for every two or three forward. This is another area where the gaiters really made a difference keeping rocks out of our shoes. Trekking poles were a lifesaver.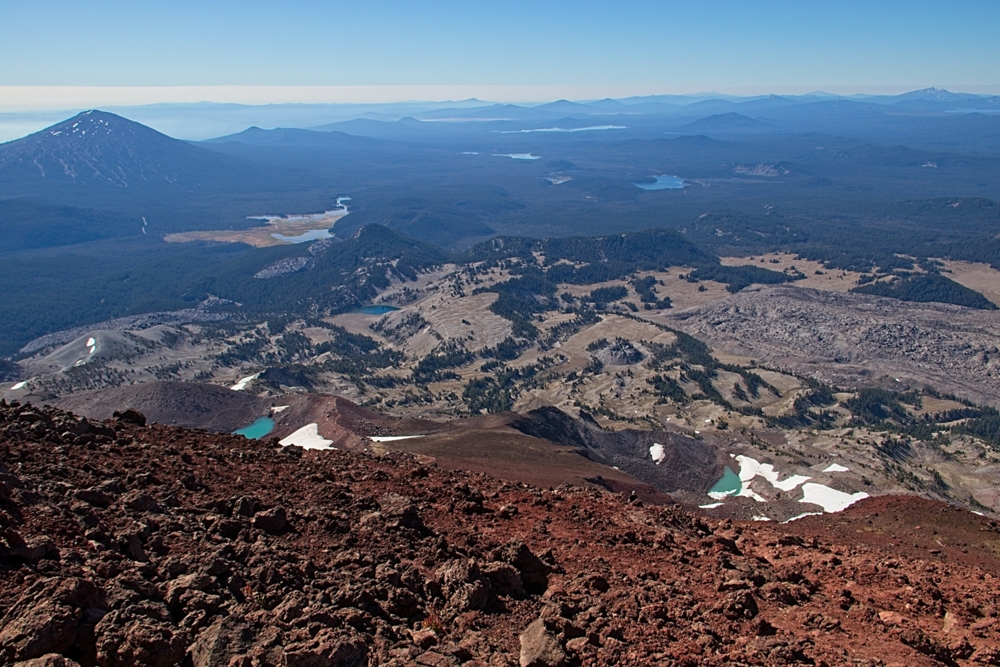 Finally, we reached the top. It seemed like you could see forever. A snowfield filled the crater. While there was a trail straight across, we chose to skirt around the edge as everyone else was doing. There were several places where people had stacked rocks to make windscreens but luckily there was little wind. The views were fantastic. Broken Top to the east, Middle Sister, North Sister, and the other Cascade peaks off to the north. We took quite a few photos and ate some energy bars.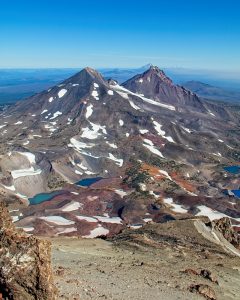 When we started down we met a solid line of hikers climbing up. Our early start had been well worth it. The trip down was quite a bit faster and somewhat easier, although the steep downhills are hard on the quads. It is important to be careful on downhills because a lot of climbing accidents happen on the way down. One technique on the steep cinders is to turn sideways, being sure to keep your feet out in front of you and being careful not to cross over, that is so your feet don't get caught and dump you head over heels.
After passing the small lake again the cinders ended and the trail dropped through the boulder chute. I climbed out in the boulders to give some uphill climbers room and scraped my leg on a very sharp boulder. It only took a slight brush against the rock to leave me bleeding. Those rocks are very sharp.
The rest of the trip down was uneventful. Most of the trail down and across the plateau is visible from the higher elevation so we had a good idea when other hikers were climbing up. We maintained a good pace and took breaks as needed. There were a lot of people climbing up, and quite a few trail runners on the trail, too. Fortunately, everyone was good about putting masks on and distancing when we passed.
This is an excellent hike, but it is also challenging. While it isn't technical, the terrain can be tough. Broken rock, loose cinders, and a lot of steep uphills can wear out even those who are really fit. The weather was great for us, but other climbing reports talk about cold winds at the peak. Be sure to take layers along.
Trail runners worked very well, and many people were wearing them. There were also a variety of hiking shoes and boots, too. I'd recommend a pair with toe protection, a really good rock plate, and aggressive trail tread. The steep downhills can be tough on your toes, so it is wise to buy trail running shoes ½ to 1 size larger to give your feet room to swell, and to keep you from jamming your toes against the front of your shoes on the steep parts causing black toe which can make your toenails fall off. Been there, done that. As for gaiters, my Dirty Girl (that's the brand name – mine are camo colored) running gaiters worked fine and they are simple low ankle height lightweight cloth with a hook for laces and a strip of velcro on the back. Just note that this trail is going to be tough on any footwear.
At 10,358 feet, South Sister is the third highest mountain in Oregon. The trail from the Devils Lake trailhead is roughly 12 miles out and back, with just under 5,000 feet of elevation gain. By camping, we cut the climbers trail distance to the summit on day two to just over 4 miles but added a mile overall, which was well worth it. There is another route climbing up from Green Lakes, but it is longer, less used, and reportedly not maintained.
Several hiking sites report that South Sister is only recommended for experienced hikers, and while it is doubtful that all of the people doing the hike were highly experienced, one does need to bring their A-game on this one. It is also extremely popular and can be crowded in places. This is in the Three Sisters Wilderness and campers and hikers need to follow Leave No Trace principles. Pack it in, pack it out. Bury your poo. This area is scheduled to require the Central Cascade Wilderness Permit in summer 2021 to help with the sheer volume of hikers.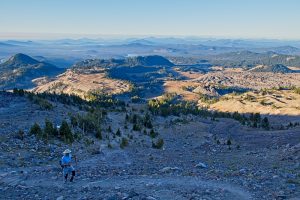 South Sister is on my shortlist of one of the best hikes ever.
For more of Don's photos – see his website www.donbackmanphoto.com.